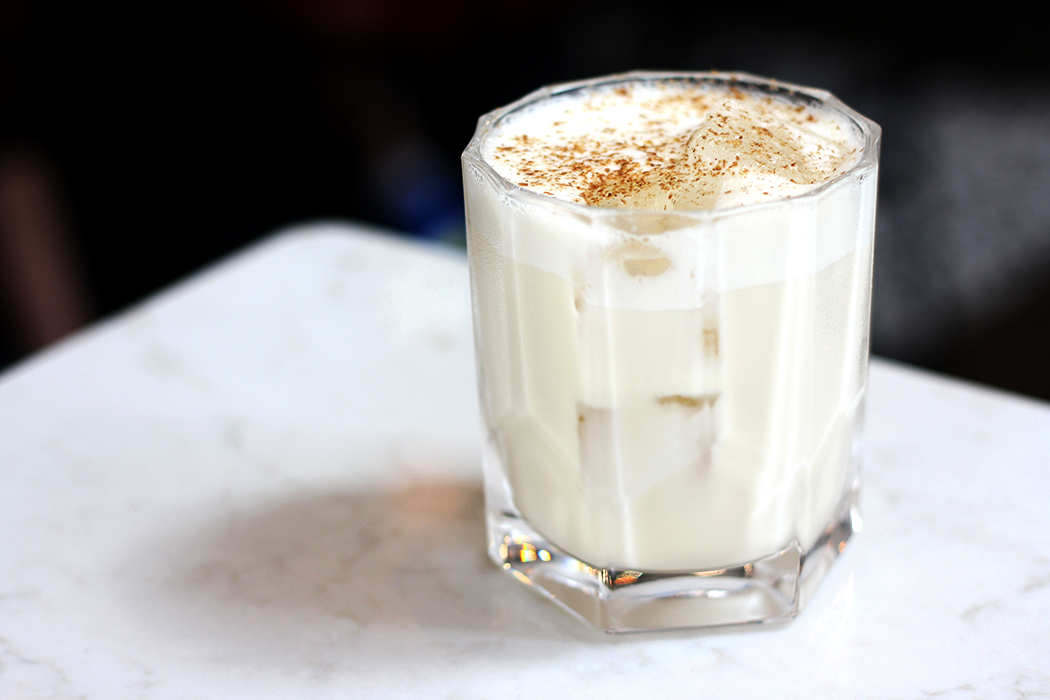 In this series, we take a classic cocktail and look at how bartenders are putting a fresh spin on the traditional recipe. This week we take a look at the classic Brandy Milk Punch.  
Like many classic cocktails, the original brandy Milk Punch has spawned countless riffs. In the November/December 2015 issue, writer Pableaux Johnson reflects on how the drink is a cultural staple around the holidays in New Orleans. Find the classic recipe from Brennan's in New Orleans here, and read on to discover some moderns twists from bars around the country.
Switch the base spirit
The beauty of Milk Punch is that almost every kind of spirit works as the base—rum, whiskey and even tequila all work equally well. The crew at Brennan's also make an updated Caribbean Milk Punch with a split of rum and whiskey, and at Lo Spiedo in Philadelphia, a vanilla-bourbon syrup and spice-infused applejack brings an oaky depth to the drink. At Three Dots and a Dash in Chicago, bartender Diane Corcoran goes tropical in the Creme d'Irie with a split of rum and rhum agricole and coconut purée. Check out the recipe below.
Creme d'Irie
1 oz. aged rum
1 oz. aged rhum agricole
2 oz. half-and-half
¾ oz. coconut purée
¾ oz. simple syrup
¼ oz. Lustau East India Sherry
Freshly grated cinnamon, to taste
Freshly grated nutmeg, to taste
Tools: shaker, strainer
Glass: punch glass
Garnish: cinnamon stick, Freshly grated nutmeg, Freshly grated cinnamon
If using a blender, add both rums, the half-and-half, coconut purée, simple syrup, sherry and cinnamon and nutmeg to taste to the blender. Add 1 cup of crushed ice and blend for 5 seconds on high speed. If using a cocktail shaker, combine the same ingredients and shake vigorously until frothy, about 15 seconds. Pour into a festive glass and top with more crushed ice. Garnish with more grated nutmeg and cinnamon and a cinnamon stick and serve immediately.
Add secondary ingredients
Once you've settled on a base spirit, think of ways to enhance those flavors with a secondary liqueur or syrup. Cardinal Spirits bartender Chris Resnick mixes light rum and walnut liqueur for a decadent, nutty Nocino Milk Punch, Saxon + Parole infuses their rum and brandy-based version with earthy-sweet corn milk and cinnamon syrup, and at The Grille at Morrison House in Alexandria, Virginia, they chose whiskey for the foundation of the Federal's Bourbon Milk Punch, spiking the mix with minty Fernet Branca for a bold herbal flavor.
The Federal's Milk Punch
1½ oz. rye whiskey (Grille bartenders use George Dickel)
½ oz. Fernet Branca
¾ oz. heavy cream
¼ oz. vanilla syrup
Tools: shaker, strainer
Glass: coupe
Combine ingredients in a shaker tin with ice and shake until chilled. Strain into a chilled coupe.
Think outside the box
The options are truly endless for experimentation from those starting points. Turn your milk punch into a weekend project by making your own clarified version with this recipe from Faith + Flower in Los Angeles, or take inspiration from Bar Goto in New York City, where barman Kenta Goto devised a green tea version of the drink. Think of the smart blend below as a hybrid between a matcha latte and green tea ice cream.
Matcha Milk Punch
2 oz. Sencha-infused vodka
¾ oz. simple syrup
½ oz. half and half
two barspoons matcha powder
Tools: shaker, strainer, hand blender (optional)
Glass: white tea cup
Combine all ingredients in a shaker and dry shake without ice until  the matcha powder is dissolved. Add ice and shake until chilled. Strain into a tea cup and serve.
Sencha-infused vodka: Add 1 Tbsp. of loose green tea leaves to 1 cup of vodka for 5 minutes at room temperature. Strain leaves from liquid.