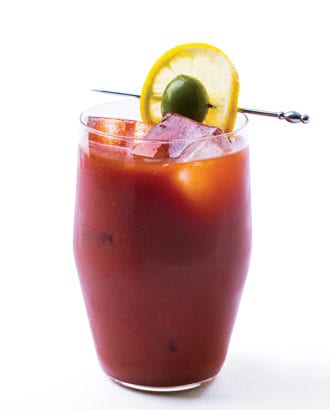 Order a Red Snapper in most places and odds are you'll be served a Bloody Mary with gin in place of the vodka, even though it was originally just another moniker for the same drink. But cocktail etymology can be a hazy web of hearsay, and several people have laid claim to the invention of the Bloody Mary over the decades. This Red Snapper recipe comes from Nate Dumas at The Shanty at New York Distilling Company, and head here for more on the history of this classic brunch drink.
1 ½ oz. gin
4 oz. Red Snapper Mix
Tools: shaker, strainer
Glass: highball
Garnish: Castelvetrano olive and lemon wheel
Shake all the ingredients together with ice, strain into in an ice-filled glass, then garnish.
Red Snapper Mix
36 oz. tomato juice
4 oz. amontillado sherry
1 ½ oz. Worcestershire
¾ oz. Tabasco sauce
¾ tsp. celery salt
½ tsp. fresh ground black pepper
Mix all the ingredients together. Refrigerate the mixture in a sealed container for up to 10 days.
Nate Dumas, The Shanty at New York Distilling Company, Brooklyn
---
Like what you see? Get more of the best of liquid culture when you sign up for our bi-monthly magazine. Subscribe now and save up to 59%—it's just $21.95 for one year or $32.95 for two years. Click here for details.