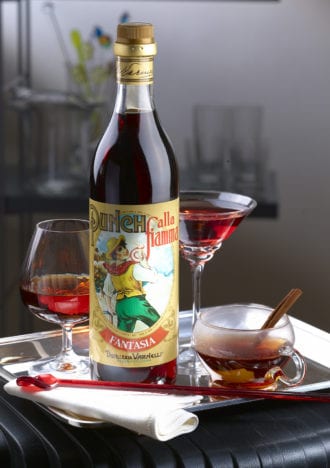 When we think of punch in America, history dictates the formula typically combines sugar, water, spirit, citrus and spice (or tea). In Italy, however, punch means something entirely different. "Punches are part of the traditional category of Italian liqueurs—usually fruit or rum or chocolate-based liqueurs," says Orietta Maria Varnelli, a fourth-generation member of the Distilleria Varnelli family and current CEO and export manager for the Italian brand. "The word 'punch' in Italy basically refers to liqueurs to enjoy hot in winter. The most popular ones are mandarin/orange/rum-based punches that Italians love to enjoy hot or by adding some hot water, with or without a lemon or orange peel." 
Varnelli makes three punch liqueurs, Punch al Mandarino, Punch all'Arancia and Punch Fantasia, an ingredient some American bartenders are using to add a spiced character to cocktails during the holidays (Punch al Mandarino and Punch all'Arancia are not yet available in the U.S.). The Punch Fantasia recipe has been passed down through generations in the Varnelli family. It's made from a sugarcane distillate from Martinique, plus a blend of proprietary botanicals. "The aroma is of dried fruit, coffee, toffee, vanilla and, citrus peel, and there's some hogo notes from the rum base (a term used to characterize the earthy, rancidly nutty or funky flavor in some rums)," says Sother Teague, who uses the ingredient at Amor Y Amargo in New York City. "On the palate, it's got distinct hits of bitter butterscotch, praline and roasted coffee."
In Teague's Bumbo cocktail, served at the Williamsburg location of Amor y Amago, he brings together a ½ oz. of Punch Fantasia, mixed with 1½ oz. of aged rum and 2 dashes of Scrappy's lime bitters. "It's versatile enough to play both the role of sweetener and bittering agent in classic cocktails," he says. "So, the Punch acts as the sweetener and major flavor agent in this complex Old Fashioned variation. Aged rum combined with pot-stilled overproof Jamaican rum are the heart of the drink and lime bitters tie it together. We express the oils from a grapefruit twist over the top to add a burst of fresh citrus aroma. It's delicious anytime of year, but it speaks to winter/holiday season."
Amor y Amargo bartender Natalie Czech created a Punch Fantasia cocktail called the Monte Bove, named after one of the mountains of the Monti Sibillini area where the Varnelli distillery was founded. The warming drink combines ¾ oz. of Punch Fantasia with ¾ oz. of blended Scotch, ½ oz. of apricot liqueur and 2 oz. of hot water. Meanwhile, at The Dawson in Chicago, the liqueur spices up a Manhattan riff called Central Park Blues, with bourbon, Cocchi Amaro, Lustau vermut and Angostura bitters. Punch Fantasia also finds a home in the Hot Buttered Punch from Gianna in New Orleans. "I like to use it as an instant toddy, to spike coffee or add layers to egg nog," she says.
Varnelli herself prefers to use the liqueur as a sweetener in hot drinks, but she's thrilled to see bartenders finding new ways to use the liqueur, especially during the holidays. "Bartenders love Punch Fantasia Varnelli as a distinctive ingredient in their blends, from sour to fizz cocktails, in hot toddy drinks, in tiki or eggnog-style cocktails and more in general in all blends where a tasty spiced rum can take the difference," she says. "A hot punch is a must at the holiday table. Italians sip a punch when they sit around the fireplace and read or play card games."
---
Did you enjoy this article? Get more of the best of liquid culture when you sign up for a print or digital subscription to Imbibe Magazine. Click here for special savings!