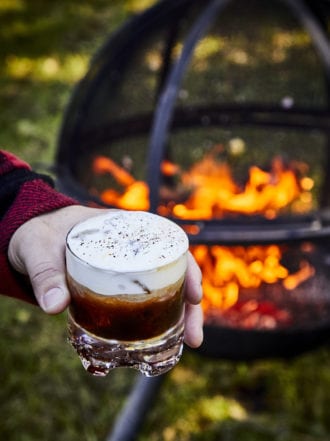 In 2014, we highlighted Portland, Maine's Hunt + Alpine Club and Tandem Coffee on our Imbibe 75 list of trend-setting people, places and flavors. In honor of being featured, Hunt + Alpine owners Briana and Andrew Volk created this coffee cocktail, which they've included in their new book, Northern Hospitality.
1½ oz. aquavit
¾ oz. Fernet-Branca
2 oz. cold-brew coffee
Whipped cream
Tools: barspoon
Glass: double Old Fashioned
Garnish: pinch of grated black cardamom
Combine the aquavit, Fernet and coffee in the glass. Add ice and gently stir to incorporate and chill. Top with freshly whipped cream and grated black cardamom.
Reprinted with permission from Northern Hospitality With The Portland Hunt + Alpine Club, by Briana and Andrew Volk. First published in 2018 by Voyageur Press, an imprint of The Quarto Group.
---
Did you enjoy this recipe? Sign up for our newsletter and get our favorite drink recipes of the moment in your inbox every month.