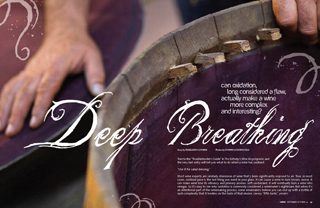 Turn to the "Troubleshooter's Guide" in The Sotheby's Wine Encyclopedia, and the very last entry will tell you what to do when a wine has oxidized: "Use it for salad dressing." Most wine experts are similarly dismissive of wine that's been significantly exposed to air. True, in most cases, oxidized juice is the last thing you want in your glass. It can cause a wine to turn brown; worse, it can make wine lose its vibrancy and primary aromas. Left unchecked, it will eventually turn a wine into vinegar. So it's easy to see why oxidation is commonly considered a winemaker's nightmare. But when it's an intentional part of the winemaking process, some winemakers believe you can end up with a bottle of such complexity that it borders on the taste of that elusive, savory "fifth taste," umami.
"These are not 'in-between' wines," says Joe Campanale, co-owner of the New York City restaurant L'Artusi, which stocks an impressive number of deliberately oxidized Italian wines. "Oxidized flavors can be difficult if you're not familiar with them. All the fresh fruit aromas and tastes diminish, making way for cooked or candied fruit; nutty, yeasty flavors; and a ton of complexity. Fans of these wines find their individuality and character is unsurpassed and, because of that, they are some of the most fascinating and compelling wines in the world."
Showing Its Age
The most evident example of deliberately oxidized wines is, of course, Oloroso sherry, an oxidized and fortified wine made in the Jerez region of southern Spain. "Oxidized or rancio [a term referring to oxidation or wines that have been exposed to heat or extraordinary aging periods] wines have been part of Spanish culture for a long time," says José Pastor, a San Francisco-based importer of Spanish wines.
But while sherry may get most of the attention, it's hardly the only oxidized wine in Spanish tradition. In Rioja, for example, María José López de Heredia's family has for four generations produced wines with an oxidized character—though they've done so through a much more subtle, time-intensive process that depends on starting with high-quality grapes. "Humans get wrinkles because we oxidize, but without oxygen, we cannot survive," López de Heredia explains. "Wine is the same: It needs oxygen for living, but an excess can kill or transform it. For maintaining its youth, we have to fight against oxidation, while making sure that the wine gets a gentle [dose of] oxygen."
Forty years ago, a lot of Rioja wines were oxidized—the region was actually famous for it—simply due to the fact that they were aged for many years in porous wooden barrels that let in a certain amount of air. But in the early 1970s, winemakers began vinifying juice in stainless steel tanks (where oxidation is virtually impossible) or replacing their large old wooden vats with small new oak barrels, known as barriques. The resulting wines were younger, fresher and fruitier—but, argues López de Heredia, they weren't better. "We believe that a well-made aged wine will remain young after many years," she says. "These wines show the fruit but also have more complex aromas and [tertiary] flavors."
By contrast to her competitors' young, sprightly wines, the current vintage release of López de Heredia's Vina Tondonia Gran Reserva Blanco is from 1987. The family-run winery aged this wine for eight years in old barrels and a further nine years in the bottle. The result: old-school Rioja. This "white" wine has turned an intense yellow, almost golden, hue. On the palate, it offers hints of nuts, mushrooms and spice. "We carry three of their white wines, and all of them come with a degree of oxidation," says Eric Pottmeyer, manager of Portland, Ore., wine shop Liner & Elsen. "It's not the main focus, but it's there, like a little seasoning."
Not-So-Mellow Yellow
But while López de Heredia prefers to take the subtle approach, some winemaking regions have used oxygen with what seems like willful abandon. Take Jura, a region flanked by Switzerland and Burgundy in southeast France. It's famous for its Vin Jaune—literally, "yellow wine"—made from the local Savagnin grape. After fermentation, the Savagnin is left to age in old oak barrels that are not filled to the top, giving it ample breathing space and allowing a special blanket of flor (film-forming yeasts) to develop on the wine's surface. It takes several years for the flor to fully develop, during which time the wine is kept carefully exposed to a controlled amount of oxygen.
The strangest part about visiting a producer of Vin Jaune is that your preconceived notion of cellar work is turned on its head. For one thing, it's not always "cellar work": Jacques Puffeney, a small producer in Arbois (a sub-region and appellation in Jura), keeps his Vin Jaune in barrels for seven to nine years, sometimes longer, in an airy upstairs attic space with windows splayed open—a stark contrast to the usual humid, underground cellar. "The facility where the flor develops has to be well aerated and the temperature should vary," he explains. "Upstairs, under our roof, the temperature goes from 30 degrees Celsius [86F] to minus 5 Celsius [23F]. It is a very dry environment, encouraging loss of water and concentration of alcohol and aromas."
Stéphane Tissot, also based in Arbois, makes Vin Jaune and several lesser-aged Savagnin and Chardonnay wines—all of which have been deliberately exposed to air in his dry cellars. "If you were to leave Vin Jaune in a wet cellar, the alcohol would reduce and your wines will be prone to bacteria," he says. "Also, in a wet [humid] cellar, the evolution of your wine is seriously slowed down."
Tissot's Arbois Blanc Selection 2004 is made from 70 percent Chardonnay and 30 percent Savagnin. Each wine ferments separately and ages in barrels that are topped up as normal, for nine months, until both wines are blended and then left in barrels for 15 months, this time without topping, which exposes the slowly evaporating wine to more air. "A lot of people are taught that oxidation in a wine is bad, but when it is a carefully monitored process, and something that producers have been perfecting for years, you have to rethink negative associations," says Pottmeyer. "Winemakers from the Jura, for example, are taking care of their barrels; it's not just some barrel of wine they forgot about."
Geek Chic
That deliberate process has earned the style some loyal fans in the wine world. It was recently poured as part of a wine flight at Blue Ribbon Downing Street Bar in New York City's West Village. "People in the wine business were especially stoked to see us offering a flight of three wines from Jura, which all had varying degrees of oxidation," says former bartender Oscar T. Hernandez, who included Tissot's Arbois Blanc in the mix. "It was a very geeky wine flight."
According to Hernandez, an oxidized-style Chardonnay, such as Tissot's and Domaine de Montbourgeau L'Etoile, stands apart from the ubiquitous kind. "You come across a lot of American Chardonnay that's either too buttery or oaky, but this is so different, so interesting, and it allows you to see how Chardonnay can express itself in a very unique way. Oxidation can give Chardonnay much more complexity," says Hernandez, referring to tertiary and secondary flavors, which are often described as earthy, mushroomy, sherry-like, spicy and nutty.
The Brits have long had a taste for oxidative wine. English ex-pat Bartholomew Broadbent, the founder of San Francisco-based Broadbent Selections Inc., imports several oxidized wines, including his family's Madeira and Port labels and the long-aged wines of Chateau Musar from Lebanon and Bodega Weinert from Argentina. Musar's wines are kept for a total of two years in concrete tanks and one year in large used oak barrels, getting ample oxygen throughout. "Musar is a household name in the U.K.," says Bartholomew, whose father is the renowned British wine critic and auctioneer Michael Broadbent. "Fifty percent of Musar's wines are sold in England, and it happens to be my absolute favorite wine. When I was brought up, I was told that if you can taste the grape variety in a wine, it is not ready to drink. … Without aging and an element of oxidation, it's just fermented grape juice."
Still, even oxidized wine's staunchest advocates will admit that the style has its challenges. For one, it's an expensive and time-consuming process, so the resulting wines tend to be pricey and hard to find. It's also an acquired taste, and one that American palates aren't familiar with. "It is not the kind of wine I can recommend right off the bat," Pottmeyer acknowledges. "I need to become familiar with a customer's taste before I can suggest a López de Heredia or an oxidized-style wine from the Jura."
Also, since the polyphenols (tannins, color pigments and flavor compounds) in red wine and dark-skinned grapes help protect against oxidation, it's a style mostly reserved for white wines. There are exceptions, of course: In the Alicante region of southeast Spain, vintners make a rancio wine called Fondillón from the local Monastrell grape. "This wine is made in the solera system [a fractional blending system from different age-scales of stacked barrels] but without fortification," says importer Pastor. "It has beautiful and complex aromas, such as fruit preserves, almonds and dried flowers; it tastes nutty in a sherry-like way but without the alcohol and bite of Jerez, because it isn't fortified."
Meanwhile, in the Collio region of Friuli in Italy, Stanko Radikon keeps his own country's oxygenating tradition alive and macerates his white wines like red wines, with long skin contact. Like Lopez de Heredia's wines, they go through a very slow oxidative process by spending a long time in large, used Slovenian botti (extremely large barrels that can hold up to 6,000 liters of wine). New York restaurant L'Artusi offers a handful of these Slovenian-style Friuli wines (Collio is situated on the border of Slovenia), including such producers as Damijan, Josko Gravner and Radikon. "They are [either] avant-garde or insanely traditional winemakers, depending on how you look at it," says L'Artusi's Campanale. "I like the fact that these are dry white wines that offer something you wouldn't expect. An element of surprise, for me, makes for a memorable wine experience."
Happy Accidents
Sometimes, the most pleasant outcomes are unintended. Exhibit A: Abe Schoener, founder of the cult-wine producer Scholium Project. Schoener didn't mean to make oxidized wines; he was just really busy. "I didn't have time to top barrels regularly," says the ex-philosophy professor turned winemaker, referring to the common practice of adding more wine to a barrel as aging wine evaporates. "I was also inclined to mess with the wines as little as possible. At first I didn't count topping as intervention; I was just poorly organized. But I noticed that the wines were not spoiling, not even in the most extreme cases of leaky barrels with lots of headspace. At the same time, I started learning about white wines that had been exposed to oxygen in Collio and Burgundy. I decided that oxygen exposure could be a positive factor to be encouraged, not an effect to be avoided."
Schoener isn't a traditional California winemaker. He eschews fruitiness in favor of wine that exudes secondary tastes and aromas. Most of the Scholium Project whites are made in an oxidative way. "The wines are made in 60-gallon barrels with about five gallons of headspace," says Schoener. "It's a crazy amount of breathing space, but it makes the wine so intense."
His wines have gained a cult following in New York (David Chang's Momofuku restaurants are big fans), and the buzz is growing on the West Coast as well. In conjunction with several grape growers, Schoener made a 100-percent Chardonnay wine called Maldonado from the 2006 vintage. This wine experienced a single top-up during its two years in barrel, at which time the wine was given generous airspace and moderate pools of surface flor were formed. It's the kind of élevage (the cellar work from fermentation to bottling) that is unheard of in the U.S. According to Schoener, a conventional Napa winery will top its barrels about every three weeks, or 12 to 14 times a year. Some top less often, but at least six times a year. Like the wines of the Jura, Maldonado offers pure secondary flavors, showing brilliant salinity and hints of mushrooms on the palate. It's hard to believe this is Chardonnay. And since oxygen accelerates the aging process, Maldonado tastes like a wine beyond its three years.
It is risky winemaking, and these are not mainstream wines. But Schoener believes Americans are learning to appreciate wines that go beyond the norm. "There is a hip element to favoring these wines: avoiding, maybe even disdaining, clean, fruity wines," he notes. "These wines are being introduced to more people all the time, and my sense is that they're catching on. You don't have to be hip to enjoy them—maybe only to understand what is atypical about them."
And slowly, Schoener is gaining not just fans, but colleagues. "A few more winemakers are experimenting with these techniques," he says. "There is spreading interest in Italy and France, but I have to say, to do what I'm doing, it helps not to have a family to support; otherwise, I would have to be completely crazy."