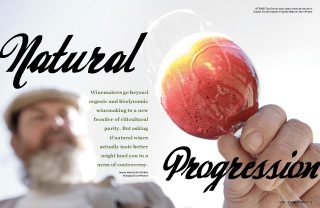 It's a balmy April afternoon in New York City, and a crowd of wine enthusiasts has packed into a downtown venue. Wine importer Louis/Dressner Selections has a family of winemakers in town for an event called the Real Wine Attack, taking place at Cercle Rouge Brasserie. Loire Valley hotshots Catherine Roussel and Didier Barrouillet from Clos Roche Blanche, and Marc Ollivier from Domaine de la Pépière, are pouring wines for an audience of hardcore natural-wine fans, as well as the curious and uninitiated. With a line wrapping around the block as the space reaches full capacity and thirsty folks await entry, I quickly realize that these are the rock stars of the natural-wine world.
Only Natural
You've probably heard about organic wine, and possibly even biodynamic wine, both of which have generated quite a bit of buzz over the past few years. But have you heard much about natural wine? Don't feel bad—a lot of people haven't.
Natural wines are a kind of third prong to their organic and biodynamic counterparts. It's a term that came out of France (vin naturel), but to date, it lacks any kind of official certification or requirements. "The term can be interpreted differently, because there is no set definition," says David Lillie, co-owner of Chambers Street Wines, which sells vintages from the likes of Thierry Puzelat, a prominent figure in natural wine. "Generally, it refers to organically worked vineyards, whether they are certified or not, and [to] hand-harvested grapes because no matter how sophisticated machine harvesting can be, it's impossible to ensure that they're not picking broken fruit or grapes that are already oxidizing. When you've got spoiled fruit, it requires adding sulfites to the must, which makes wild yeast fermentation impossible."
And that's really where the difference lies. Organic and biodynamic winemaking are both primarily concerned with growing grapes in an additive-free, holistic manner; natural wine brings that ethos into what happens to the grapes after they're picked. "Growers can practice organic or biodynamics in the vineyard and call those wines organic," explains Jeff Fisher, manager of the Seattle wine store McCarthy & Schiering, "but it doesn't mean they follow through in the winery."
Wine is a lot more than just fermented grape juice. During the vinification period—when the grapes transform into wine—all sorts of elements can be added. Laboratory-manufactured yeast. Enzymes. Wood chips (to give wines an oaky taste). Acidifiers. Tannins. Sugar. Wines are filtered and "fined" (adding substances that collect particulate matter) to make them less cloudy. There's a process called "micro-oxygenation" that can soften harsh tannins, and another called "reverse osmosis" that can filter out unwanted flavors in a wine and bring down alcohol levels.
And then there's sulfur. Technically, no wine is sulfite-free: Sulfites naturally occur in wine during the fermentation process. But most winemakers add additional sulfur as a preservative, to protect the wine from oxidizing or possibly re-fermenting in the bottle, and to kill off bacteria. Sulfur dioxide can be added to grapes before they are crushed and throughout the entire winemaking process. The most hardcore natural-wine makers won't add any at all, while most will add a very, very small amount, compared to their conventional counterparts.
Even a seemingly simple and intrinsic part of winemaking—yeast—can have complicated origins. Most winemakers order yeast from catalogs, opting for specific strains designed for their particular grape varietals, or for creating specific flavor profiles. "A winemaker can easily make Muscadet taste like Chardonnay [with commercial yeast]—think of it as flavorings in a fragrance," says wine writer and blogger Alice Feiring, whose new book, The Battle for Wine and Love, Or How I Saved The World From Parkerization, makes an impassioned case for natural wines.
Natural-wine fans, on the other hand, tout the virtues of using only the yeast already growing in the grower's grapes or in the winery—on the walls, in the barrels themselves, wherever—to aid fermentation. "Natural yeasts hold the DNA of the vintage, and when you use commercial yeasts instead, all the terroir is lost," says Feiring. "The way a wine ferments impacts how a wine will taste."
Take the wines of Beaujolais. For years, consumers and industry professionals associated a distinct banana characteristic with the Gamay grape varietal; now many people believe that was the flavor of the dominant 71B, a commercial yeast commonly used in the region. (Gamay itself tends to have more of a light berry flavor, with good acidity.) "Everyone thought that was the way Gamay tasted or that it was due to carbonic maceration, but it was commercial yeast," says Joe Dressner, co-owner of Louis/Dressner Selections, who imports several naturally fermented Beaujolais wines from producers such as Domaine des Terres Dorées and Clos de la Roilette.
Back to the Future
Perhaps it's no coincidence, then, that Beaujolais was home to the founder of natural winemaking, the late Jules Chauvet. Or rather, the re-founder: Chauvet made wines the way they were made before Beaujolais became a mass-produced, exported wine. Chauvet, who died in 1989, was a chemist and expert taster who began researching the science of winemaking in the 1940s. By the 1960s, that research and tasting had led him to a philosophy that was radically different from those of his Beaujolais peers. He refused to add sulfites, commercial yeasts or sugar—all of which became common winemaking practices in the region. Another local winemaker named Marcel Lapierre, situated in the Morgon appellation of Beaujolais, was highly influenced by Chauvet's philosophy; starting with his 1981 vintage, he began creating his own low- and no-sulfur, naturally fermented wines.
Almost all natural-wine makers and industry pros refer back to either Chauvet or Lapierre as the pioneers of the natural-wine movement. "One of the first natural wines I had that turned me around was Marcel Lapierre's Morgon," recalls Jorge Riera, manager and sommelier at Cercle Rouge. "I'd had a lot of conventional Beaujolais from all my days working at bistros, and this one was so incredibly unique. It had life, richness—the fruit was ripe but with great balance; there was an underlying earthiness I hadn't encountered with generic Beaujolais. Plus, it had this really beautiful, long finish."
Organic wines have been made since time immemorial; meanwhile, biodynamic winemaking got its start after a series of lectures given by Austrian philosopher Rudolph Steiner in the 1920s. Both movements have gained traction in the domestic wine market over the past two decades—particularly after Congress passed the National Organic Foods Act in 1990. The natural-wine movement, however, is a more recent phenomenon. "We launched our company eight years ago, before the term [natural wine] was widely used," says Jenny Lefcourt, co-owner of Jenny & François Selections/World Wide Wine, an importer of natural wines. "At the time, our wines were natural, but we didn't call them so. Around the same period, the movement took off in Paris at wine bars and bistros. We started hearing the wines we loved and imported described as vin naturel; that's when we started using the term here."
Jenny & François began by selling its wines in New York State only; now, it's expanded to six other states, with plans to keep growing. "There really has been an explosion for these wines, especially in the last few years," Lefcourt says.
In 2003, natural wines got an American advocate in the form of the now-defunct Brooklyn restaurant 360, the first establishment to offer an all-natural wine list. "360 took more risk than any other restaurant at the time," says Riera, who worked there before moving to Cercle Rouge. "The owner really stuck by the wines; it wasn't just a fad for him. Since 360, New York [has been] leading the way for natural wines in the U.S."
Riera is currently doing his bit for the cause by offering a radical selection of natural wines at Cercle Rouge. "Once people taste the wines, they're going to want to taste them again because there is so much terroir in them," he says, referring to wines such as Le Clos du Tue-Boeuf's Le Brin de Chèvre and François Pinon's Vouvray Petillant Brut.
And these days, he has company. Terroir, the aptly named wine shop and bar in San Francisco, stocks more than 500 natural wines. Co-owner Guilhaume Gerard says he was inspired by the thriving natural-wine bar and restaurant scene in Paris, though he also gives New York its due. "Ten or even five years ago there wasn't such an audience for wines as weird as those from Domaine du Peyra, for example," he says, referring to a funky, but delicious, sulfite-free wine from the Côtes d'Auvergne. "But that's changing. It is especially gaining momentum in New York because they are closer to Europe and not so tied in with the Californian wine industry."
But the West Coast is starting to take notice of natural winemaking as well—mostly a few small producers who have only begun to experiment with the process. Mike Dashe of Dashe Cellars in Sonoma just released a Zinfandel called L'Enfant Terrible. Gerard describes the wine as "the first see-through Zinfandel I've ever seen," referring to the usually dark, inky, highly extracted Zins of California.
The fruit from a specific vineyard high up in the mountains in Potter Creek, in California's Medocino County, was so good that Dashe wanted to do as little as possible to it. There was no inoculation, and after fermentation, the wine spent four months in 900-liter French oak barrels known as foudres, which impart less oak flavors than the smaller and more common barrique barrels. Dashe added a low 40 parts per million of sulfur dioxide at crush (winemakers may add up to 100 parts per million throughout the winemaking process to red wine, and even more for white wines) and didn't fine or filter the wine at all. Among his own bottlings, it is his favorite to date, and he thinks other winemakers will follow his lead, inspired by L'Enfant's lighter body and its purity of fruit.
A handful of other domestic producers are making natural wines, including Coturri and Edmunds St. John in California and Brick House and Resonance Vineyard in Oregon. Even more wineries are experimenting with the process and may have their own versions on the market within the next few years. "It's like a changing of the guard in a lot of ways," says Tony Coturri, whose Sonoma Valley winery has been making wines naturally for almost three decades. "A lot of wine drinkers in the 21-to-30 age bracket grew up with organic food. I think they see wine as another part of that."
Still Not Sold
Along with its champions, the natural-wine movement has its share of critics. Many wine pros, even those who buy natural wines, say that lack of an official definition makes it a free-for-all category, which could lead to marketing exploitation and false claims. "It would be helpful if there were set rules," says Scott Pactor, the owner of Appellation Wines and Spirits in New York City, a store that specializes in organic and biodynamic wines. "Most producers of natural wines are doing a great job, but you want to give the public the greatest amount of assurance with a set of standards. Certification will also avoid any sort of confusion in the marketplace."
What's more, without fining or filtering, wine can have a cloudy hue in the glass, which can be off-putting to some wine drinkers, and flavors tend to be more, well, rustic. "When I sell a bottle of Olivier Cousin's Anjou Rouge—a wine that hasn't been fined, filtered or had additional sulfur added—I have to tell customers that it has a lot of brett," says Pactor, referring to brettanomyces, a natural yeast found in many minimalist wines that can exude aromas of barnyard and earth—a quality that some prize, while others scorn.
Even many of natural-wine makers' philosophically close cousins—those working with organic or biodynamic winemaking—are skeptical about some of the movement's more extreme tenets. Josmeyer, a family-run estate in Alsace, France, has a biodynamic certification from Biodyvin, a French organization that oversees the biodynamic growing and winemaking practices of its members. "We are biodynamic, both in the cellars and the vineyard, but we are not part of the natural-winemaking group," says winemaker Christophe Ehrhart. "We do add sulfur, about half of the maximum amount allowed here, because it stabilizes the wine. Our aim is to produce healthy wines that can keep and travel. Some of our wines are 30 years old and they remain balanced, whereas many natural wines can oxidize quickly. About 70 percent of our production is meant for export; I would never take the risk of not adding sulfur, because of bacterial problems and the possibility of the wine re-fermenting in the bottle. A lot of natural wines should be for local consumption only."
In California, Cuvaison winemaker Steve Rogstad doesn't understand the backlash against catalog yeast. "Years ago I was in Beaujolais and oversaw an experiment in Chiroubles," he says. "About 50 different winemakers took part. Half of them used a selected strain [of yeast], and the others allowed for wild yeast fermentation. The wines were analyzed, both chemically and sensorially, and it turns out that the best wines were naturally fermented—but so were the worst ones."
And herein lies one of the biggest rubs: unpredictability. Michael Beaulac, vice president and winemaker at St. Supéry in Napa Valley, began hearing about natural wine during a recent trip to the Loire Valley and he says the movement "scared the bejesus out of me."
"Now, some of those wines are spectacular," he admits. "But it's not a route I'm willing to go down. The biggest worry for me when it comes to making wines this way is that it could all go south. One producer told me that his native-yeast fermentation wasn't complete until February. We're a fairly large producer and we have a schedule, and I want my wines to be as fresh as possible. Plus, when you've got sluggish fermentation, the risk of volatile acidity rises. [Volatile acidity] gives off that odor of nail-varnish remover, and when you get to that point, you've diminished the fruit character of your wine."
Beaulac also points to the well-established preferences of American wine drinkers. "Americans like their wines to be clear and brilliant," he says. "At the end of the day, we want our wines to be successful, to be sold by the glass at restaurants and to be enjoyed by both novices and connoisseurs."
But Coturri counters that such concerns miss the fundamental goal of winemaking. "I want my wine to reflect where it came from and the vintage it came from," he says. "And that's more important than a consistent product."
Debate aside, natural wine does hold undeniable attraction for many buyers. For starters, it tends to be inexpensive (at least, the European ones do). For under $15 you can get a very palatable, balanced wine that tastes of place, with vibrant fruit character and lively acidity. Go into the $20 price range and you can find a beautiful and complex, terroir-driven natural wine. And since natural wines haven't won the hearts of many wine critics, fans don't have to elbow past points-counting oenophiles to snag a bottle.
And for anyone intrigued by the idea of terroir—that mystical translation of a wine's birthplace into its flavor—there's a certain appeal to the idea of a wine that has had virtually nothing done to it since the grapes were picked, an unmediated relationship between the wine's drinker and its native soil. It's too early to tell if that relationship creates lasting change in the winemaking industry. As Feiring puts it, "It is a movement that will be driven by wine drinkers and not by critics." The proof, as always, will be in the bottle.