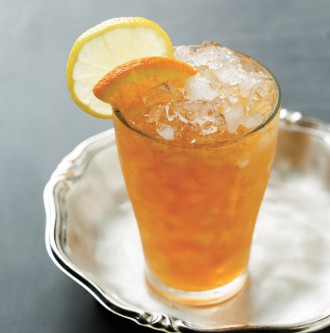 In 1838 or thereabouts, a Vermont-born oyster-seller named Peter Bent Brigham took over Boston's Concert Hall, one of the city's oldest and most popular gathering places. A sharp man with a good head for business, Brigham soon set about refurbishing the bar. As part of that process, he drew up a list of the "fancy drinks" he was prepared to serve, one of the first of its kind.
Bostonians were not amused, not the proper ones anyway (naturally, the improper ones thronged the place). In 1842, Dr. Charles Jewett, the pioneering temperance crusader, visited Brigham's newly renovated "gentleman's gorgeous and neat saloon" (as a contemporary newspaper described it) and recorded the drinks for sale. Reflecting on the seven kinds of punch, the Mint Julep, the Stone Wall, the Egg Nog, the Cobbler and the six miscellaneous "fancy drinks" Brigham offered, he addressed Brigham in print for "initiating many a thoughtless young man into habits that may prove his ruin" and "mingling for many a wife and mother a mixture more bitter" than the wormwood in his Wormwood Floater.
Brigham was not the sort to be easily buffaloed. After Jewett's hit at him, he came up with a new list. A bigger list. Among the many new, fancifully named additions—the Race Horse Julep (one of 11 Juleps on the list), the Ropee, the Pig & Whistle—were the Jewett's Fancy and the Moral Suasion.
The first, of course, was a personal hit at Jewett. The second jabbed back at the whole temperance movement, which at the time had not yet fixed on legal prohibition of drinking at its preferred tactic to sober the country up, but rather preferred to rely on "moral suasion"—basically, arguing people out of their thirst. Brigham's Moral Suasion was conceived as a counterweight to their argument, a drink so seductive that it would make even a Dr. Jewett reconsider his policy. Brigham's list was widely reprinted, and some of his drinks were picked up by bars around the country and in Europe. The Moral Suasion was one of the most popular, and most controversial.
But here's the rub: Brigham never published his recipes. When Jerry Thomas codified the American art of the bar in 1862, he, or perhaps his editors, made sure that Brigham's provocative creations were not included. Why pick a fight when you didn't have to? The impossibly seductive Moral Suasion died with its creator. Or did it?
In 1873, the New York Sun published a recipe for a Moral Suasion, attributed to one E. F. Barry, bartender at New York's tony Everett House, and one of his customers. Unfortunately, census records have Barry born in the mid-1840s, in Ireland, so his Suasion is unlikely to be Brigham's Suasion, particularly since it contains Bénédictine, an ingredient not used in American drinks of the 1840s. There the story would rest, except for Ebenezer, an 1879 novella by Charles G. Leland, a popular journalist who also knew his drinks (indeed, Jerry Thomas printed his recipe for Fish-House Punch). In it, we find a Moral Suasion described that agrees broadly with Barry's (both are based on peach brandy—the spirit, once highly prized, distilled from peaches and aged, not the peach-flavored liqueur—and sweetened with liqueurs), but with certain archaic epicurean touches that harken back to the 1840s, when Leland came of age. If we run the two Suasions together, we end up with a wickedly delightful drink, a variation on the classic Peach and Honey that, if not true to Brigham's brainchild in every detail, is at least true to it in spirit. Just keep it away from your teetotaling aunt.