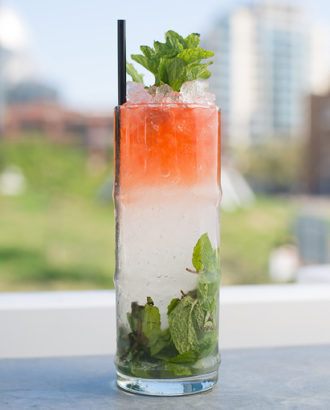 The classic Mojito gets the mellow addition of dry vermouth in this soft, summery cocktail.
6-8 fresh mint leaves
¾ oz. simple syrup (1:1)
1½ oz. white rum
½ oz. dry vermouth
¾ oz. fresh lime juice
4-5 oz. club soda
3-4 dashes Angostura bitters
Tools: muddler
Glass: Collins
Garnish: fresh mint
Add the mint and syrup to a Collins glass and lightly muddle. Add the rum, lime, and vermouth, then fill the glass ¾ full of crushed ice and swizzle until chilled. Top with soda water, add bitters, top with ice and garnish.
Fairweather, San Diego