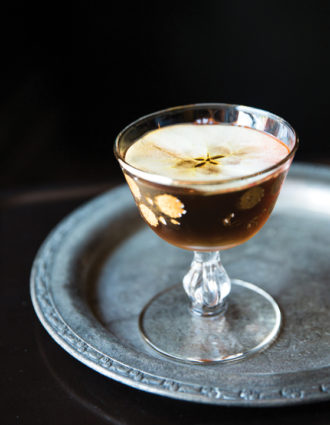 Whiskey, maple, cider and spice all come together in this winter warmer from Vena's Fizz House in Portland, Maine. Read more about Vena's in our feature from the Nov/Dec 2015 issue, and remember to be careful when handling ghost peppers, as they're one of the hottest on the Scoville scale.
1½ oz. rye whiskey
¾ oz. maple syrup
¼ oz. reduced apple cider
⅛ oz. ghost pepper tincture (or to taste)
3 dashes maple bitters (or substitute Angostura)
Tools: barspoon, strainer
Glass: cocktail
Garnish: apple slice
Stir ingredients with ice in a mixing glass; strain into a chilled glass.
Ghost Pepper Tincture: Coarsely chop 3-4 ghost peppers (or other hot pepper) and add them to a jar with 1 cup of vodka. Let the peppers soak for 5 days; strain before use; use within 1 month.
Reduced Apple Cider: Add 2 cups of apple cider to a saucepan and bring to a boil. Reduce heat to medium and simmer uncovered until reduced to about ½ a cup. Cool before using; refrigerate and use within 1 week.
Steve Corman Vena's Fizz House, Portland, Maine