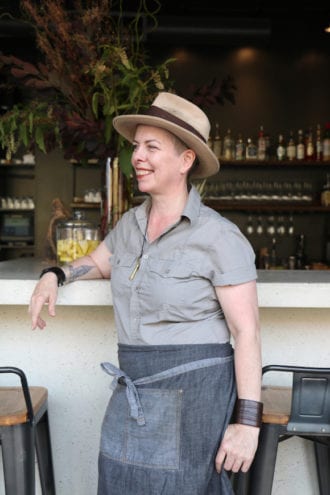 Portland was one of the first cities in the U.S. to embrace the modern cocktail renaissance, and London-born Lucy Brennan was at the forefront of that movement. In 2001, she opened Mint, followed by the adjacent 820 Lounge in 2003, and she built a reputation nationally for her simple, expertly made cocktails that highlighted fresh, seasonal ingredients. Mint/820 became staples of the Portland cocktail scene and paved the way for some of the city's best-known bars, such as Teardrop and Clyde Common. Two years ago, Brennan quietly sold her bars, and she has since been managing the cocktail program at Clarklewis in Portland's central eastside neighborhood. Then, two weeks ago came the announcement that Mint/820 would be shuttering, an end to the run of one of Portland's most influential cocktail bars. We caught up with Brennan to get her perspective on her journey in cocktails and what the future holds.
Where did you learn to bartend?
Lucy Brennan: I was the assistant restaurant manager at the San Francisco Park Hyatt and eventually was promoted to beverage manager when I was 22 or 23. I didn't know anything; I learned from old-school bartenders. They were just making the classics, and I studied their demeanor and how they took pride in what they did; I took a shining to it. In hindsight, I always had industry aspirations. My dad is American and my mom is British. When I was a little girl, my dad would watch John Wayne movies, and I remember the bartender would slide a bottle of bourbon down the bar and I'd think, "I would love to do that."
What do you enjoy about being behind the bar?
I don't know how to explain it other than it's like putting on your favorite sweater when the first leaves fall in autumn. I'm not the friendliest bartender, I'll be the first to admit, but I will remember what you drink. I had people that I used to serve in San Francisco, who I hadn't seen in about 18 years, come into Mint when I owned it. I'd say, "I don't remember your name, but I'll remember what you drink."
What brought you to Portland in 1994?
I was in my fifth year at the Park Hyatt and the dot-com boom was coming in. I visited Portland for a weekend. and it was just so magical I never looked back. My first bartending job here was at Casa U Betcha, before I started at Saucebox in '95. Initially Bruce Carey hired me to work the staff Christmas party for Zefiro, his first restaurant. I remember I couldn't see anything, the music was really loud, I was just completely winging it, and I was like, "I friggin' love this!" At that time, Saucebox was one of the few places doing creative drinks outside of the Cosmopolitan. Marco Dionysos and I worked together behind the bar at Saucebox, and we would stay up late talking about classic cocktails. Back then, every Sunday I would go to Powell's and sit on the floor for hours and read old bartending books.
When you opened Mint in 2001, did the Northwest's farm-to-table attitude influence your cocktails?
Most definitely, in that sense of being in the Pacific Northwest with different berries and things being in seasonal abundance. When I opened Mint I think I only had a whopping four drinks on the menu. But I evolved and began working with a chef on menu design, so that cross-over started, but overall I kept it really simple.
Mint was famous for the Avocado Daiquiri. Where did that idea come from?
When I would bartend I would get half an avocado and put some lime and salt in it and be able to work for the next five hours. I was at Saucebox one night making Banana Daiquiris and I thought, "Wait a minute, what's the difference?" At the time, I was muddling the avocado, and it was the most hideous thing I'd ever done, like guacamole in a glass. I remember Bruce saw it and was like, "Lucy, I'm concerned about you," and I said, "When I have my own place I'm going to show you!"
When you decided to sell Mint in 2015 did it feel like closing a big chapter of your life?
It was bittersweet for sure, I know that's a bit cliché to say, but it was my baby. My heart still pings when I hear the word mint. It was a hard decision, but the right one.

What cocktail trends have you noticed these days in Portland?
I think cocktails have calmed down, and I'm happy about that. I'm also seeing places like Multnomah Whiskey Library and Rum Club focusing on a spirit and channeling it. Also what Jeffrey Morgenthaler is doing over at Pepe Le Moko, by revamping what I previously thought to be bad drinks with quality ingredients. That's genius—there's nothing wrong with an Amaretto Sour if you make it right.
Would you consider opening another bar?
I think so. I learned a lot from Mint/820, but sometimes I'm like, "Does Portland really need another bar?"
Any final reflections on a life in bartending?
Have balance and remember what's important outside of it. I was year three into Mint and looked in the mirror and was like, "I do not want this place to consume me." I don't have any regrets, except that I didn't get one of the signs from the outside.
---
Like what you see? Get more of the best of liquid culture when you sign up for our bi-monthly magazine. Subscribe now and save up to 59%—it's just $21.95 for one year or $32.95 for two years. Click here for details.