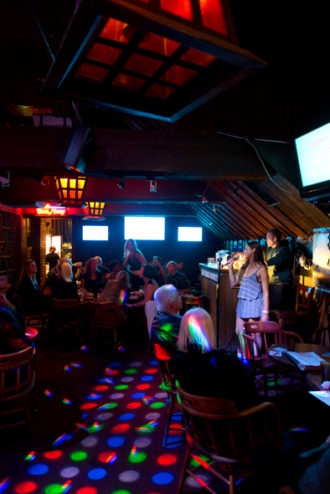 Los Angeles blogger Ron Dollete travels the Internet under his alter-ego Ron Diggity and tweeting as @LushAngeles, and around LA, he's a well-known bon vivant at bars and restaurants. We asked Dollete for his recommendations for dive bars and neighborhood places around the city that should be on the itinerary of any ardent bar crawler.
"LA has always been a town of misfits, and of people who moved here to achieve something bigger, but maybe didn't live that lifestyle," Dollete says. "There's also this great undercurrent of the punk scene, and a cool blue-collar aesthetic to LA. There's a great set of dive bars in this city, some dating back decades, and there's a unifying thing about dive bars everywhere: they have to be comfortable—maybe not in the sense you'd bring your parents there, but no matter what financial state you're in, you're welcome there."
4100 Bar
This Silver Lake bar of a more recent vintage may bear the cheap-beer and jukebox hallmarks of a classic dive, but it also shares ownership with craft-cocktail bars, including Hawthorne and The Varnish. "Those guys have been helping to steward in neighborhood bars," Dollete says. "4100 is in Silver Lake, near El Cid and some great music venues. It looks like a muffler shop from outside, but it's got a great view of the city and the LA basin from the back window. It looks kind of dark and dank inside, but they have a really solid spirits selection, with good tequilas and whiskies. I like the idea that this is a broader expression in the bar world—that you can have nice things, and democratize it. Good drinks aren't just for high-concept places."
Bar 107
"My favorite dive is downtown, Bar 107. It's run by a gentleman from Chicago, and it's the type of bar where there's free pizza on Sundays, and where whether you're young or old, black or white, Latino or Asian, it's just a comfortable place to be," Dollete says. "It's kind of a gaudy, kitschy place—you walk in, and shelf after shelf is covered with kitsch. There's a poster of Red Fox holding a can of Colt 45, a nude photo of Burt Reynolds, and my favorite is a miniature drum kit for a band called the Beef Curtain Cowboys."
Brass Monkey (pictured)
Every city needs a good dive bar with karaoke, and while LA has plenty of them, Dollete calls this Koreatown staple "an LA institution." Order a round of beer, pick a few favorites from the song book, and follow the evening where it leads you.

Daily Pint
"This isn't a dive per se, but more like a sports bar in Santa Monica, and among Angelenos it's kind of a local secret," Dollete says. "It has shuffleboard, pool and foosball, and it's close to the beach and UCLA, so it should be a kind of bro bar—but there's a really good Scotch selection, the biggest in the city, and more than 30 taps of craft beer. It may not fall under the rubric of a dive bar, but it fits the neighborhood bar model."
Eastside Luv
Karaoke is big everywhere, but this bar in East LA does things a little differently. "Eastside Luv is famous for its Morrisey-oke nights," Dollete says. On most evenings, the bar is a music-filled love letter to Latino culture, but once a month, the karaoke mike is handed to those who idolize the British singer and former front man for the Smiths. "There's a confluence you might not expect between Morrissey and Mexican-American culture, but they're both very passionate and express themselves to the point of tears. Morrisey-oke nights are incredibly popular, and people dress up, and it's a thing."
H.M.S. Bounty
This nautically themed Koreatown dive is an L.A. institution. "It's in the base of an old apartment building, and its age and location are big sells—it's among the favorites of locals, going back many years."
King Eddy Saloon
This downtown bar first opened in 1933, and long counted literary drinker Charles Bukowski among its regulars. "It was a saloon right next to Skid Row, and for the longest time it had first call at something like 8 a.m.—by an hour later, the barstools were already filled," Dollete says. The King Eddy has changed hands in recent years, and while some say the changes have altered the bar's timeworn character, it's still a popular stop for downtown revelry.
Thirsty Crow
"It's in Silver Lake, and it's got cheap but good beer, cheap but good drinks, and a great vibe," Dollete says. "It's where a lot of bartenders go on their day off."