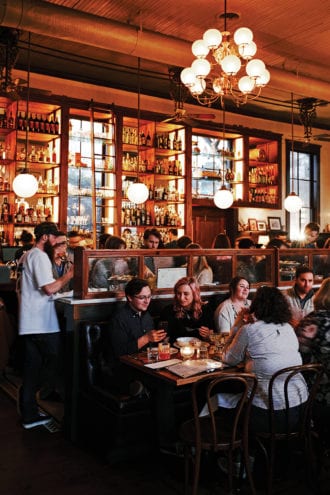 In our May/June 2020 issue, we highlight Atlanta's exceptional cocktail scene, where you'll find standout bars like Kimball House, which writer Gray Chapman calls "Atlanta's crown jewel of classically styled drinks." Kimball House helped spark Atlanta's cocktail awakening when it opened in 2013, and it has since nabbed 7 semifinalist nominations for the James Beard Foundation's Outstanding Beverage Program.
Music has played a starring role in the bar's overall character, and to create just the right sound, co-owner Jesse Smith dusted off an old iPod teeming with Mp3s from his personal collection. It included a lot of 60s garage rock, soul, some punk rock and Americana. This shifted slightly when his partner Miles Macquarrie realized some of the music, mostly British invasion tracks, didn't quite fit the vibe. "We wanted Kimball House to feel like it had always been there, and some of these songs were out of character." Smith says. "We decided to narrow it down to American and French music to relate to the cuisine and still feel appropriate in the space."
Smith decided to further focus on American tracks with a Southern character, so he turned to cowpunk bands like the Gun Club. "I like the idea of Kimball House being the setting for a Flannery O'Connor story, and I wanted the music to reflect that in a subtle way." The overall goal, he says, is to stay true to the soul of the bar in a way that feels right without drawing too much attention. "I want the music to be obscure to the average person, because it's better to go unnoticed than to be annoying. Every once in awhile someone notices a song and is blown away that we play some random obscurity. Even better is when someone has never heard a song before and they just have to know what it is," he says.
The assembly of tracks Smith put together below covers the many moods of Kimball House over the course of an average week. "I go into a few 'Opium Den' songs starting with Scott Walker's 'Angels and Ashes,' which is a beautiful and haunting tune. It goes into a Lee Hazlewood track and wraps this portion of the playlist with the Doors 'Alabama Song.' (The Doors are a polarizing band. A lot of people who I think have good taste hate on the Doors and I think it's a crime). This particular track is a cover of a song from a 1920's German play called 'Little Mahogany.' It's dark, beautiful and utilizes a rare instrument called a marxophone that gives it an extra creepy vibe. Later on in the playlist we get into some of the late-night offerings. Some great French punk is featured, but my favorite is Hubble Bubble with their song 'Look Around.' They're from Belgium, but I have grandfathered them in because their drummer is Plastic Bertrand, and he's known for the song 'Ca Plane Pour Moi,' which is obviously sung in French. My old band the Carbonas used to cover Hubble Bubble, and we will be playing with Plastic Bertrand in July at the Burger Boogaloo in Oakland (coronavirus permitting)."
During nationwide COVID-19 bar closures, consider donating to bar relief funds when you make their cocktails and listen to their house playlists. For Kimball House, you can donate to their GoFundMe GoFundMe campaign, and we've also compiled a list of other bar playlists and donation links here.
---
Did you enjoy this article? Get more of the best of liquid culture when you sign up for a print or digital subscription to Imbibe Magazine. Click here for special savings!