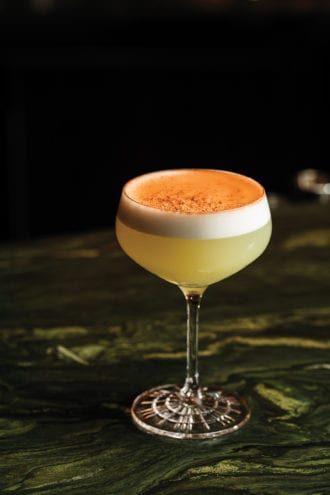 "This is kind of advanced for a vodka cocktail," says Jermaine Whitehead, beverage director at Deep Dive in Seattle, of this mix of vodka, Chartreuse and pineapple shrub. "My favorite inside joke about vodka cocktails is you can taste everything, because the vodka's doing its job as being the blank canvas."
2 oz. vodka
½ oz. pineapple shrub
½ oz. fresh lemon juice
¼ oz. yellow Chartreuse
⅛ oz. simple syrup (1:1)
1 fresh egg white (pasteurized if you like)
Tools: shaker, strainer, fine strainer
Glass: cocktail
Garnish: grated nutmeg, Angostura bitters
Combine the egg white, simple syrup, lemon juice and pineapple shrub in a shaker and shake, without ice, until frothy. Add the vodka and Chartreuse and shake again with ice to chill, then double-strain into a chilled glass. Garnish with a spray of Angostura bitters from an atomizer (or drip the bitters on the drink's surface), and fresh-grated nutmeg.
Pineapple Shrub: Peel, core and cube a fresh pineapple, and add it to a large container along with 1 quart (32 oz.) of raw sugar. Stir to coat the pineapple with the sugar and cover the container; let the mixture rest at room temperature for 24 hours. Use a cheesecloth-lined strainer to strain out the solids, and mix 16 oz. of Champagne vinegar with the reserved syrup. Keeps indefinitely.
Jermaine Whitehead, Deep Dive, Seattle
---
Did you enjoy this recipe? Sign up for our newsletter and get our favorite drink recipes of the moment in your inbox every month.