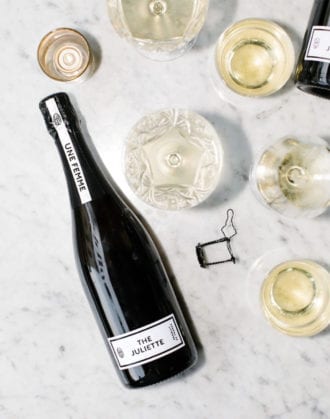 One of the central tenets of Jen and Zach Pelka's new Champagne brand, Une Femme, is that the entire operation—from the winemakers to the designers to the distributors—be women-powered. It should come as no surprise to those familiar with how Jen Pelka conducts business: Her San Francisco Champagne bar, The Riddler, opened in 2017 entirely funded by women. In 2019, The Riddler went bi-coastal with an outpost in Manhattan's West Village, and this February, Une Femme's first wine was released, a Premier Cru Champagne called The Juliette, from husband-and-wife grower-producer duo Gonet-Médeville (and named for Julie Médeville). Since then, the brand—co-founded with her brother, Zach, who serves as CEO—released The Callie, an affordable California sparkling rosé made by Napa-based winemaker Samantha Sheehan. We caught up with the Pelka siblings to chat about making Champagne approachable, empowering women through wine, and embracing small celebrations during challenging times.
Imbibe: Jen, as the founder of the The Riddler and now co-founder of Une Femme, what's been Champagne's persistent draw for you?
Jen Pelka: I have just always loved Champagne. For me, it's the sort of thing that can turn any day into a real celebration. I originally got into drinking Champagne because I loved the bubbles and the taste, and it represents luxury and celebration, certainly. I think as I grew up in my own career and life, and in the restaurant world, I started to learn so much more about the history and traditions of Champagne, and the incredible winemaking processes. It's easy to get geeky really quickly about Champagne. I think for a style of wine and a region that's so heavily regulated and so constrained, it's incredible to see the breadth of styles that are available. I feel really fortunate that, especially through The Riddler, I've had exposure to such a broad range of styles within Champagne and have been able to see the rise of grower-producers, presenting such special wines that are available essentially as agricultural products; they're farming their own land and vinifying their own wine. It's a lot of people who, either their families have been farmers for generations and generations or it's young people, like me and Zach, who are doing things that are a little more experimental and playing around with what Champagne can be.
It sounds like inspiration for Une Femme came partly from something you felt was lacking in the current wine market. What's the void you aim to fill with these wines?
JP: If you look at the overall Champagne market, the $5 billion-plus market, something like 95 percent of that market is the top 10 brands.
Zach Pelka: Yeah, it's something like that. Of the top 10 houses, the average age is 206 years old, and nine of the 10 are older than the United States. So it truly is the most legacy industry you could think about, in terms of the players. The thing that we saw, really that started at The Riddler, was that so many women came into The Riddler and espoused us because they felt the ideological connection to women-run business, women investors, the ethos behind The Riddler the bar. But once they came in, that experience got stopped: There wasn't a brand in Champagne that closely connected and had an extension of The Riddler concept. So that's where we thought about the opportunity to create a brand that extended out to focus on women empowerment, women winemakers, giving back to Dress for Success, and having the full 360-[degree] brand in a new way, which is so much different than the traditional Champagne brands of a Veuve Clicquot or a Dom Pérignon.
Each year Une Femme will give a donation to Dress for Success. Why is this organization a perfect fit for the Une Femme ethos?
ZP: We knew from the beginning that we wanted to have a charitable component that was focusing on women empowerment. That was one of the fundamental founding principles when Jen and I decided that we should start this business. One of the taglines we've come up with for Une Femme is to celebrate the IPOs and the wins, and help women on their journey to financial independence and success. Dress for Success is a partner that has been focused on that from the very beginning, and we felt like their mission and our mission were incredibly closely related.
Historically, Champagne has highlighted some well-known women, such as Madame Clicquot, but what's the current representation of women in roles like owner, producer, or blender in Champagne?
JP: There's been a tremendous amount of progress on that front, particularly with the current generation of winemakers. There are some incredibly powerful women who are running really, really important Champagne houses right now. One of the best examples is the CEO of Krug is a woman [Maggie Henríquez], who is an incredible powerhouse, and she's running one of the most iconic luxury brands in Champagne. And then you also see on the grower-producer side many wines that are either historic or new brands being run by women. Paul Bara [owned by Chantale Bara] is an example, J. Lassale is a third-generation female-owned lineage of female winemakers and owners. There really are countless examples. We're not to a point of gender parity within that, but there are a lot of women now who have taken the reins, whether it's over their family's traditional Champagne house or if it is that they're creating something new. We just feel really inspired to be able to promote that in a way that's easily understandable and digestible to an everyday consumer who might not know who the winemaker is behind a particular brand. We want to make these as approachable for the American audience, and for anybody who knows they love sparkling wine. It's pretty easy to remember, and they can feel confident serving it at a dinner party or giving it as a gift in a way that sometimes European wines, there are a lot of words that are hard to pronounce. That's something I feel like people don't talk about very much, but it's embarrassing if you show up to somebody's house and you're showing them a bottle of wine and you don't know exactly how to talk about it or what it means. So we just want to make it as easy and approachable for people as we possibly can.
There's often an impulse to save special bottles of wine, often Champagne, for that perfect moment. We chatted with you for this year's Imbibe 75 about the push to make drinking Champagne a more casual occurrence. How does Une Femme fit into that, especially these days?
JP: I think with a product like Champagne—which takes so long to make and there's so much history and so much craftsmanship behind it—you have to be respectful of the products and the history and all of the work that goes into it. But I do think that it's a shame that so many people only choose to open Champagne at a wedding or an anniversary or New Years. Champagne is absolutely a style of wine that can be enjoyed as an entire bottle over dinner—or multiple bottles over dinner, as well! It's interesting, people drink prosecco all the time, like no big deal, with anything, at barbecues. I imagine that it's largely due to the price point, but I would really encourage people to give [Champagne] a try and see what they think. There are a lot of good, affordable Champagnes, especially if you're spending in the grower-producer category—producers not putting very much money toward their marketing dollars is probably the easiest way of explaining why some of the big luxury brands are as expensive as they are. If you buy from smaller producers, you can often get really incredible deals. It's still going to be a bit of a splurge for most people, but you certainly don't have to be spending $75 or $100 or $150 on a bottle at a retail shop. You can spend $40 or $50 and get a really really incredible bottle of wine.
Similarly, right now, the idea of holding onto something until an unknown date has been somewhat shattered, and the tendency is to break into the good stash now. Are you dipping into your own collection?
JP: Oh yes. I mean, my husband and I, our wine collection is completely decimated. We're living right now at a cabin in the woods in Healdsburg, [California,] and I don't know how many hundreds of bottles we had when this started, but we're at a smaller number now. We're definitely drinking Champagne a couple times a week, for sure.
With the current state of the world, what's next for Une Femme?
JP: We would love to launch some additional wines. I would say the biggest decision for us is around picking other winemaking partners whose wines we already love and going to them and collaborating. We've got a list of women who we love in the U.S. and abroad, but I think right now our inclination is to support our friends and neighbors. The wine industry is pretty decimated at the moment, and a lot of our winemaking friends are trying to figure out what's next for them. As we think about the next wine, we'll definitely be really careful about who that partner is with. We're going to run out of Juliette pretty quickly, so we're going to need some more wines. We're finding people are interested in drinking Champagne and California sparkling at any time. I think everybody's looking for little moments of celebration here and there.
---
Did you enjoy this article? Get more of the best of liquid culture when you sign up for a print or digital subscription to Imbibe Magazine. Click here for special savings!