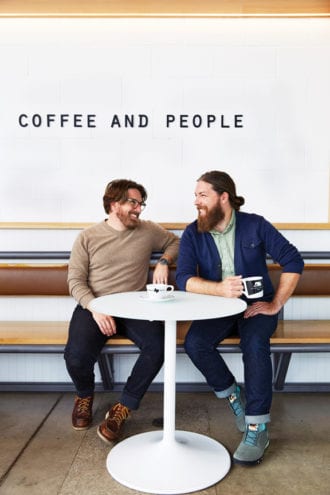 Running a business with a sibling seems like it could be a special kind of torture, but for Sean and Paul Henry, that familial connection is what makes Houndstooth Coffee function smoothly. "It can be a dynamic relationship. We respect each other too much to let pithy items ruin the relationship, and we recognize each one of us brings distinct talents to the company," says Paul, the general manager and the younger of the two. "It's great because we can still surprise one another with fresh ideas or answers to new problems as they arise," adds Sean, Houndstooth's owner and founder.
The bearded brothers have a quiet Texas swagger, and together they've built one of the most progressive coffee companies in Texas, if not America.
Both Sean and Paul came into the world of coffee serendipitously. After graduating from the University of Texas with a film degree, Sean spent his free time casually exploring Austin's coffee scene, but it was an eye-opening trip to Seattle that propelled his interest to something more serious. The first Houndstooth opened in Austin in 2010, with Paul joining the team as barista shortly thereafter. Paul's intention was simply to help his brother launch the business, but the infectious spirit of the company roped him in for good. These days, Paul manages most of the Austin operations, while Sean focuses on new projects in Dallas. "We have a third brother, Marc, who sometimes accuses us of having 'brother meetings' without him," jokes Paul. "He may not be involved in Houndstooth, but the three of us are thick as thieves and do most everything together when we're able."
With a modest fortitude, the brothers have stayed ahead of the curve over the years with drinks like cold brew, Japanese iced coffee and creative alcohol-free mixed drinks. Sean helped found Tweed Coffee Roasters in 2013 to improve the quality of their offerings, and now, a total of seven locations serve Austin and Dallas. Each one has a clean, simple and modern interior scheme, but every location also has it's own particular design quirks to fit in with its respective neighborhood, too. The new East Austin location adopts the all-day café model with coffee in the morning and booze at night. And the most recent Dallas location is solar-powered and has Texas' first Mavam Espresso machine, notable for how its low-profile interface encourages more interaction with customers.
Their mantra, "The Pattern of Coffee and People," encapsulates the heart and soul of the company. "We aren't heavy-handed or super outgoing," says Sean. "However, we do our best to guide our guests into an experience that is more than the sum of its parts—not just coffee or more free Wi-Fi." From the open bar design to the way the tables are organized and the music choices for each day, every detail collides to create a subtle energy for each location. "Nothing beats a chatty, busy day in a coffee shop. There's a magic to it that takes a lot of effort. So when I think on the PATTERN of COFFEE and PEOPLE as it is written on our wall, I know guests may not completely understand it from their first time in, but the goal is that they feel a part of it. They are the "pattern" and help weave that "pattern" into reality before they even realize it—a social fabric of two simple ideas: coffee and people," Sean adds.
In addition to the expert hospitality served up to guests every day, a dedicated investment in the welfare of their employees is one of the foundations of the company that the brothers are most proud of creating. Houndstooth provides health insurance and matches retirement savings plans for employees, and they work with baristas to help them achieve personal goals outside of the coffee world as well. "In our 'former barista' ranks, we have multiple teachers, an architect, a farmer, a book publisher, multiple graphic designers, a therapist, a floral shop owner and a trainer at a Maine coffee company," says Paul. "Many of these folks are still regulars at Houndstooth and can oftentimes be found sitting at the bar, enjoying their coffee, before heading out to do whatever it is they do now. I love that so many of our baristas have found Houndstooth to be a safe place to work while they invest time and energy into becoming who they want to become."
At sister bar Jettison in Dallas, a full-fledged cocktail and spirits den, baristas are cross-trained in bar management and mixology. The same thoughtful management extends beyond the cafés; Houndstooth regularly raises awareness and funds for causes like the ACLU, Asylum Seeker Advocacy Project and Creative Action, an arts-based youth development organization in Austin.
Sean jokes that they're "gonna need a bigger boat" to keep hustling forward, as their sights are set on infiltrating boutique hotels next. "Cafés are needed in our world. So many people are disconnected, and our version of hospitality seems to really resonate," he says. "I'm proud of who we're becoming and we're excited to see where it goes."
---
Did you enjoy this article? Get more of the best of liquid culture when you sign up for a print or digital subscription to Imbibe Magazine. Click here for special savings!