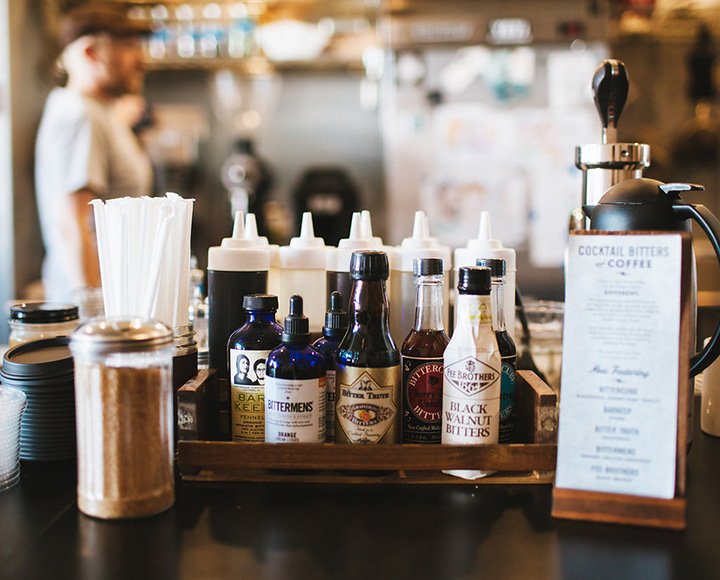 When today's cocktail revival took off in the early aughts, bartenders around the U.S. embraced the opportunity to work with new ingredients (seasonal syrups! bitters! fresh juice!), and they reveled in the chance to make drinks more interesting for imbibers. Increasingly, we're seeing some of those same tricks and techniques infiltrate another segment of the drinks industry— coffee shops.
More and more cafés are finding inspiration in the cocktail world and using bitters and syrups to create unconventional coffee drinks. Instead of rotating through a rolodex of artificial flavors, many shops make syrups from scratch using seasonal ingredients, they match herbs and spices to various levels of coffee roasts, and bitters often add an extra dose of complexity to drinks.
"If bitters and simple syrups mingled well in a bar setting, why not a coffee shop?" Five Watt Coffee owner Lee Carter says. "Achieving an articulate flavor profile through simple syrups alone is very limiting, but I quickly found that there was a universe of possibilities for coffee in cocktail bitters."
Carter started to experiment with this idea at his Minneapolis shop a few years ago, and now he has an 11-drink menu dedicated to specialty concoctions both hot and cold, that—despite their lack of alcohol (unless you count the super low-ABV bitters)—read more like cocktails than coffee drinks.
In addition to standard espresso drinks, newcomers like the Big Easy combine cold-press coffee, chicory and nutmeg syrup, black walnut bitters and cream. Others, like the LP (pictured above), adopt an Asian sensibility with star anise, cinnamon, Chinese Secret bitters, espresso, mint and lemon zest.
Carter has been so inspired by the idea (and the success of the program) that he's taken on a sister venture called Big Watt Cold Beverage Company, which makes bitters inspired by the "cocktails" created at Five Watt. In addition to coriander, fennel and gin bitters, they also keg and can cold-press coffee to sell beyond the brick and mortar shop.
The connection between coffee and cocktails, he says, is natural—a sentiment shared by folks doing similar things in other parts of the country. Pinewood Social in Nashville always has at least one such coffee drink on the menu, like this month's Tennessee Pride latte with espresso, milk, fennel- and rosemary-infused maple syrup, topped with an herb- and bourbon-infused sea salt. Likewise, Houndstooth Coffee in Austin took inspiration from the canon of classic cocktails with their house Coffee Julep, a blend of espresso, honey and mint served over crushed ice with a mint garnish, and in Los Angeles, Frequency Coffee goes so far as to bill themselves as a "craft coffee bar."
"I think the lines are blurring between bartenders and baristas," Frequency owner and head roaster Kian Abedini says.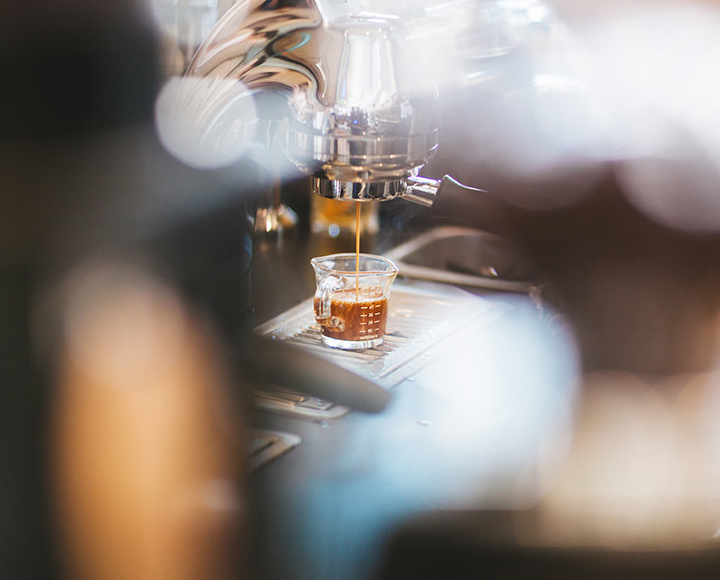 Abedini creates a new drink every few days, depending on what flavors are in season. He also encourages his staff to play around with new ideas "as long as they're putting the coffee first." Drinks like the signature Broadway are especially popular and feature house-roasted espresso combined with cherry bitters, orange blossom water and condensed milk. Ultimately, coming up with new flavor combinations and making ingredients from scratch is meant to differentiate his shop but also to keep things interesting and fun. "Being fun, playful and accessible is paramount," he says.