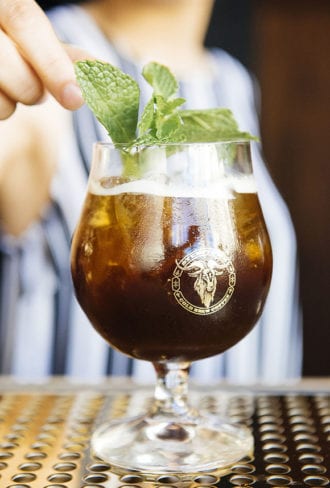 Inspired by the whiskey-fueled Mint Julep, cafés around the country are perfecting a coffee-based version of the classic drink. Just in time for summer's peak swelter, here are some of the best places to find coffee juleps across America.
Black Tap Coffee, Charleston
Aromatic mint and sweet honey dance beautifully with the chocolate and toffee notes of espresso in this coffee julep from Charleston's beloved Black Tap. Get the recipe here.
Corvus Coffee, Denver
Always looking to create the next great recipe, the baristas at Corvus Coffee have switched up their julep this summer. Founder Phil Goodlaxson says it'll feature coffee from Rwanda and will be called the "Ubumwe Julep," a reference to the Rwandan motto." Instead of [last year's] hopped coffee, it's a single-origin Rwandan with honey syrup, orange flower water, and mint to highlight the coffee's natural complexity and dark berry character."
Either/Or, Portland
Using cold-brew coffee as the base, the team at Either/Or closely mimic the build of a traditional julep. "We crush the ice with a mallet, serve it in a metal cup, and even cut down our straws so they're the perfect height to sip through a bouquet of mint," says owner Ro Tam. "We keep it simple with a strong concentrate and some sugar, so as the ice melts down it dilutes the drink slowly."
Houndstooth Coffee, Austin and Dallas
On the menu every year from Kentucky Derby Day through Labor Day, Houndstooth's espresso-based julep will be served at the Austin North Lamar location and the Dallas Henderson Avenue location this summer. The modest mix is made with Tweed Roasters espresso with the crema skimmed off, turbinado simple syrup, sparkling mineral water and ice, with a mint garnish.
Stumptown at the Ace Hotel, New Orleans (pictured)
When the new Stumptown location opened at the Ace Hotel in New Orleans earlier this year (see photos here), it was the first café from the company to offer an extensive line of cold-brew drinks. The Endless Summer is a julep-style concoction made with a cold shot (cold-brew on Nitro), mint syrup and soda water, garnished with fresh mint. It's currently being made in most Stumptown cafés around the country and will roll out to the remaining accounts by August.
Toby's Estate, New York City
Using espresso as the base gives this julep a bigger boost of roasty bitterness. The drink will be back in all four locations by mid-summer, but in the meantime, get the recipe here to shake up a batch at home.