E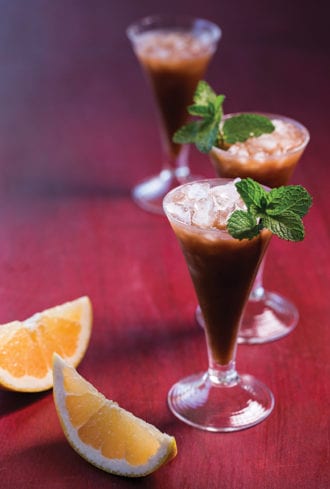 leven months out of the year, Boilermaker occupies the corner of First Avenue and First Street in Manhattan's East Village—but during the holidays, the bar tosses on the tinsel and becomes Sippin' Santa's Surf Shack. This drink from the shack's inaugural year became an unexpected favorite, matching the tartness of fresh grapefruit juice with the robust flavors of Branca Menta and chocolate syrup. "It's silly, but people get a kick out of it," says Sippin' Santa's Samuel Gauthier.
1½ oz. vodka
¾ oz. fresh grapefruit juice
¼ oz. Branca Menta
¼ oz. chocolate syrup (Sippin' Santa's uses Hershey's)
½ oz. simple syrup (1:1)
Tools: shaker, strainer
Glass: flute
Garnish: mint sprig
Shake the ingredients with ice to chill, then strain into a flute filled with crushed ice. Garnish.
Samuel Gauthier, Sippin' Santa's Surf Shack, New York City
---
Give the gift of Imbibe this holiday season. Gift subscriptions are only $19.95 each after your first $21.95 gift subscription purchase, plus you'll receive a free download of our Holiday Punch Guide, AND through 12/31, $1 of every online subscription order goes to the Red Cross! Click here for details.