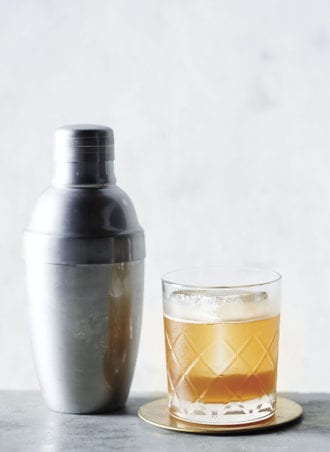 It doesn't get much more beautifully uncomplicated than this cocktail. A variation of the classic Whiskey Sour that's made with honey instead of simple syrup, the drink is featured in Robert Simonson's 3-Ingredient Cocktails book, where he explains how the drink was a mainstay during Milk & Honey's early years and has endured to this day. Simonson uses Henry McKenna bonded 10-year bourbon, but feel free to use your favorite whiskey.
2 oz. bourbon
¾ oz. fresh lemon juice
¾ oz. rich honey syrup
Tools: shaker, strainer
Glass: rocks
Combine all the ingredients in a shaker filled with ice and shake until chilled, about 15 seconds. Strain into a rocks glass over one large cube of ice.
Rich Honey Syrup: Heat 1 cup of honey and ⅓ cup water in a saucepan over medium heat, stirring occasionally, until the ingredients have integrated. Remove from the heat, let cool, then refrigerate. Stored in a tightly sealed container, the syrup keeps for 1 week.
T. J. Siegel, Milk & Honey, New York City
Reprinted with permission from 3-Ingredient Cocktails: An Opinionated Guide to the Most Enduring Drinks in the Cocktail Canon by Robert Simonson, copyright © 2017. Published Ten Speed Press, an imprint of Penguin Random House LLC.
---
Did you enjoy this recipe? Sign up for our newsletter and get our favorite drink recipes of the moment in your inbox every month.