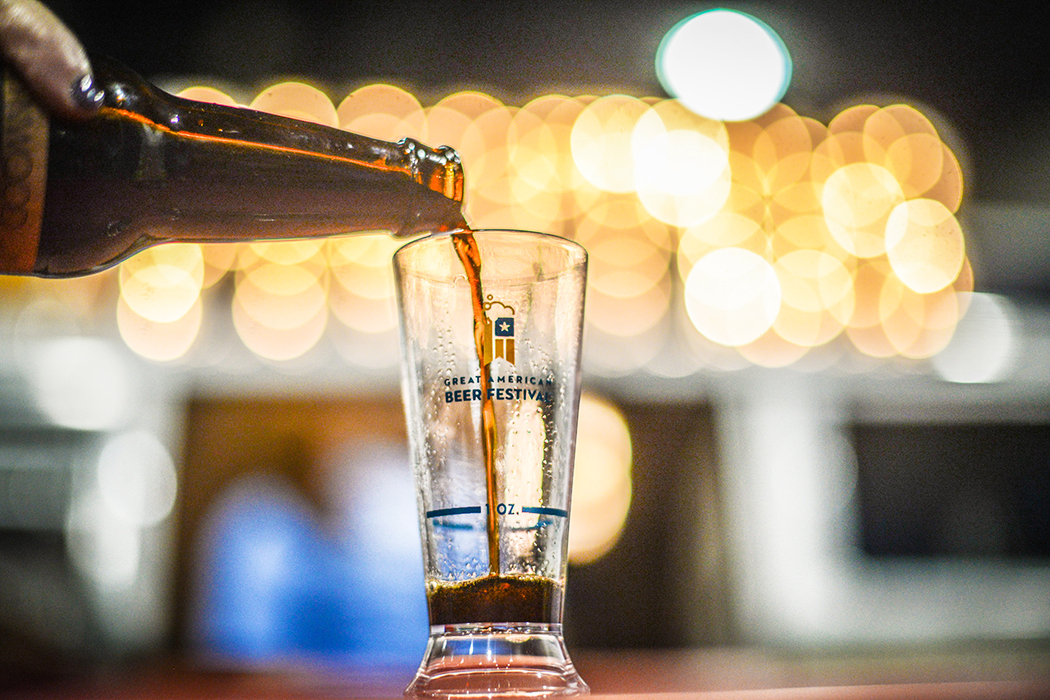 The awards ceremony at this year's Great American Beer Festival took place today, celebrating some of the best beer makers in the country and shedding light on interesting trends happening in craft beer. This time around, the annual event welcomed over 6,647 entries (20 percent more than in 2014) from 1,552 breweries. Out of the 92 beer categories covering 145 different styles, 242 breweries took home 275 medals.
One of the most interesting observations about this year's winners pool is the sheer number of small regional breweries taking home medals, and the fact that the winnings were distributed so diversely; there was no overall sweep by any of the larger, more widely distributed brands and no brewery took home more than three medals. The top winners, with three medals each, were Firestone Walker Brewing Co. from Paso Robles, CA with two gold and one bronze (read our profile of brewer Matt Brynildson here), Sun King Brewing Co. in Indianapolis, IN with one gold, one silver, and one bronze, Port City Brewing Co. from Alexandria, Va. with two silver and one bronze, and Left Hand Brewing Co. in Longmont, CO with one gold and two bronze medals.
Three new categories were introduced this year, including Chili Pepper Beer, Session India Pale Ale and Mixed Culture Brett Beer, showcasing brewers' increasing interest in experimenting with fringe styles. The American-style IPA category was unsurprisingly the most-entered, with 336 entries. Suffice it to say, the interest in hoppy beers likely won't be slowing down any time soon; Imperial IPAs saw 208 entries and Session IPAs had 161.
Here are the winners in the most-entered (aka: the most competitive) categories. For the complete list of winners, including the Pro-Am competition winners, head to the Brewers Association website.
American-Style India Pale Ale (336 entries)
Gold: BNS Brewing & Distilling Co., Revolver IPA (Santee, CA)
Silver: Wicked Weed Brewing – Candler, Pernicious IPA (Candler, NC)
Bronze: The Brew Kettle Taproom and Smokehouse, White Rajah (Strongsville, OH)
Imperial India Pale Ale (208 entries)
Gold: Fat Head's Brewery, Hop Juju Imperial IPA (Middleburg Heights, OH)
Silver: Laurelwood Public House and Brewery, Eazy Duz It IIPA (Portland, OR)
Bronze: Breakwater Brewing Co., Teahupo'o (Oceanside, CA)
Wood- and Barrel-Aged Strong Beer (179 entries)
Gold: Nebraska Brewing Co., Melange A Trois (La Vista, NE)
Silver: Sun King Brewing Co, Batch 666: Sympathy for the Devil (Indianapolis, IN)
Bronze: Ska Brewing, Ska Face (Durango, CO)
Session India Pale Ale (161 entries)
Gold: Societe Brewing Co., The Coachman (San Diego, CA)
Silver: Steel Toe Brewing, Size 4 (St. Louis Park, MN)
Bronze: Noble Ale Works, Nose Candy (Anaheim, CA)
American-Style Pale Ale (160 entries)
Gold: Central Coast Brewing Co., Monterey St. Pale Ale (San Luis Obispo, CA)
Silver: Track 7 Brewing Co. – Natomas, Hoppy Palm (Sacramento, CA)
Bronze: Cannonball Creek Brewing Co., Featherweight Pale Ale (Golden, CO)
2015 Brewery and Brewer of the Year Awards
Very Small Brewing Company and Very Small Brewing Company Brewer of the Year
Rip Current Brewery (San Marcos, CA)
Small Brewing Company and Small Brewing Company Brewer of the Year
Port City Brewing Co. (Alexandria, VA)
Mid-Size Brewing Company and Mid-Size Brewing Company Brewer of the Year
Firestone Walker Brewing Co. (Paso Robles, CA)
Large Brewing Company and Large Brewing Company Brewer of the Year
Pabst Brewing Co. (Los Angeles, CA)
Small Brewpub and Small Brewpub Brewer of the Year
Melvin Brewing (Jackson, WY)
Mid-Size Brewpub of the Year
TAPS Fish House & Brewery (Corona, CA)
Large Brewpub and Large Brewpub Brewer of the Year
Titletown Brewing Co. (Green Bay, WI)