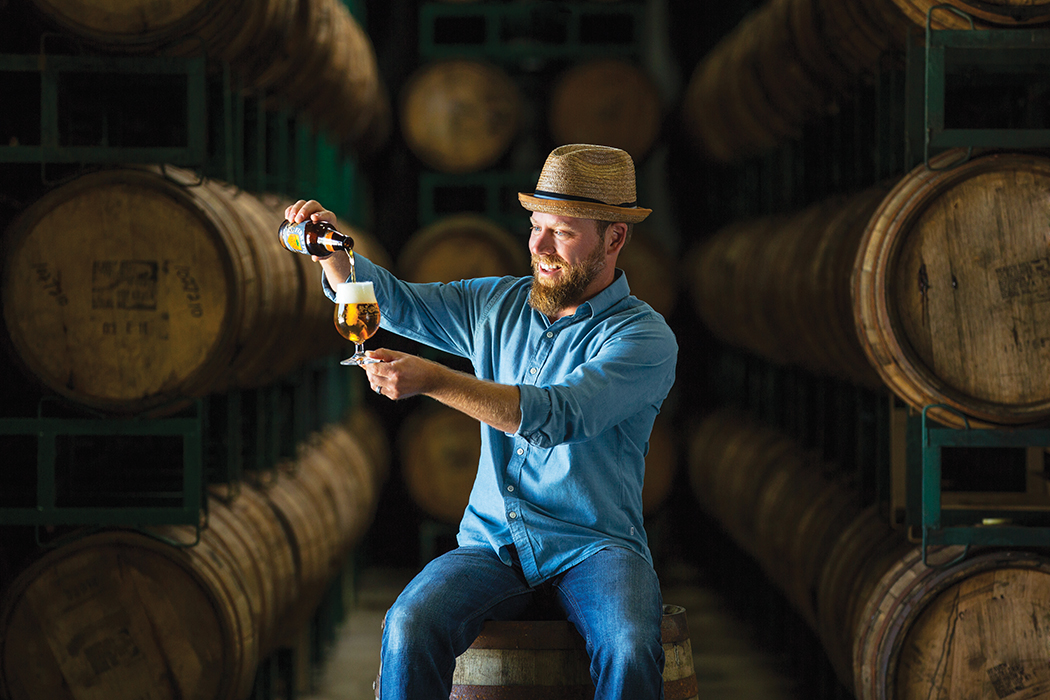 Be it bronze, gold or silver, medaling at Denver's Great American Beer Festival is cause for serious celebration. The feat means you're the country's finest, if but for a single moment. Winning once is tough; prevailing multiple times in multiple categories is sustained dominance on order of swimmer Michael Phelps.
America's most decorated brewer glides far beneath beer-geek radar, in California's grape-soaked Central Coast. At Paso Robles' Firestone Walker, brewmaster Matt Brynildson, a bearded master technician, has five times been named the GABF's brewer of the year and four times the World Beer Cup's champion brewmaster. Additionally, his trophy chest swells with medals for pigeonhole-defying beers spanning English- inspired DBA, citrusy Pale 31, hoppy Pivo pilsner, Double Jack imperial IPA, Velvet Merlin oatmeal stout and Wookey Jack black rye IPA. Name a category and he's nailed it.
"I'm always impressed when a brewer can do a lot of different styles, and do them all at a world-class level," says Dave Brodrick, cofounder of New York City's agenda-setting Blind Tiger Ale House. Adds former Goose Island brewmaster Gregory Hall, "If you win two or three times or more than that, clearly you're doing something that's separating your beer from everyone else's beer."
If Brynildson cared about self-promotion, he could easily be the loudest shouter in an industry of loud voices. But hucksterism is hardly his style. "I love making beer and I love being home," says Brynildson, who has a two-year-old son, Mateo, with wife Alison, whom he met at a wine  tasting room. "I tend to travel more to technical conferences and European brewing adventures, where I'm learning more about the process."
His humility and work ethic were forged in rural Litchfield, Minnesota (current population: 6,726), where his father owned a restaurant. After his parents divorced, he moved to Kalamazoo, Michigan, to finish high school while his mom attended grad school. "In many ways, Kalamazoo was the right time, right place," Brynildson says. Kalamazoo was home to Bell's, an early leader in the craft-beer boom. "I give [ founder] Larry Bell credit for getting me interested in craft brewing," says Brynildson, whose high school best friend, Jon Mangee, is now Lagunitas' quality manager.
Brynildson attended Kalamazoo College, medical school his target. He studied health sciences, mainly organic chemistry, when his foreign-study program sent him to Spain. While abroad he visited Belgium and Germany, drinking in beer culture. "I came back with a greater appreciation for imported beers and classic styles," says Brynildson, who soon started homebrewing. His partner? Southern Tier cofounder Phin DeMink.
Post-graduation, Brynildson landed at Kalamazoo Spice Extraction Co. (called Kalsec), his perch in the hops lab. Brynildson pored through Kalsec's brewing library and picked the brain of sales manager Rudy Held, Stroh's former head brewmaster, and the company soon sent him to Chicago's Siebel Institute to learn more about brewing. "It wasn't until I got to Siebel that I realized I could make brewing a career," Brynildson says. The mid-1990s were an era of rapid expansion in brewing. To find talent, breweries tapped into the Siebel pipeline, especially Chicago's Goose Island.
Typically, Hall would ring Siebel and inquire about promising students. In this case, Siebel's Keith Lemcke (he's currently vice president) called him. "He said, 'We've got this kid from Michigan, and he's the sharpest kid we've had here in a few years,' " Hall recalls. Brynildson was brought on at Goose's new production facility as a low-rung cellarman, his first professional brewing job.
Brynildson's lab training quickly proved crucial, and he worked back-to-back shifts to ensure that his beer was flawless from start to finish. "He's got this curiosity where he wants to figure stuff out," says Hall, who within six months promoted Brynildson to head brewer. "He knew the brewery as well or better than I did."
As head brewer he refined the rich and fruity Honkers Ale, and fashioned Goose's flagship IPA. It was bottled, but Brynildson dreamed of dispensing it via nitrogen, à la Guinness. "I don't want to say that we were ahead of our time, but it was a pretty bold move," Brynildson says, laughing.
After four-plus years at Goose Island, Brynildson was ready to make a different bold move. "I had this thing in my head that I'd go to the West Coast and there would be this whole other level of brewing," he says. In 2000, headhunters for California's SLO Brewing contacted him. "They flew me out there and were basically like, 'We'll pay you twice as much money to make half as much beer and live in California's Central Coast!' " he recalls.
The set-up seemed idyllic. He'd have creative control, operating the same brewing system as in Chicago. The situation was so sunshine-y that Brynildson was blind to SLO's economic viability, or lack thereof. The good news: Given creative freedom, he earned SLO a GABF award as the country's best small brewpub. The bad news: Within a year and a half, the bank assumed control and the staff was pink-slipped. "We felt this sense of ownership, or pride, or stupidity, to keep the brewery going," he says. "I had this notion that if we could keep the brewery running, someone would come by and want to buy SLO and salvage my life in California."
Though the paychecks stopped, the lights remained on, the silo stuffed with grain. Brynildson and quality manager Jim Crooks kept brewing the easily kegged, private-label draft brands for Trader Joe's and Humboldt Brewing. A Japanese firm kicked SLO's tires, then a local winery. But the facility made the most sense to Firestone Walker, which bought the brewery and retained Brynildson as brewmaster, a perfect package deal. "There simply weren't brewers with his background available on the Central Coast," says David Walker, who cofounded the brewery with brother-in-law Adam Firestone. "Our day-to-day brew operations were run by our lab manager, who was over the moon that Matt cared about the microbiology as much as him. It was a natural fit."
The new position necessitated a steep learning curve. Firestone Walker focused on British-influenced pale ales like the rich DBA, that were fermented in an oak-barrel union system inspired by the Burton Union, which was last popular in 19th-century Britain. No brewery in America made beer in that manner. "I was like, 'This is all smoke and mirrors, right?' " Brynildson recalls. Wrong. Working at Firestone Walker meant mastering the way-back contraption. "For the first few years, he earnestly wrestled with the wood, English malts and yeast we were using to optimize DBA's quality," Walker says. "The wood was a new challenge and he embraced it." Though Brynildson honored the Firestone tradition of English pale ales, it was impossible to escape the inevitable. "As a former hop chemist, he was always going to follow the lupulin trail," Walker says.
Because the brewery's Windsor Pale Ale was too similar to DBA, he reformulated it as aromatic, citrusy Pale 31 (California is the 31st state), his homage to Bell's Two Hearted Ale. Pale 31 was dry-hopped, a particular obsession. Firestone's fermentation tanks sat beneath passive solar panels; hops' mortal enemy is sunlight. When tank tops were removed for dry-hopping, "you could almost immediately smell the light-struck character developing," he says. "I feared this would taint the beer."
His suspicions were confirmed when a local winemaker proclaimed that a pale ale seemed skunky. "I immediately made a rule that no dry-hopping could occur in the light of day," says Brynildson. More sensible protocols have since been implemented (like painting the panels and using hop cannons), but his obsessiveness left a lasting mark. "My close brewer friends still call me Batman because of it," he says.
Beyond careful hop additions, another key to beers like Pale 31 and DBA is that they're blended, a technique learned from local vintners. "The wine industry has been a big influence on our barrel program and in creating balanced beers through blending," says Brynildson. In 2006, to celebrate the brewery's 10th anniversary, he blended 10 beers, including an imperial oatmeal stout and triple IPA, which were aged in spirits-soaked barrels and blended with winemakers' input. The project was a creative breakthrough, leading to barrel-aged releases like Parabola imperial stout and a wild-beer program, not to mention Union Jack IPA, Double Jack and the session-ready Easy Jack. The beers are hits, no misses, owing to Brynildson's credo: "You can be as creative as you want on the floor, but the lab is the compass that the brewery works by," he says. "I'd be brewing blind without the lab."
Sometimes, it seems as if consumers have blinders on to Firestone Walker, which is rarely mentioned in the same rarefied league of, say, Dogfish Head or Stone. "We're not out there broadcasting that we're crazy, extreme brewers," Brynildson explains. For the longest time, Firestone was content to be a regional brewery (only 15 to 20 percent of production is sold outside the state), focusing on sessionable beers. "That's not what catches the attention of the real crazy beer geek."
Accolades will come in due time. After all, it's not like Brynildson plans to depart California, or Firestone. On December 31, 2010, he was made a brewery partner. His achievements are due in no small part to his continued knowledge quest, most recently hitting German hop fields to investigate new varieties like Mandarina Bavaria, which stars in Easy Jack. "As much as he knows, he knows there's so much more to learn," Hall says. "He has an insatiable appetite."
No matter where he boomerangs, Brynildson always ends up back where he belongs, keeping his yeast happy, fine-tuning recipes to medal-winning precision and, batch by peerless batch, making America's best beer even better. "Our passion lies back home here in the brewery," he says.
This story originally appeared in the September/October 2015 print edition.