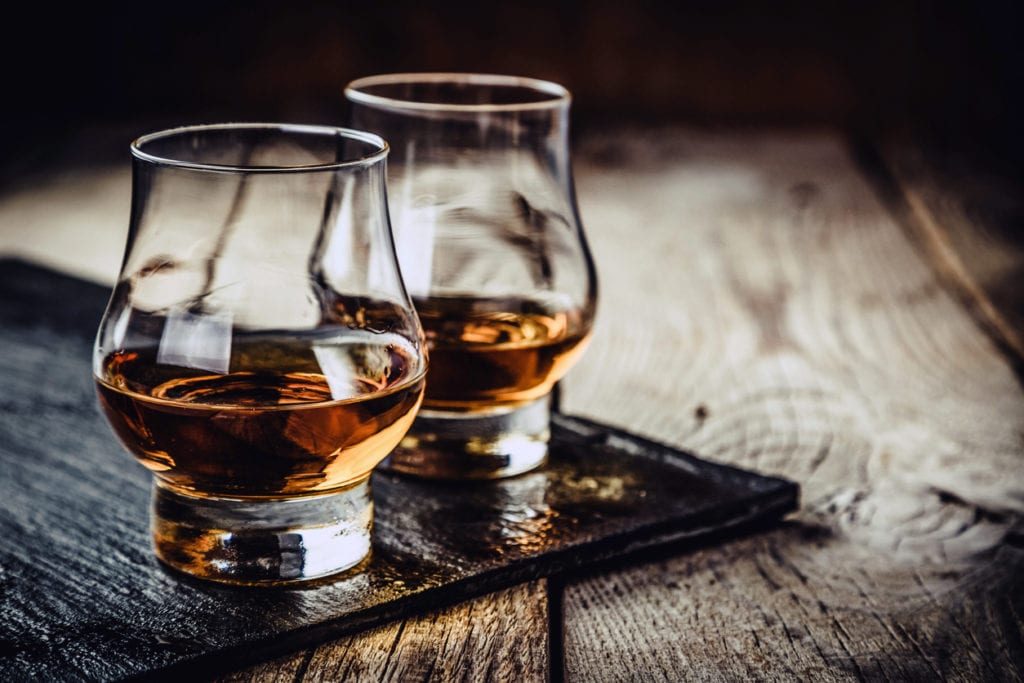 Frenchette's rapid rise to fame in New York City and beyond has in large part been driven by the bistro's remarkable wine list from wine director Jorge Riera. A fan of natural wines, Riera extends his quest for excellence to the restaurant's spirits list as well. "The reason I work with these producers and their spirits is that most of them already make wine, and they give their spirits the same attention they give their vines and lands," Riera says. Here, he shares a collection of after-dinner spirits to serve at your next holiday fête.
Laurent Cazottes, Goutte de Poire Williams
It requires 10 people and an entire month to manually destem and core the Bartlett pears used in this fruit brandy. "This eau de vie jumps out of the glass in its essence and aromatics, with a lingering flavor over your palate," Riera says. "Laurent has a beautiful biodiversity in his lands which he biodynamically tends, working meticulously by hand." $80.59, internationalwineshop.com
Michel Couvreur, Single Malt Whisky Vin Jaune Barrel, 2009
Aged in former vin jaune (a dry, sherrylike white wine made from Savagnin grapes) barrels, this unfiltered single malt is blended and bottled at cask strength by Burgundy-based finishing house Michel Couvreur. The spirit "softens over the 10 years it's been aged to produce a whisky that has the vin jaune aromatics of the Savagnin, concentrated by the power of the malt," says Riera. "A beautiful end-of-meal transition from wine to whisky!" $104.96, astorwines.com
Domaine d'Aurensan, Ténarèze Armagnac, 20 Year
With no dilution before bottling, no added sugar and no colorants, this Armagnac from the Rozès family lands firmly on Riera's list. Crafted from a blend of four single-cask Armagnacs from 1990, 1981, 1978 and 1973, and "aged over 20 years in barrels made from their own wood within their own forest, this is a rancio-bomb of sandalwood, baked prunes, spices and a long, soft, comforting feeling." $189.99, astorwines.com
Occhipinti Grappa di Frappato
Sicilian winemaker Arianna Occhipinti makes can't-miss bottles, and her grappa is a post-meal standout. "Made from an almost extinct [grape] variety native to her village of Vittoria that Arianna singlehandedly brought back to the forefront, this grappa is unique in its fruity and floral aromatics and great balance, making it so smooth, and capturing the very essence of the Frappato," Riera says. $79.96, astorwines.com
Julien Guillot, Domaine Clos de Vignes du Maynes, Marc de Bourgogne, 2002
The pips and skins of wine grapes are distilled to produce this special eau de vie from Burgundy known as marc. "Julien's version is made of Gamay Petit Grain and Pinot Fin, two grapes he makes wines with," Riera says, noting the unfiltered, cask-strength spirit is aged in Guillot's own wine barrels and perfectly captures the energy and essence of his work. "The marc comes off with beautiful red berry fruits, with a hint of softening leathery spice, and [is] easily digested, warming your core!" $189.96, astorwines.com
---
Did you enjoy this article? Get more of the best of liquid culture when you sign up for a print or digital subscription to Imbibe Magazine. Click here for special savings!