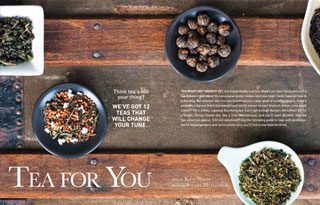 You might not know it yet, but you probably love tea. Maybe you don't fancy yourself a tea drinker—outside of the occasional winter toddy—and you might never have set foot in a tea shop. But whether you're a spirits enthusiast, a beer geek or a coffee fanatic, there's probably a tea out there that would taste eerily similar to your drink of choice. Love peaty scotch? Try a smoky Lapsang Souchong tea. Can't get enough Kenyan AA coffee? Go for a bright, citrusy Ceylon tea. Get a little adventurous, and you'll soon discover that tea has universal appeal. Still not convinced? Use the following guide to teas with beverage-world doppelgangers and we're pretty sure you'll find a new favorite drink.
Satrupa Assam
For those who enjoy: Aged rums
Why You'll Like It: Black teas grown in India's Assam region are known for their full body and breakfast-table brawn. Those grown on the Satrupa estate are described by Intelligentsia tea buyer Doug Palas as being more nuanced and flowery, with a cane-sugar–like sweetness not unlike that of rum. "When I think of fine rums that I've tasted, I think of the subtle dried fruit and vanilla notes that come from the aging process," Palas says. "The Satrupa Assam has delicate notes of dried date and fig that, combined with the sweetness, remind me of a good bottle of rum."
intelligentsiatea.com, $9/2 oz.
Li Shan
For those who enjoy: Intense pear brandies
Why You'll Like It: Named for "Pear Mountain," the region of Taiwan where it's grown, this rich, floral oolong tea might gets its distinctive stone-fruit notes from production methods, though some say the ancient pear orchards that grow nearby have something to do with it. Oolong teas, which are produced in China and Taiwan, are only partially oxidized, falling between un-oxidized green teas and fully oxidized black teas in intensity. "Many of the fruit flavors that one finds in pear brandies would also be found in the Li Shan," says Harney & Sons head tea taster Michael Harney. "The Li Shan has a wonderful mouthfeel and body–gentle but assertive. It's one of my favorite teas, and Pear Williams is one of my favorite brandies."
harney.com, $40/4 oz.
Bao Zhong
For those who enjoy: Hoppy IPAs
Why You'll Like It: "Though not bitter in the slightest, one of our finest oolongs, the Bao Zhong, has a super fresh, floral flavor that always reminds us of some of the great IPAs that the Northwest has to offer," says Jake Gano of Townshend's Tea. Bao Zhong is grown in tea-rich Ping Lin, Taiwan, and is only lightly oxidized, leaving it seductively fragrant. "It leaves a full-bodied, dry aftertaste on the palate, and a lasting, but not overwhelming flowery aroma that seems to fill the sinuses. An IPA enthusiast would very likely appreciate the layers of flavor and revitalizing effect of Bao Zhong, whether they're drinking it hot or on ice."
townshendstea.com, $6.50/1 oz.
GenMaiCha
For those who enjoy: Dry sakés
Why You'll Like It: This Japanese tea is nicknamed "the people's tea" because it originated during the country's World War II tea shortage, when the Japanese started adding roasted brown rice to their green tea as filler. (Invariably, a few grains of tea pop during the roasting process, earning genmaicha the additional nickname "popcorn tea.") Genmaicha's roasted rice notes and grassy green tea flavor make it a no-brainer for fans of bright, grassy sakes. "When served cold, the crispness of the toasty notes parallel those in dry saké," says SerendipiTea co-founder Linda Villano. "Though most quality saké is consumed cold, every once in a while a hot saké is comforting—kind of the inversion of the tea. Hot or cold, genmaicha is refreshing."
serendipitea.com $5/1 oz.
Lapsang Souchong
For those who enjoy: Peaty Scotch whiskies
Why You'll Like It: This ancient Chinese "smoke tea" was famously transported by Russian camel caravans to a tea-thirsty 18th-century Europe via treacherous Mongolia and Siberia, along with oolong and Keemun black teas. Pine fires give this earthy black tea its smoky overtone. "The really interesting part is that the dried leaves are never put over the fire or in contact with any heat but rather the smoke is controlled and redirected so that it's only the smoke that comes in contact with the tea leaves," says Infinitea co-owner Jeff Mares. "I'd imagine a scotch drinker is going to want a hearty, smoky cup of tea with a nice amber color–this tea will not disappoint."
infiniteateahouse.com, $4/1 oz.
Rooibos
For those who enjoy:  Honey-sweetened herbal liqueurs
Why You'll Like It: Rooibos, or African red bush tea, is an earthy, amber-colored South African herbal tisane with a deep, wine-like quality and a smooth honey-like sweetness—making it a no-brainer for fans of honey-sweetened herbal liqueurs like Drambuie and Bénédictine. "Rooibos' naturally sweet, honey-like character compares well to Drambuie," says Rishi Tea's Ghazal Sheei. "And in addition to being sweetened with honey, Drambuie—like rooibos—is warming." And since rooibos is caffeine-free, there's no reason one of these liqueurs can't go along with your favorite nightcap. Bénédictine and rooibos toddy, anyone?
rishi-tea.com, $3/1 oz.
Taiwan Ruby Black
For those who enjoy: Rich, spicy Shiraz
Why You'll Like It: Named for its deep red color in the cup, this Taiwan-grown black tea has more in common with Shiraz than its hue. "There is a wine-like complexity to this tea that goes beyond a simple tannic sensation and shows up in the way it spreads and settles on the palate and sort of mingles with the sweet and lingering malty aftertaste," says Norbu Tea owner Gregory O. Glancy. "The wine-like aspect of this tea's flavor is what really drew me to it. It has a subtle depth and slightly drying mouthfeel that remind me a bit of a medium tannic, less fruity red wine."
norbutea.com, $5.50/0.8 oz.
Floral White Tea Blends
For those who enjoy: Crisp Sauvignon Blancs
Why You'll Like It: Chinese white teas are known for their delicate body and flavor—they're minimally processed, typically made with young leaves and buds, and some of the dried leaves have an ethereal silver hue. Add some Egyptian chamomile petals and Chinese osmanthus flowers, as teamaker Steven Smith does in his White Petal blend, and you have a tea that's downright sniff-and-swirl-worthy. Smith describes it as "light and delicate with hints of flowers and tree fruits." He adds that, served hot or over ice, the blend is "crisp, clean and refreshing with slight creamy, toasty notes and nuances of peach." Go ahead and break out the stemware.
smithtea.com, $10/2 oz.
Pu-erh
For those who enjoy: Dry, earthy, wood-matured tawny Port
Why You'll Like It: Pu-erh is funky, to say the least. Like a fine cheese, this ancient Chinese tea is aged to dark, dank, earthy perfection—either naturally, with time, or through accelerated fermentation. Traditional pu-erhs are aged naturally over many years and sometimes fetch hundreds of dollars per ounce, but most common pu-erhs are known as Wo Dui, or forced fermentation style. "Wo Dui-style pu-erhs are very dark, earthy, damp and smooth," says Tao of Tea owner Veerinder Chawla. "A beverage-world counterpart for Wo Dui would be old cask-conditioned tawny Port, without any fruitiness. The color is slightly more b
rown than a Port (deep burgundy), but both are deep, thick, and smooth with sweet undertones." Pu-erh, with its funky depths, is a reward in itself, but pair it with chocolate, and you might find yourself shopping for plane tickets to Yunnan. Don't say we didn't warn you.
taooftea.com, $2/1 oz.
Kenilworth Ceylon
For those who enjoy: Fruity African coffees
Why You'll Like It: The coffee vs. tea discussion is a slippery slope. Most people are firmly situated in one camp or the other. But it's easy to love both equally. Some coffees, like Panama's famous La Esmeralda, are frequently described as being tea-like. And with certain bright, citrus- and berry-noted African coffees, the resemblance to a traditional Earl Grey is undeniable. So it's no surprise that Adagio Teas' Michael Cramer sees Ceylon, a common base for earl grey blends, as a good entry point for drinkers of bright, fruity Ethiopian coffees. And Ceylons from the Kenilworth estate, such as Adagio's Ceylon Sonata, are considered the best. "They'll appreciate its natural bright citrus notes and balanced astringency," he says. "It's medium-bodied with a lively crispness and sweet, juicy notes of mandarin peel or grapefruit."
adagio.com, $6/3 oz.
Yunnan Gold
For those who enjoy: Dark drinking chocolates
Why You'll Like It: This black tea from China's abundant Yunnan province is named for its unique golden brown color. It's known for its consistent quality and inherent sweetness—a product of both Yunnan's rich soil and the high ratio of golden leaf tips used in the tea. "Every time I smell a good Yunnan Gold, I smell a good-quality dark chocolate powder coming at me," says Floating Leaves' Shiuwen Tai. "It's a bit sweet, with a chocolate-like taste, dried fruit notes and sometimes with a hint of smoky wood scent. It's smooth, hearty and pleasant like a good chocolate–full of good flavors and surprises."
floatingleaves.com, $6.50/1 oz.
Black Dragon Pearls
For those who enjoy: Hearty stouts
Why You'll Like It: This black tea is grown in the lush, mountainous Yunnan province of China—a region known for its large tea leaves and healthy buds, and regarded by many as the birthplace of tea cultivation. It's then hand-rolled into beautiful brown spheres, like tiny, edible balls of yarn. Teavana's Patrick Farrell describes the final product as "a robust full-bodied black tea with sweet chocolaty and malty undertones. Similar to a chocolaty stout, this hearty black tea can even pair with steak, pork and other robust foods. In the tea world, we'd say it stacks up comparably in flavor and tone to a stout or porter, without the fullness and calories."
teavana.com, $15/2 oz.