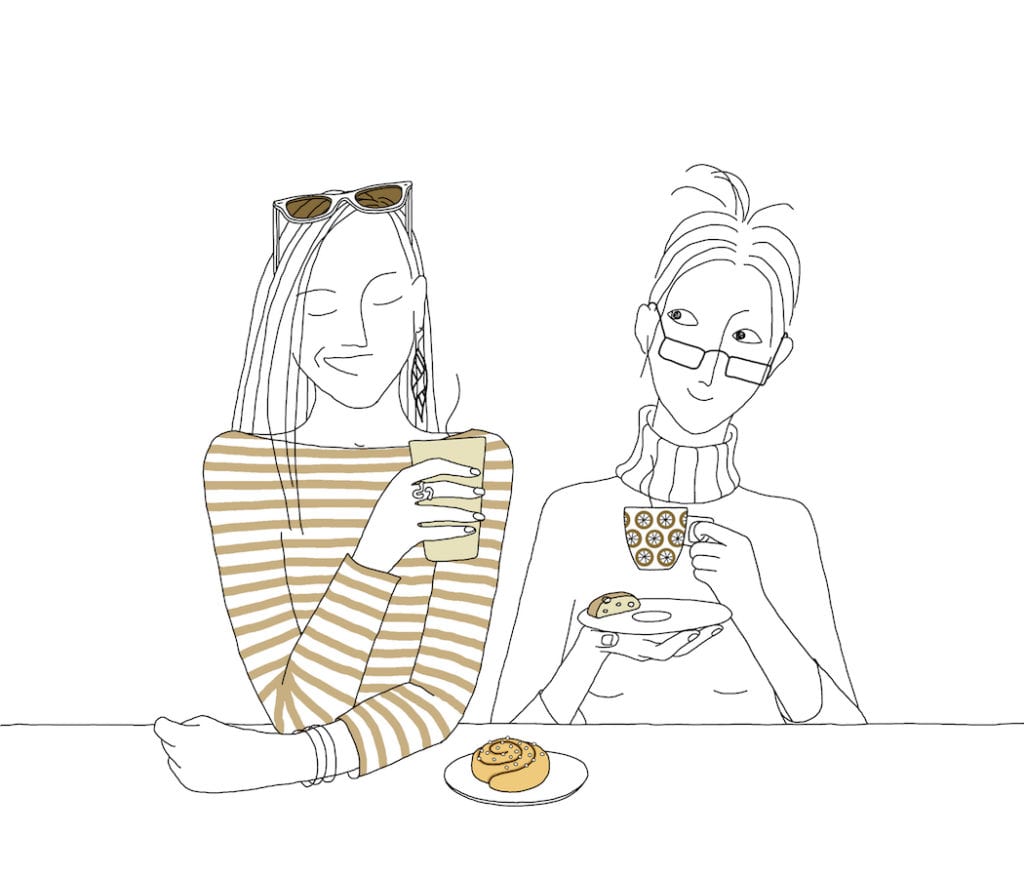 Scandinavia has a long tradition of coffee appreciation, and the drink is deeply embedded in daily culture across the region. In Sweden, coffee is most frequently associated with the tradition of fika, which literally translates to "coffee" but embodies a long-held social ritual. "A fika is not the same as grabbing a cup of coffee on the go, or having one at your work desk," says Johanna Kindvall, an illustrator who splits her time between her native Sweden and Brooklyn. "It's a moment when you leave whatever you do and sit down for a coffee (or tea) somewhere else—alone or with others. It's a moment when you focus on something else."
Kindvall, together with writer Anna Brones, released the book Fika: The Art of the Swedish Coffee Break, which serves as part cookbook and part cultural celebration. Brones grew up outside of Seattle, but her Swedish mother continued many of her native traditions. "We traveled to Sweden every summer to visit my grandparents, and my earliest fika memories are with them; summer afternoons on granite cliffs overlooking the lake with a large thermos of coffee (juice for me since I was little) and plenty of baked goods," says Brones.
Fika is both a celebration and a respite—a chance to catch up with friends, family or co-workers as well as a moment to take pause and simply relax. "Fika is mostly common at work. And many employers even encourage their employees to take a break, often twice a day, once in the morning and once in the afternoon," says Kindvall. "I used to have a boss who got really upset when someone didn't join when it was time for coffee."
Though a fika at work may take just five to 15 minutes, when friends or family congregate, the affair can last several hours. And as important as the coffee are the traditional baked goods that accompany it. "The most iconic fika item is the cinnamon or cardamom bun. You would be hard-pressed to find a café in Sweden that doesn't serve them," Brones says.
At his string of FIKA cafés and bakeries in New York, founder Lars Åkerlund believed the concept would be embraced stateside. Cases stocked with handmade, traditional pastries, chocolates and savory treats lure in even the busiest Manhattanites. "Opening up in New York was always a dream of mine," says Åkerlund. "And what better challenge than to try and get busy New Yorkers to stop and smell the roses—or coffee in this case. It's a huge part of our culture and way of life. While it most often centers around a great cup of coffee and something sweet to accompany it, an equally important component of the tradition is the social aspect."
"It's a moment when you focus on something else," adds Kindvall. "For many Swedes, these moments are essential."
Vetebullar (Cinnamon or Cardamom Buns)
Dough
7 Tbsp. unsalted butter
1½ cups milk
2 tsp. active dry yeast
4½ cups all-purpose flour
¼ cup natural cane sugar
1½ tsp. whole cardamom seeds, crushed
¼ tsp. salt
Filling
7 Tbsp. unsalted butter, room temperature
½ cup natural cane sugar
3 to 4 tsp. ground cinnamon or whole cardamom seeds, crushed
2 additional tsp. crushed cardamom seeds, if making filling using cinnamon
Topping
1 egg, beaten
Pearl sugar or chopped almonds
To prepare the dough: Melt the butter in a saucepan then stir in the milk and heat until just warm to the touch. In a small bowl, dissolve the yeast in 2 to 3 tablespoons of the warm mixture. Stir and let sit for a few minutes until bubbles form on top of the yeast.
In a large bowl, mix together the flour, sugar, carda­mom, and salt. Add the yeast mixture along with the remaining butter and milk. Work together with your hands until you can make the dough into a ball.
Transfer the dough to a flat surface and knead it until smooth and elastic, 3 to 5 minutes. (The dough should feel moist, but if it sticks to your fingers add a tiny bit of flour). Return the dough to the bowl, cover with a clean tea towel, and place in a draft-free place to rise until doubled in size, about 1 hour.
Grease a baking sheet or line with parchment paper.
Make the filling right before the dough has finished rising. Using a fork, cream the butter together with the sugar and the spices until you get an evenly mixed, spreadable paste.
When the dough has finished rising, take half of the dough and place it on a flat surface. Roll it out with a rolling pin to an 11 by 17-inch rectangle. Carefully spread half of the filling on top of the rolled-out dough so that it covers the entire area, going all the way to the edges. Roll up the dough then slice the roll into 15 to 18 equally sized slices and place them on the baking sheet. Repeat with the second half of the dough. Cover the buns with a clean tea towel and let rise for 45 minutes.
Preheat the oven to 435°F. When the buns have risen, carefully brush them with the beaten egg and sprinkle each with the pearl sugar.
Bake for 8 to 10 minutes. Remove from the oven, transfer the buns from the baking sheet to the counter, and cover with a tea towel to cool. Serve freshly baked, and if not eaten right away, store in the freezer once they are completely cooled.
Reprinted with permission from Fika, by Anna Brones and Johanna Kindvall, copyright ©2015, published by Ten Speed Press, an imprint of Penguin Random House LLC. Illustrations copyright © 2015 by Johanna Kindvall.