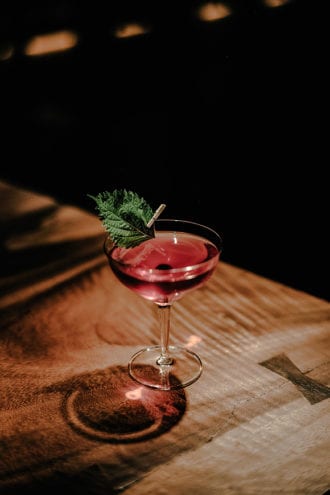 Japan's cocktail community has gained a reputation for quality, creativity and precision, and many American bartenders look to their Japanese counterparts for inspiration, particularly when it comes to ingredients. Yuzu, nori, saké and Japanese whisky are all finding a home on American cocktail menus, but one of the ingredients most frequently embraced by U.S. bartenders these days is shiso leaf, a member of the mint family.
At Bar Leather Apron in Honolulu (one of this year's James Beard Award semifinalists for Outstanding Bar Program), shiso is featured in four drinks on the current menu. "It provides a flavor that most people are not used to seeing in cocktails," says co-owner and head bartender Justin Park. "The bright herbal flavor the shiso leaf lends is very complimentary to tart citrus flavors like lemon, lime and passion fruit." In the Shiso Highball, Park simply garnishes the classic whiskey soda combo with a leaf to enhance the aromatics, and in the Taketsuru Smash, he muddles red and green shiso leaves and combines them with Japanese whisky, yuzu, lemon and soda.
In San Francisco at The Periodic Table, shiso meets shochu, cucumber and club soda, and in the Midnight Lucky cocktail from Bao Bei in Vancouver, B.C., shiso complements a mix of saké, Aperol, ginger-hibiscus tea and pink peppercorn. In New York, Bar Goto's opening menu featured the Far East Side made with saké, tequila, shiso, elderflower, lemon and yuzu bitters, and at Hinoki and the Bird, bar manager Gregory Westcott pairs shiso with yuzu in the Tip of the Iceberg cocktail with gin, yuzu bitters and aloe vera liqueur. "I tend to lean more towards Japanese flavors when using shiso because those flavors don't wash out the herb's subtle flavors," he says.
Zuma Las Vegas global bar development director Jimmy Barrat describes the flavors of shiso as "earthy with a gentle hint of pepper, cinnamon and basil." For his Yokai Martini (pictured), he infuses blanco tequila with shiso, then mixes it with mezcal, yuzu-hibiscus cordial, vermouth, maraschino liqueur and Peychaud's bitters. "The idea was to bring in an earthy element to create a harmony between the tequila and mezcal," he says. "It works naturally with the dry vermouth to gently elevate the spiciness of the hibiscus in the cordial and with the yuzu–they're best friends."
Drinks like the Sake Mojito from Tokyo Record Bar show how easily shiso can swap in for other kinds of mint, and the herb can be an unexpected element in variations on classic cocktails, like the Barracuda from Yael Vengroff at The Spare Room. Vengroff's Daiquiri riff combines shiso with white rum, pear brandy, pineapple and lime juice. "I found that the shiso really complimented the pear brandy, adding a bright, herbal, somewhat spicy character to the drink, which took it to the next level," she says. Meanwhile at The Bellwether, co-owner and beverage director Ann-Marie Verdi took inspiration from the Vodka Collins for her Long Hot Summer, a mix of watermelon-shiso vodka, lemon juice, grenadine and soda. "By infusing vodka with shiso, I was able to take an ordinary Vodka Collins, put my spin on it, and make a cocktail that was not only refreshing, but fun and unique."
---
Like what you see? Get more of the best of liquid culture when you sign up for our bi-monthly magazine. Subscribe now and save up to 59%—it's just $21.95 for one year or $32.95 for two years. Click here for details.