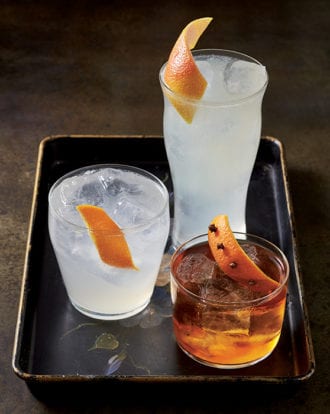 One of the most overlooked bottles on the back bar is that unfamiliar round-shouldered vessel displaying a flowery name: genever. But many don't realize their favorite gin wouldn't exist without this long-ignored spirit.
Genever's origins date to the Middle Ages, when grain-based spirits flavored with juniper were administered as medicine to fight the plague. By the 16th century, genever had firmly established itself as a favorite cure-all in Holland, then the top genever producer, and which—along with Belgium—remains genever's spiritual home. Dutch soldiers would take swigs to steel their nerves before battle, and their British allies in the Thirty Years War developed a taste for the malty spirit, which in England eventually evolved into gin.
Like gin, genever is flavored with juniper and other botanicals—but unlike gin, it's often based on pot-distilled malt wine (similar to a young whiskey), giving the spirit a richness and a mild sweetness. In the cocktail's early years, genever joined rum and brandy in popularity, its mixability earning it inclusion in a number of recipes and bartender guides. But genever was soon eclipsed by gin, and its popularity receded to its Northern European homeland. It wasn't until the 21st century's cocktail revival that history-loving bartenders and cocktail enthusiasts sought out genever to replicate vintage recipes. (Check out a few here).
Centuries after its first appearance, genever was awarded AOC status in 2008. Lucas Bols, one of the world's oldest spirit brands and the maker of genever since 1664, reintroduced its genever to the U.S., and in recent years the cocktail world has seen a surge of genever labels, such as Rutte, Diep 9 and Old Duff.
Now, genever is shining once again in American bars, with bartenders increasingly highlighting its smooth character. At the Liholiho Yacht Club in San Francisco, Yanni Kehagiaras pairs genever with coconut water for his Clifton Special. "Sometimes people say that coconut water tastes like cereal milk," Kehagiaras says. "That's where the balance of the two ingredients lies." And at Genever in Los Angeles, lead bartender Jessie Smyth uses barrel-aged genever in her Manila cocktail, showcasing the spirit's rich flavor in a variation on a Manhattan. "When we mix genever into cocktails, it can provide sweetness and body, and it always offers a little mystery," she says.
Manila
Apple brandy and sherry complement aged genever in this elegant cocktail.
1½ oz. aged genever
½ oz. Pedro Ximenez sherry
½ oz. apple brandy
2 dashes Angostura bitters
1 dash walnut bitters
Tools: barspoon, strainer
Glass: rocks
Garnish: orange peel studded with cloves
Stir all the ingredients with ice until chilled, then strain into an ice-filled glass, and garnish.
Jessie Smyth, Genever, Los Angeles
The Clifton Special
In this Liholiho Yacht Club staple, genever's maltiness pairs seamlessly with coconut water. For best results, use a quality coconut water with little or no added sugar.
1½ oz. genever
1½ oz. coconut water
½ oz. coconut syrup
1 oz. chilled soda water
Tools: barspoon
Glass: double rocks
Combine all the ingredients in an ice-filled glass and briefly stir to combine.
Coconut Syrup: In a dry pan over medium heat, toast 2 oz. of shredded, unsweetened coconut until it's a rich golden brown. Add 2 cups of water and 2 cups of granulated sugar and bring to a boil, stirring to combine. Remove the syrup from the heat and let cool, then chill it for several hours. Strain through a fine strainer and bottle for use; keeps refrigerated for up to 2 weeks.
Yanni Kehagiaras, Liholiho Yacht Club, San Francisco
Captain Barnacles
Genever lends a savory touch to this spin on the Salty Dog.
1 oz. genever
1 oz. gin
1 oz. grapefruit cordial
6 dashes saline solution
Chilled soda water
Tools: barspoon
Glass: highball
Garnish: grapefruit twist
Combine the first 4 ingredients in an ice-filled glass and stir to combine, then top with soda water and garnish.
Grapefruit Cordial: Use a sharp knife or vegetable peeler to remove the zest from 4 grapefruits, reserving the fruit. Put half the zest in a bowl with ½cup of granulated sugar and gently muddle with a wooden spoon; let the mixture rest for 1 day.Combine the remaining zest with ½ cup of vodka, and let soak for 1 day. Combine the sugar and the vodka, then stir in the juice from the 4 grapefruits until the sugar has dissolved. Fine strain the mixture and bottle for use; keeps refrigerated for up to 1 month.
Saline Solution: Combine 1 part sea salt with 4 parts water and stir to dissolve.
Kacie Lambert, New York City
---
Did you enjoy this recipe? Sign up for our newsletter and get weekly recipes and articles in your inbox.