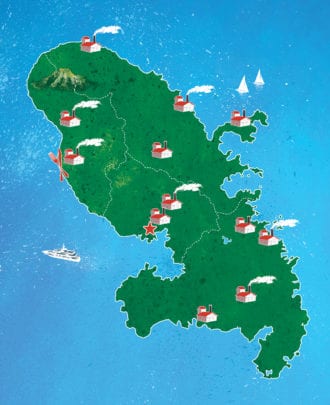 Rum hasn't always been synonymous with a sense of place, but in Martinique it's a different story. "If you drink rhum, you can better understand the island," says Guy Ferdinand, owner and chef of famed restaurant Petibonum, and a local celebrity on the Caribbean island. "Our life in Martinique, it's around the rhum." Roughly the size of Manhattan, Martinique has become synonymous with a style of vibrant, vegetal rum growing ever-more popular in bars worldwide, linked with the desire for spirits with traceable origins.
Rhum agricole (agricultural rum) is distilled from fermented sugarcane juice instead of molasses. The fresh-pressed cane juice is delicate and must be used immediately. "Our agricole rhums have something really special: all the flavor of the island," says Ferdinand, noting the influence of the Caribbean's winds and native flora. The terroir of Martinique's rhum agricole is now guaranteed by an Appellation d'Origine Contrôlée (AOC)—first granted in 1996, the AOC defines the 12 varieties of cane that can be used and where they can be grown, as well as the details regarding distillation and aging.
Declared a French colony in 1635, the island is now an official part of the country, known as an "overseas department." Sugarcane was likely introduced in Martinique in the 17th century, and vast fields thrived in the island's tropical climate. The rise of sugar in the Caribbean also brought institutional slavery to the islands, relying on the African slave trade to provide workers for the fields and sugar mills. Though slavery was abolished in Martinique in 1848, it remains inextricably tied to the island's history.
As cheap beet sugar eventually eclipsed cane sugar, Martinique's distillers turned to producing rum
sans sugar factory. In 1935, the island had close to 75 operating distilleries; today, that number has dwindled to seven, with a handful of former distilleries now exclusively blending. Still, it's enough to warrant celebration, and earlier this year, Ferdinand launched the first-ever Martinique Rhum Awards. "We're one of the best destinations for rhum," he says.
Fun Facts
*Like many islands in the Lesser Antilles, Martinique was built on a foundation of volcanoes. On May 8, 1902, the 4,500-foot high Mount Pelée erupted on the northern tip of the island. It was the deadliest blast of the century, and leveled the island's cultural capital of Saint Pierre, called the Paris of the Caribbean. Stored in the city's warehouses were thousands of barrels of rum, which ignited and sent tides of flaming rum flowing down the streets and into the sea.
*The renown of Martinique's rum dates back to 1855: That year, two Martinican rums were medaled first and second in class at the Paris World's Fair.
*Ti' Punch is the national cocktail of Martinique ("ti' " an abbreviation for "petit"). The simple swizzled cocktail, bracing and sweet, commonly contains a measure of blanc rhum, a squeeze from a small sliver of lime, and a drizzle of sirop de canne (sugarcane syrup), and it is enjoyed across the island. Just remember: no ice.
6 to Try
HSE Blanc Martinique Rhum Agricole
While Petibonum's Ferdinand prefers Habitation Saint-Etienne Rhum Blanc Parcellaire #1, made from golden cane grown in two specific fields, HSE's more widely available blanc rum (distilled at Simon) is similarly excellent, with notes of grass and citrus pith. $19.96, astorwines.com
Rhum Clément Canne Bleue
Clément first began producing rhum agricole in 1887, and while its original distillery is no longer active,
Clément continues to produce rum at Distillerie du Simon. Made exclusively from blue sugarcane, a high-quality cane varietal, this blanc rum is rested for around six months in a stainless steel vat and is full-bodied yet bright, with a cucumber aroma and a sweet cream finish. $32.97, winechateau.com
La Favorite Rhum Agricole Blanc
Opened as a sugar refinery in 1842 then bankrupted in 1875, La Favorite was resurrected in 1909 and is today one of two operational family-owned distilleries on the island. With an ABV of 50, La Favorite's Rhum Agricole Blanc is a super-smooth tropical wizard of a rum perfect for Ti' Punch. $32.99, klwines.com
Neisson Eleve Sous Bois
Martinique's other family-owned distillery is among the smaller facilities on the island, but
its rums have earned an enthusiastic following worldwide. This eleve sous bois is aged 18 months in new French oak barrels, giving the spirit a delicate balance between the brightness of fresh grass and citrus, and the deeper complexities of vanilla and toasted sugar. $49.99, astorwines.com
Rhum J.M. 15 Year Vintage 1999
One of seven still-active distilleries on Martinique, Rhum J.M. uses sugarcane grown in close proximity to their distillery at the base of Mount Pelée. This vieux agricole was distilled in 1995 then aged in re-charred bourbon barrels. Crème brûlée and leather accent the nose, while the dry, fruity body carries cola and cedar. $250, blackwellswines.com
Clément V.S.O.P. Vieux Agricole
Ferdinand is fond of Clemént's V.S.O.P., made from sugarcane harvested from the Domaine de l'Acajou Estate and aged for a minimum of four years in virgin Limousin barriques and re-charred bourbon casks, emerging mellowed with flavors of coconut custard and wet minerals. $37.99, heightschateau.com
---
Did you enjoy this article? Get more of the best of liquid culture when you sign up for a print or digital subscription to Imbibe Magazine. Click here for special savings!