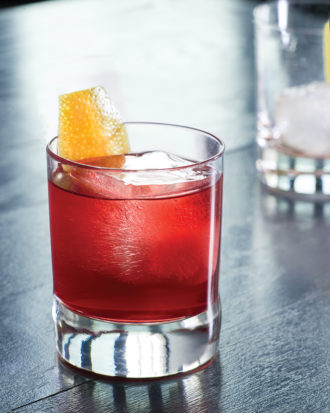 One of the many brilliant cocktails coming out of Chicago's diverse drinks scene, this jewel-toned sipper is the creation of barkeeps Henry Prendergast and Robby Haynes of Analogue in Logan Square. Combining smoky mezcal and bittersweet Campari with blanc vermouth, elderflower liqueur and a dash of Angostura bitters, it's incredibly complex but so balanced that each sip lingers just as the name promises.
1 oz. mezcal
1 oz. blanc vermouth
1 oz. Campari
⅛ oz. elderflower liqueur
1 dash Angostura bitters
Tools: mixing glass, barspoon, strainer
Glass: rocks
Garnish: grapefruit peel
Combine ingredients in a mixing glass and stir with ice to chill. Strain into a rocks glass containing one large piece of ice. Twist a grapefruit peel over the drink and then use as a garnish.
Henry Prendergast and Robby Haynes, Analogue, Chicago