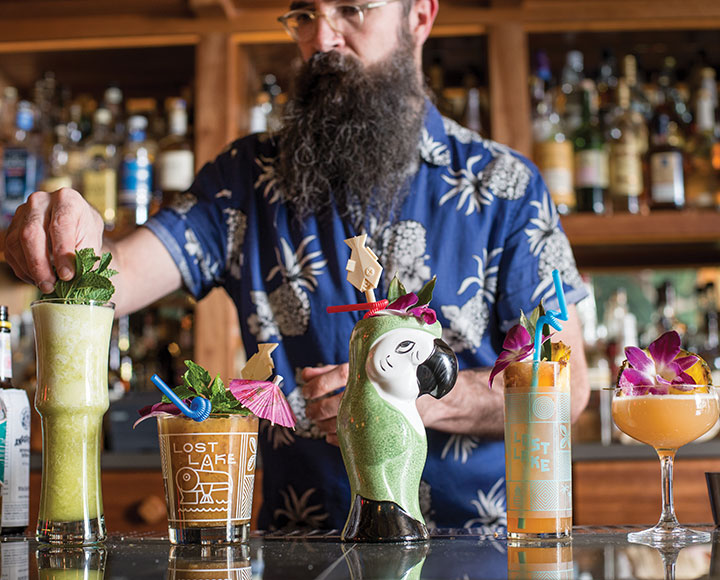 This story originally appeared in Issue 55, May/June 2015.
While the ghosts of infamous bootleggers and speakeasies are still easy to find in Chicago, today's bartenders have successfully resisted getting bogged down in the lore of the city's past. Instead, Chicago cocktail bars are eagerly embracing change and innovation, and in recent years, the city has become one of the world's most talked-about cocktail destinations. "We have an amazing bar scene," says Chicago native Charles Joly, a career bartender whose role in establishing The Drawing Room and The Aviary helped spearhead the city's modern-day cocktail movement. "You have everything from Bar Deville—a comfortable neighborhood joint where you can get a good cocktail or just drink whiskey all night—to Aviary, a world-class establishment with some of the most progressive techniques. There's something for everyone."
The Violet Age
In 2007—a time when the cocktail cultures in New York and San Francisco were already in full flower—an oversized, unmarked bar opened in Wicker Park. It was an audacious move at a time when there were few, if any indications that craft cocktails would be accepted by Chicago drinkers. Turned out, The Violet Hour set the stage for a citywide drinks revolution.
The Violet Hour is as dramatic as it is serious, with an enormous ballroom-like space broken into nooks and crannies by theatrical floor-to-ceiling drapes and punctuated by vertical, throne-like banquettes. When paired with a formal menu (the classically rooted cocktails had a clear NYC connection via head mixologist and partner Toby Maloney, a veteran of Milk & Honey and Pegu Club) and an accompanying set of house rules (no hats, no cell phones), the message was clear from the beginning: The Violet Hour deserved Chicago's undivided attention. "Most people, myself included, had no idea what the whole [cocktail movement] was about before then," says Henry Prendergast, a Violet Hour alum. "To have something that's just cocktails—and that's all—was a big deal. I still think it's the best place for a straight cocktail. There are so many people working there with so many ideas that it always stays fresh and interesting."
But that was just the start. Places like Sepia, The Whistler and the now-shuttered Drawing Room followed, and once Chicago developed a taste for fine-tuned cocktails, the genie was out of the bottle, and Violet Hour bartenders started flying the coop to explore their own ideas in different ways. Some, like Brad Bolt's divey Bar Deville, kept things casual, as did Michael Rubel's program at Big Star, located across the street from the Violet Hour. Mike Ryan's menu at Sable in River North, and Stephen Cole's at The Barrelhouse Flat in Lincoln Park, landed on the polished, classy end of the spectrum. Ryan has since moved on to other projects, but both he and Cole helped Chicago's cocktail scene evolve even more in just a few short years.
Then, in 2012, the cocktail ante was raised yet again. A bar came along that looked like nothing Chicago (or other cities) had seen before. Grant Achatz—a chef renowned for his work with molecular gastronomy at Alinea, which opened in 2005—opened a cocktail think tank called The Aviary, with a drink kitchen that operates like a science lab. The avant-garde menu is filled with drinks that elicit shock and awe, like a Jungle Bird filled with floating bubble tea–like balls of rum, and the In The Rocks series of drinks crafted by injecting liquid via a syringe into water balloon–sized ice spheres that require "heavy weaponry" to crack open.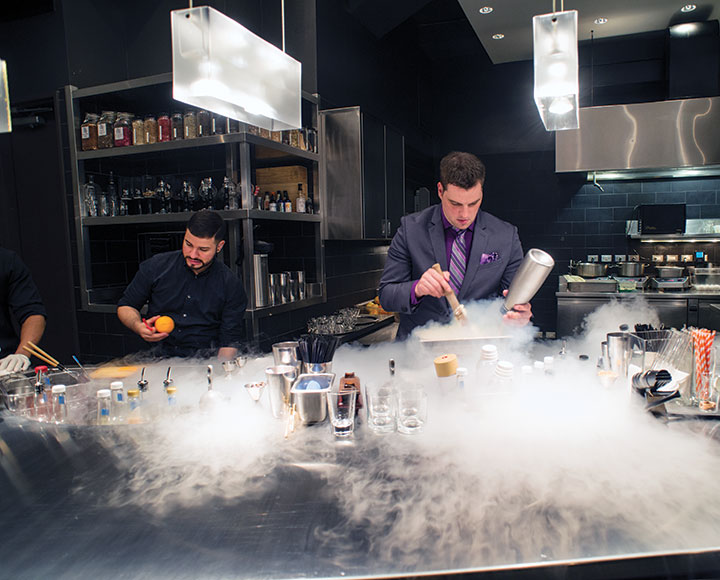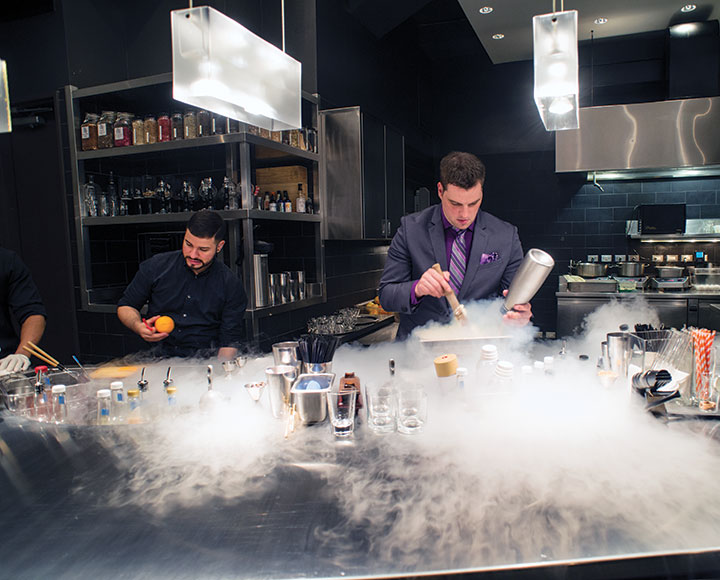 Tricks and gadgets impress, but what makes Aviary successful is the exquisite precision of flavor. "You have to walk before you run," says beverage director Micah Melton (pictured below, right), who took over the role following Charles Joly's departure last year. "If we only focus on presentation and making drinks look amazing and forget about the flavor, we fall flat on our faces. Taste is first and foremost, and if we were all smoke and mirrors, we would be awful."
Making It Personal
Aviary propelled Chicago to the forefront of the international cocktail conversation, but it also inspired entrepreneurial-minded bartenders to execute their own big ideas. Neighborhood parlor Scofflaw made waves in 2012 when it debuted with a gin-focused menu—a potentially polarizing choice made by former Whistler bartender Danny Shapiro and his partners—but the bar's character isn't solely defined by its juniper edge. "Scofflaw does have an advanced gin program, but there's so much more they can offer because of the people behind that bar. You may walk in there for gin, but you could walk out with something entirely different," says Wade McElroy, managing partner at nearby Sportsman's Club. "That's all Midwest sentiment. You can do really creative things and not have to stand on your high horse to do it. That's the culture here through and through."
Up the road in Logan Square, a bar cheekily named after a temperance proponent also boasts a "quirky back-bar niche," as beverage director Alex Bachman puts it. More than 500 kinds of rare and vintage bitter liqueurs and amari line the shelves at Billy Sunday, including 45 kinds of fernet. The bar is a temple to all things bitter, but the menu is far from a one-trick pony. Drinks such as the Anxiety's Door—with bacanora (a Mexican spirit similar to tequila), hops, persimmon, lime and burnt-sugar bitters—and the breakfast milk–like Box Lunch—with goat's milk, herbal liqueur, sherry and spices—demonstrate the range and depth of Bachman's prowess.  "I think it's one of the best bars in the country, and I don't think it gets the credit it deserves," says Chicago bartender Paul McGee. "It flies under the radar in part because Alex is so humble. It's about the product and the process."
McGee helped bolster Chicago's cocktail credibility even more when he opened Three Dots and a Dash in 2013, a modern tiki bar in a swanky downtown basement space. Earlier this year, he returned to his maverick roots with yet another tiki venture, Lost Lake, which he opened with San Francisco tiki titan Martin Cate as an investor and partner. The cozy hut takes a casual approach, evoking early, 1930s-era tiki bars while pouring expertly made tropical tipples.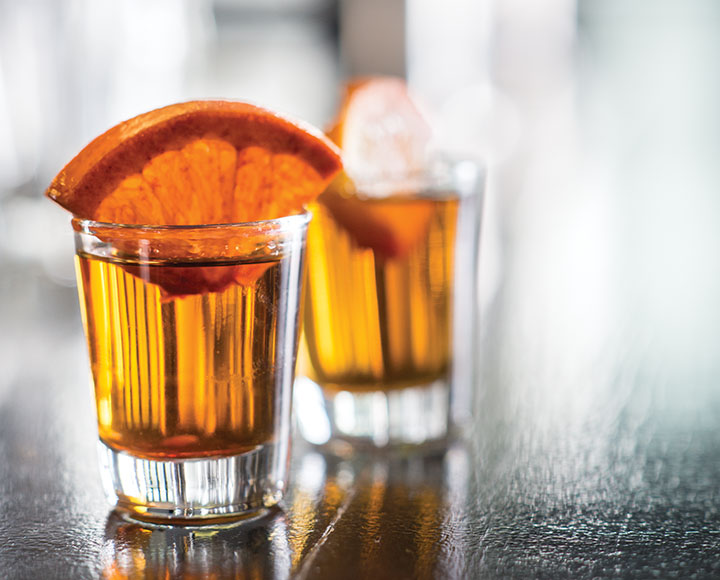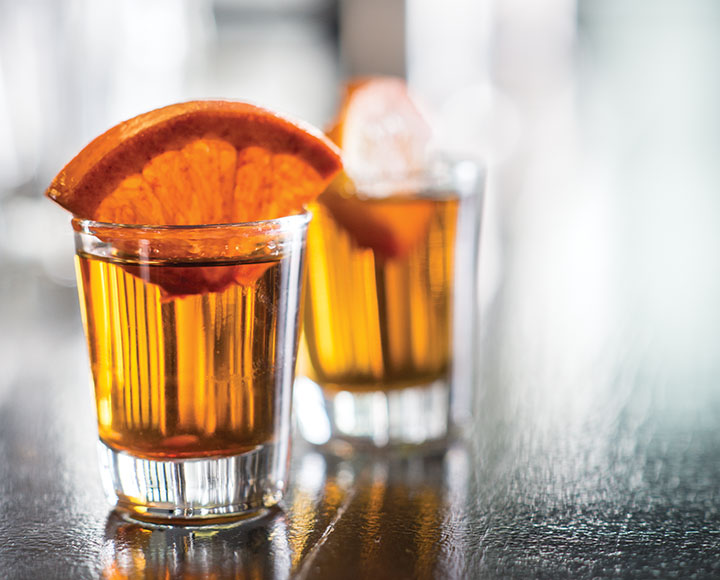 Windy City Boom
Three Dots and Lost Lake were among the swarm of influential Chicago bars to open in the last two years, a cluster that also includes Punch House, Berkshire Room, The Dawson, Revel Room and Analogue. Each contributes a new voice to the city's increasingly expansive cocktail conversation, and many embrace a playful sense of irreverence to keep guests interested. From Jello shots, boilermakers and frozen drinks to dance floors, skeeball and amari machines, everything is fair game.
Shot-sized versions of Old Fashioneds (pictured above) and unusual beer-bitter combinations called "purls" set the tone at Logan Square's Analogue, the brainchild of Violet Hour vets Henry Prendergast and Robby Haynes. The decor is minimal and relaxed; Prendergast calls it an "anti-concept" bar where guests "can get really good food and drinks [without having] to put on any airs," he says. "The music is a little louder and it will be a little rowdy, but everything is still at a certain quality level."
There's a similar sensibility at Slippery Slope, and another upcoming (and as yet unnamed) bar, two recent concepts from the team behind Scofflaw. Slippery Slope is a sort of dance club with skeeball, games and bottled cocktails, and the second bar takes on the trippy '70s with modern interpretations of the era's iconic drinks. "For us, it was about doing more than just good drinks," says Danny Shapiro. "We are hyper-conscious of environment and doing something different. How many cocktail bars can there be if they're all delivering the same experience?"
The Drifter in River North and Sportsman's Club in Ukrainian Village (pictured below) both put unique spins on their drink menus. A rotating deck of drink options printed on tarot cards sets the menu each evening at The Drifter, and a similar rotating system—with the bonus of a daily amari blend on tap—helps keep things interesting at Sportsman's Club. McElroy says every detail contributes to an entertaining yet unpretentious atmosphere. "As great as it would be if they were all neighborhood taverns, the reality is we need to push creativity, too," he says.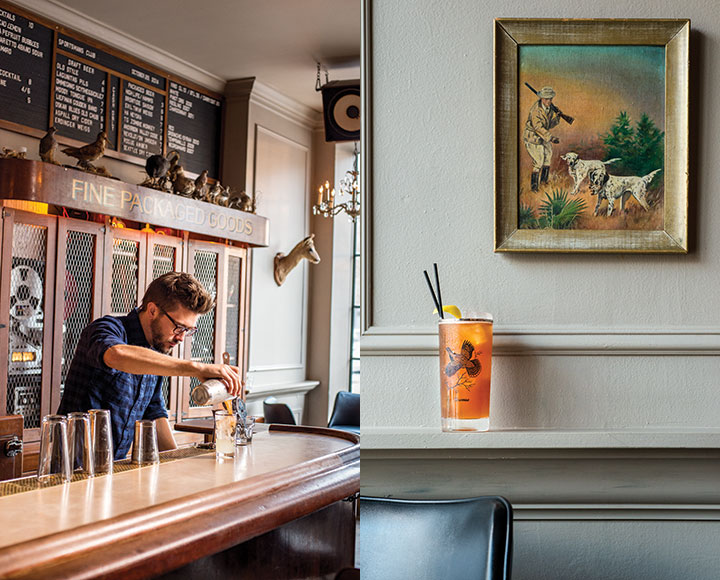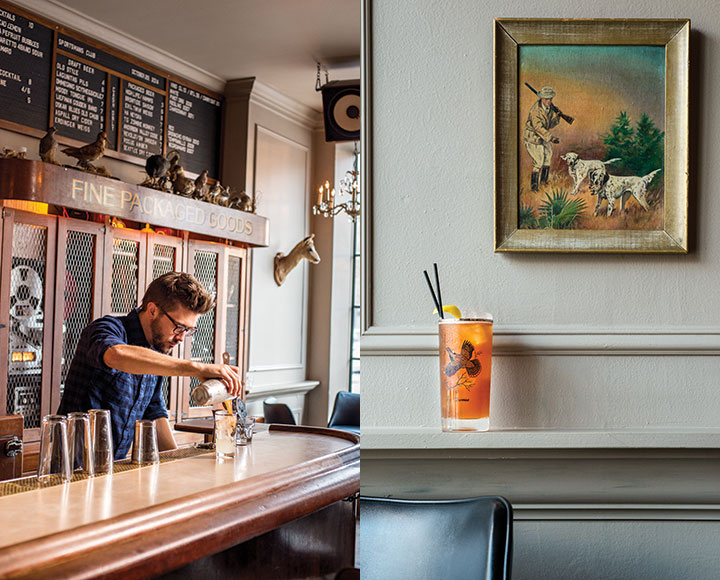 Fast Forward
Chicago's cocktail culture may have taken its time to get started, but the recent surge shows no sign of slowing. Later this year, the city will welcome a third bar to the tiki boom, when the Scofflaw group opens its tropical venture (the name's still undetermined) down the street from Lost Lake in Logan Square. Specialization will continue to be a key theme in Chicago early this summer as AnneMarie Sagoi (formerly of the Dawson, Big Star and Nightwood) launches Artemisia, a vermouth-centric bar with a menu of low-ABV delights. This summer will also see the duo behind Sportsman's Club debut the Queen Mary, focusing on maritime drinking history (think rowdy sailors, fortified wines, gins and rums) in a Wicker Park tavern that's been defunct since the '70s.
McElroy thinks such dialed-in concepts will continue to flourish in Chicago because of the support they've seen thus far from the community, and from industry peers. "There's an immensely talented group of professionals opening bars and leaning into things they feel passionately about, and everyone supports one another here in such an incredible way," he says. "Everyone is really excited right now, and it's just going to build and build."