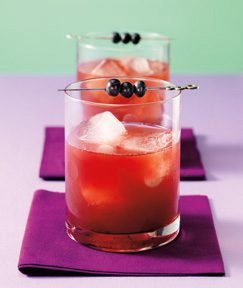 When huckleberry season hits, this recipe from Brooklyn bartender Stephanie Schneider is one of the best ways to put this summer fruit to use. Save the leftover macerated huckleberries as a topping for ice cream.
1 1/2 oz. light sugarcane rum
1/2 oz. fresh lime juice
1/2 oz. macerated huckleberries
2 oz. huckleberry-flavored black tea, chilled (find it at culinaryteas.com or well-stocked tea shops)
Tools: shaker
Glass: highball
Garnish: huckleberries
Combine the first 3 ingredients and shake with ice. Pour the contents into a highball glass. Add the huckleberry tea. Add ice to fill the glass. Garnish.
Macerated Huckleberries
1 cup fresh, ripe huckleberries
2 Tbsp. superfine sugar
Zest from 1 lime
Stir ingredients together and refrigerate overnight.
Stephanie Schneider, Huckleberry Bar, Brooklyn, NY