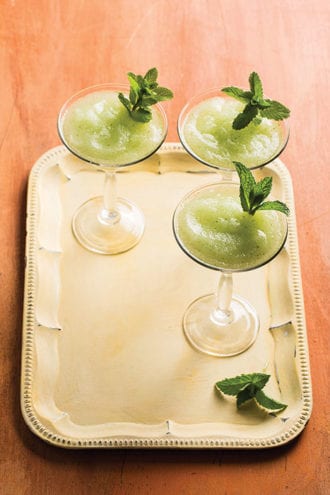 How do you make the ultimate cooling summer cocktail even more refreshing? By adding mint, then blending everything with crushed ice. Gradually adding the rum to the blender, and using granulated sugar instead of simple syrup, follows the long-standing practice of Cuban bartenders, or cantineros. "There's a distinctive approach to texture in a lot of cantinero technique, and that's how their blended Daiquiris have evolved," says Manolito co-owner Nick Detrich. "We wanted to make sure we're doing the drink justice, to bring them to the same standards of the cantinero."
2 oz. white rum
¾ oz. fresh lime juice
2 tsp. granulated sugar, or to taste
1 tsp. white créme de menthe
4-5 leaves of fresh mint
10 oz. crushed ice
Tools: blender
Glass: 10 oz. V-shaped cocktail glass
Garnish: mint bouquet
Add all the ingredients except the rum to a blender. Blend on low speed, gradually adding the rum. Pour the finished drink into a chilled glass.
Nick Detrich, Manolito, New Orleans
---
Did you enjoy this recipe? Sign up for our newsletter and get our favorite drink recipes of the moment in your inbox every month.