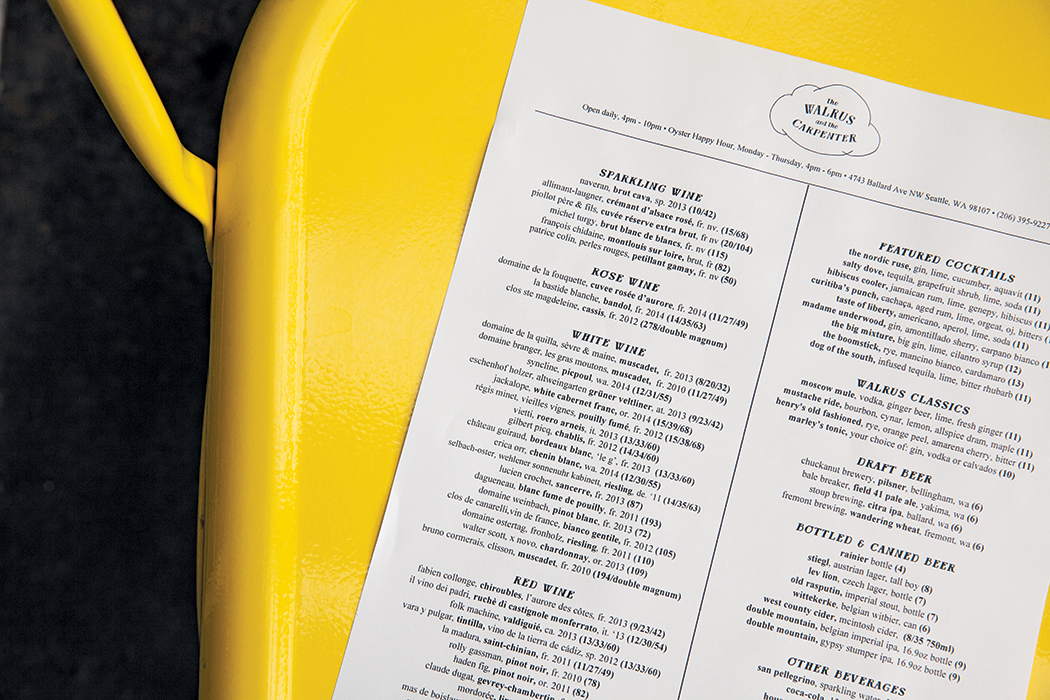 Wine lists at Italian restaurants used to be simple affairs: some Chianti, a little Montelpuciano, perhaps a selection of Barolo and Barbaresco—that is, if there was any Italian wine on the list at all. But things aren't so simple anymore. "Our list has been challenging from the beginning," says Dana Frank, wine director of Ava Gene's in Portland, Oregon, about the labels that make it onto the restaurant's 375-bottle, all-Italian wine list.
But by shifting the focus away from the simple and obvious picks, Frank notes the aim is to excite guests, not challenge them. Frank wants to transmit the experience of Italy through her hyper-focused list, not just the familiar regions and grapes. Sangiovese plays a role, but so too do Malvasia and Gaglioppo. Tuscany shares almost equal weight with the wines from Lombardia and Trentino Alto-Adige. Some bold-face producers—Gaja, Aldo Conterno—make the cut, but so do edgier names, such as Ar Pe Pe and Paolo Bea.
And two-and-a-half years in, Frank can report that what she's doing is working: "We sell a lot of wine," she says. All of which to say is that Ava Gene's wine program has become successful—not in spite of a list that offers a more challenging experience, but because of it. Thanks in part to the intersection of a number of long-simmering trends, wine lists today look wildly different than those from 10 years ago.
The Great Recession downsized bloated library-style wine cellars and ushered in an era of concise, pared-down lists. At the same time, importers and sommeliers have championed the value of underdog regions and grape varieties. This has brought a kaleidoscopic swath of options to the market, the range of which diners have now come to expect—and seek out—when ordering wine.
Food at the most fascinating restaurants has gotten bolder, with ambitious chefs more fearless in adopting flavors and techniques from around the world. That sometimes results in dishes that are less-obviously wine-friendly, but beverage directors are pushing for creative solutions, reaching deep into an arsenal of picks that go far beyond Chardonnay and Cabernet Sauvignon to wine's outer orbits of sherry and fortified wines, as well as beer and spirits.
In this shifting landscape, the most exciting wine lists are nimble, opinionated and function almost as an extension of the food menu rather than tacked on appendices. Size, for instance, was once a defining feature for the top wine lists—but today, it's a much less important metric. Take the jewelbox of a list at Seattle's The Walrus and The Carpenter: wine director Carrie Omegna keeps the list compact—between 60 and 75 bottles at any one time—but tightly focused on wines that go well with the seafood and vegetable-centric dishes on the menu. That means lots of high-acid, low-oak wines, such as a Allimant-Laugner Cremant d'Alsace Rosé NV and Domaine Branger Les Gras Moutons Muscadet 2010.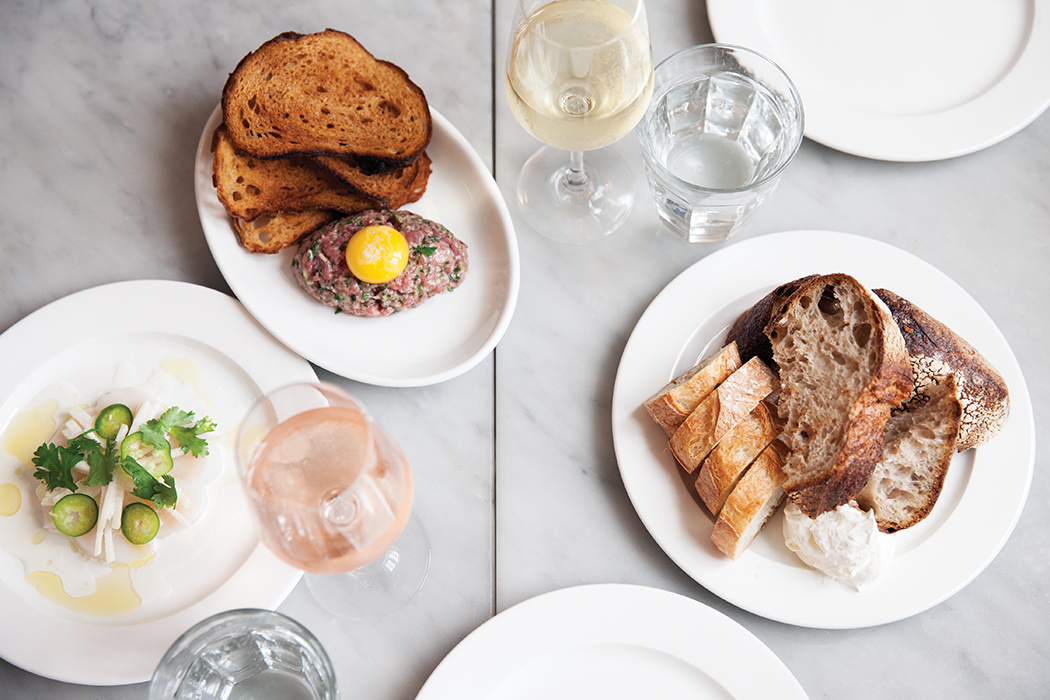 Omegna inherited the list from chef-owner Renée Erickson, and she has tried to keep the same spirit that her employer brought to the selection. "We tend to go for smaller-production growers," says Omegna. But highlighting limited-production wines has consequences: "You can put a wine on the list, and it's gone in two weeks."
What that means in practice is that even though the list itself is small, over the course of months, the restaurant ends up serving considerably more labels as wines get swapped in and out. Staff training can be complicated, so Omegna keeps a detailed inventory of all the current wines, with fact sheets that can be easily accessed by the waitstaff. "It goes back to Renee's sensibilities," Omenga says of the intensive training necessary to keep staff up to date on the fluid list. "She wants a more casual experience at her restaurants. She expects all her staff to be able to step up and talk about the wines."
Omegna feels that the edited selection of wines available at any one time helps reinforce the restaurant's casual atmosphere. "When I go to a restaurant and they have a 20-page wine list, I don't get very far in it," she says.
Keeping things unintimidating and light, even in the face of a more challenging and esoteric list, seems to be a touchstone of the modern wine-list experience—and this brand of approachable service softens the edge of an offbeat list.
"The biggest thing for me is being warm and down to earth," says Frank at Ava Gene's. Frank might start off the conversation by asking what a customer drinks at home. "Usually that's not going to be something on our list or something Italian, but we can make some connections," she says. "If someone says they really like Argentinean Malbec, I can direct them to Teroldego from Trentino because it has similar characteristics. For Pinot Noir, there are certain styles of Nebbiolo that they're going to be interested in."
This hand-selling of analogue wines helps Frank push the wine conversation forward while still appeasing her customers; they get the flavor profile they want, while she keeps her high-concept list.
Other solutions to appeasing the intimidation factor of the unknown involve managing the layout of the list. At Roberta's in Brooklyn, New York, one concession beverage director Amanda Smeltz makes in balancing some of the more esoteric selections is to weight the list toward regions that might be more familiar to American wine drinkers. "They see a big full page of Italian reds, a full page of French whites, two pages of domestic wine," she says about Roberta's 200-bottle list, which tends to feature small and obscure producers. "That's a nice place to start with people to have them not freak out."
Roberta's embodies an of-the-moment, high-low balancing act that many
contemporary beverage programs now perform. Tucked in the heart of Bushwick, a rapidly gentrify- ing industrial neighborhood in Brooklyn, the restaurant is both ramshackle (picnic bench– style seating) and sophisticated (the current chef de cuisine last worked at Manresa in California). The dishes range from rustic wood-fire cooked pizza to artfully plated dishes. And the wine list must codeswitch to all of these levels—ranging from casual drinkable fare to boundary-pushing bottles.
The global focus on the list is Smeltz's doing. When she took over the list three years ago, it was all-Italian, built around the restaurant's famous pizza. "But pizza as it exists in U.S. is just that—it's profoundly American," she says of Roberta's topping combinations, which include the Beastmaster (gorgonzola and pork sausage). "Our cooking takes influence from traditions in the Mediterranean, France and Italy, but it's all inflected with American vocabulary, produce and technique" she says. "I wanted the wine list to have dialogue with that, to be global."
The back third of the wine list is where Smeltz gets to go wild, championing less-heralded regions. "It's about being playful, about not excluding other wine-making traditions," she says. "Wine has been produced in Hungary for thousands of years, but the Cold War has kept us from those wines."
At Blanca, Roberta's high-end sister restaurant, which features a set tasting menu that changes daily and just 12 seats, Smeltz says her goals are much the same in the pairings: pushing the boundaries with some options (and sometimes reaching across the spectrum to fortified wines and spirits), while looping back the familiar to ground the program. "We've done everything from grappa to whiskey to sweet wines from the south of France," she says of her pairings. "Beyond the category of red, white and sparkling, there's so much more diversity. People are interested in more than just wine."
Changing the Conversation
As bottle selections on the list grow increasingly esoteric, many wine directors are exploring ways to encourage customers to try wines that might get overlooked. Theresa Paopao, sommelier of Ribelle in Boston, has found success in championing underdog wines by rewriting the rules for the by-the-glass list: each of her 10 nightly selections are listed only by a one-line tasting note. By eliminating technical pieces of information, she says customers are able to connect to the true flavors of the wine. She says the format allows her to "pour unusual, hard-to- pronounce or less fashionable wines," such as a Central Coast Merlot and Australian Riesling she included on the opening by-the-glass list.
"It was never my intention to write a wine list all by description," Paopao says. "I made those two choices—the Merlot and the Riesling—and I knew I would be faced with a lot of conversations about why those choices exist. I would have to twist people's arms into believing the Riesling wasn't sweet, or that the Merlot was delicious. In order to streamline the experience and save all those extra steps in the process, I wrote the tasting notes and trained the staff to be able to recite the producer name, varietal and location information."
At first, Paopao says customers were confused by the format and she fully expected people to gravitate toward the comfort of ordering known quantities off of the bottle list. But two years in, the program is thriving and the by-the-glass selections regularly top the number of cocktails ordered every night. "Most people think it's really fun," she says, reporting that wine professionals are especially appreciative of the format because it gives them a chance to practice blind-tasting without asking the staff for a special favor. And, in a form of flattery, she says she now is starting to see similar description-based lists pop up on other menus.
Formerly of Cambridge's Oleana and New York's Momofuku (she also opened Momofuku Toronto), Paopao says her confidence in creating a challenging list comes from working in restaurants where a certain level of trust between the customer and the chef existed.
"People come in wanting to have the experience rather than create the experience for themselves," she says. "They surrender themselves to the adventure of what it is that you want. They want your point of view."
Opinionated wine lists can also help diners think differently about the food side of the menu, such as that of Fung Tu, a seasonal American-Chinese restaurant on the Lower East Side of Manhattan. When people hear "Chinese," says beverage director and partner Jason Wagner, "a lot of people think cheap take-out or Szechuan." But the menu at the almost two-year old restaurant, which earned two stars from the New York Times, is anything but, with clever remixes of familiar Chinese-American flavors such as masa scallion pancakes and fava bean curd terrine.
When conceptualizing the wine list, Wagner, who has stints at New York's L'Atelier de Joel Robuchon and Chicago's Nellcôte on his resume, first wondered if he might do an all-Riesling list, the traditional type of catch-all pairing for Chinese food, but quickly scrapped that idea as a "cop-out."
Instead, he pivoted to a small list populated with whites that have a nutty or salty component, sherry, and natural wines fermented with indigenous yeast. "If I had a ton of Riesling, people would go in with the wrong expectations," says Wagner, explaining that few of the dishes on the menu have that sort of mind-meltingly spicy component that call for an off-dry white. Having a list that has no Riesling helps patrons "think about what we're doing in a different context," he says.
For a small list—around 50 bottles—the roster is dense with cult picks that one might expect from a trendy new American restaurant, such as Jean-Francois Ganevat or Olivier Cousin, because importer contacts Wagner developed from previous jobs help him to secure hard-to-get allocations. "If you look at a restaurant like Contra," he says of the buzzy restaurant in the same neighborhood that serves a set menu of new American food, "our wine lists have more in common than they don't. [Our wine list] changes people's perceptions of what the food is going to be."
If Wagner has regrets about leaving the leather-bound wine binders of the fine-dining world behind, he disguises it well. Championing the low-overhead, high-turnover dynamic of his list, he says the ability to frequently tweak the list—usually twice a week—keeps both him and regular customers from getting bored. "I've had hundreds of different labels in the time that we've been open," he says. Next on his goals for the program: getting a small roster of aged wines that he feels will complement the food.
And this push for change and reinvention while staying grounded in a concept is part of what keeps customers coming back to the restaurant. In three months, both the food menu and the wine list will have been overhauled, Wagner says, but customers will place faith in the quality.
This story originally appeared in the September/October 2015 print edition.