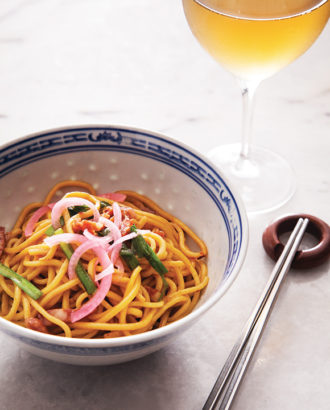 When it comes to wine pairings, there are some obvious matches—Beef Bourguignon and Burgundy, Muscadet and shellfish—but some sommeliers are pushing boundaries with food and wine beyond the usual suspects.
One of the best places to start? Chinese. And perhaps no one understands that better than Jason Wagner, beverage director and partner of seasonal American Chinese restaurant Fung Tu, on Manhattan's Lower East Side. With dishes like a peanut-dressed noodle salad and steamed eggs with Sichuan pork sauce, it would have been easy to default to an all-Riesling list. But Wagner instead looked toward the more subtle nuances of a dish to help inform its ideal match in the glass. A few gems?
Bok choy with shrimp paste paired with Valdespino "Inocente" fino sherry. "An unexpected pairing in that Chinese food and sherry is not often talked about," Wagner says. "The salinity in the wine is a great match for flavor of the garlicy, salty shrimp."
Smoked, fried dates stuffed with duck paired with Rodenbach Grand Cru. "The dates have a little bit of everything: crunchy and soft, salty and sweet, savory and smokey," says Wagner. "Add sour and a little effervescence to the mix and it's absolute magic."
Whole steamed fish with fennel, tangerine peel, chili oil and fermented black beans paired with Bodegas Marenas "Cerro Encinas" Montepila. "The wine is a table wine style of a sherry grape and has a very saline, nutty quality to it," notes Wagner. "It's not very fruity, but extremely savory." As for the fish, "we use Atlantic Sea Bream," he says, "which is a somewhat oily fish, and the savory quality of the wine plays nicely with the ocean flavors—it's also an incredible complement to the fermented black beans, which turn the wine on its head."
Fried pork chops with pickled mustard cabbage and soy-maple glaze paired with Lustau "Los Arcos" amontillado sherry. The sherry has texture, which plays off the fat of the pork chops, but what really makes the wine and the dish match so well is the sauce which is both salty and sweet, just like the Amontillado.
Fried rice with brisket, brussels sprouts and pomegranate paired with Jean-Paul Robinot "Nocturne" Pineau d'Aunis. Fried rice is usually a fairly clunky, greasy dish, but Chef Wu combats this by adding a bright element to the dish, which opens up many more opportunities to pair wine. In this iteration of the fried rice, the fatty brisket contrasts with the texture and acidity of pickled pomegranate seeds. I pair it with a thin-skinned, high-acid, low-tannin grape from the Loire Valley called Pineau d'Aunis. It's tart, a little spicy and has enough stuffing to stand up to the brisket and still leave you refreshed.
For more on Wagner and other sommeliers' approaches to building the perfect wine list, check out the September/October 2015 issue of Imbibe.