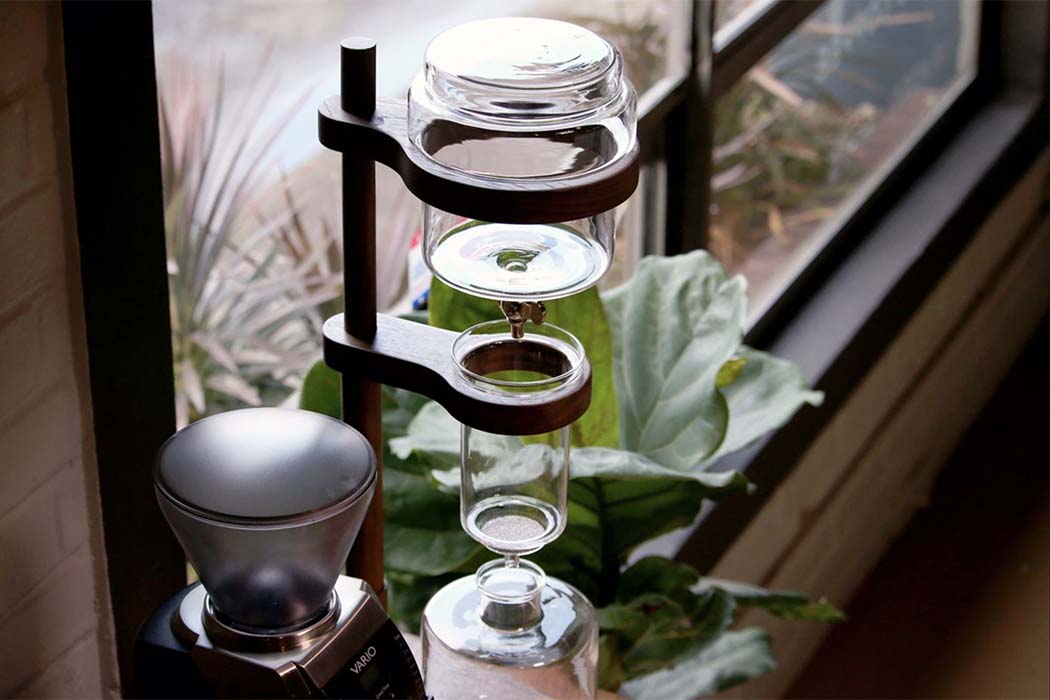 As the name implies, cold-brew coffee is produced entirely without heat, resulting in coffee with bright, lively flavors. Making it at home is a cinch, but you'll need some gear to get the job done well. Here are six tools we suggest using, and be sure to also check out these recommendations for the best beans to use once you're ready to get brewing.
Clive Cold Brew Tower
Japanese slow- drip brewers deliver a smooth cup of cold brew via Rube Goldberg-esque mechanics. This brewer is designed and made in Portland, Oregon, by the coffee whizzes at Clive Coffee. With a stand made from walnut or maple, and hand- blown borosilicate glass pieces capped with brass accents, the flashy tower is simple to use: Fill the funnel with freshly ground coffee, add water and ice to the top chamber, then watch as it slowly flows through and comes out the other end as rich cold brew. $300, clivecoffee.com
ESPRO Cold Brew Coffee Kit
Canada's ESPRO has entered the cold-brew market with a sleek system designed for functionality. The vertically stacked Cold Brew Coffee Kit includes a mesh- and paper-filter fitted brewer, a funnel, and a 64-ounce glass growler suitable for both brewing and storage. The brewer fits onto the funnel, which releases 48 ounces of coffee concentrate into the growler, where it can be stored in the fridge for up to 2 weeks. $99.95, williams-sonoma.com
GrowlerWerks uKeg Nitro Cold Brew Coffee Maker
If you've already perfected your cold-brew technique, try your hand at this 12-cup nitro-pressurized cold- brew coffee maker from GrowlerWerks. The stainless steel keg's built-in double- filtration system results in a velvety finished brew; the double-wall vacuum insulation keeps contents cool for an entire day; and the regulator cap automatically adjusts to find the perfect pressure throughout the process. $199, growlerwerks.com
Hario Mizudashi Cold Brew Coffee Pot
Hario's design-focused products have long been favorites on the coffee scene, and the Mizudashi Cold Brew Coffee Pot continues this legacy. The Mizudashi features a three-part system housed in a one-liter carafe made from durable glass. Just fill the brewer and stick it in the fridge overnight, and the infusion is ready in the morning. $18.16, prima-coffee.com
KitchenAid Cold Brew Coffee Maker
Compact and portable, KitchenAid's Cold Brew Coffee Maker nails ease of use. Designed with a tap to pour hassle-free from the fridge, this cold- brew maker features a removable stainless steel brew basket and fill indicators to guide users to the best cup, with each immersion brew cycle producing 28 ounces of coffee concentrate. $99.99, crateandbarrel.com
Primula Tritan Travel Cold Brewer
Assuming the transportable form of an everyday water bottle, this travel brewer from Primula is a great way to make cold brew on the go. Made from BPA-free Tritan, the Primula Travel Cold Brewer brews from the base up, with a detachable stainless steel bottom basket that infuses the 22-ounce bottle over 24 hours in the fridge. Plan ahead, and walk out the door the next day with a fresh batch of coffee. $19.99, seattlecoffeegear.com
---
Did you enjoy this article? Get more of the best of liquid culture when you sign up for a print or digital subscription to Imbibe Magazine. Click here for special savings!