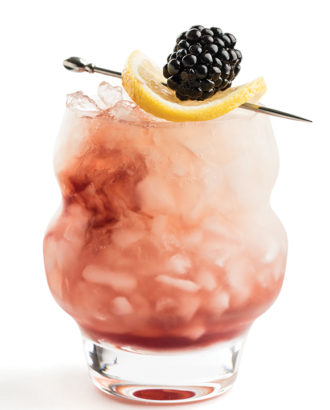 The classic Bramble could be considered the crown queen of cocktails. In 1984, London bartender Dick Bradsell took the makings of a classic gin sour and added his own colorful twist with the addition of crème de mure. But this cascading coat of blackberry liqueur does more than liven up the drink's appearance— it helps strike a perfect flavor balance of sweet, tart, herbaceous and fruity.
1½ oz. gin
¾ oz. fresh lemon juice
½ oz. simple syrup
¾ oz. crème de mure
Tools: barspoon
Glass: rocks
Garnish: lemon wheel, fresh blackberry
Fill a rocks glass with crushed ice and add the first 3 ingredients; stir to combine. Add more crushed ice if needed and carefully drizzle the crème de mure on top. Garnish.
Dick Bradsell, London