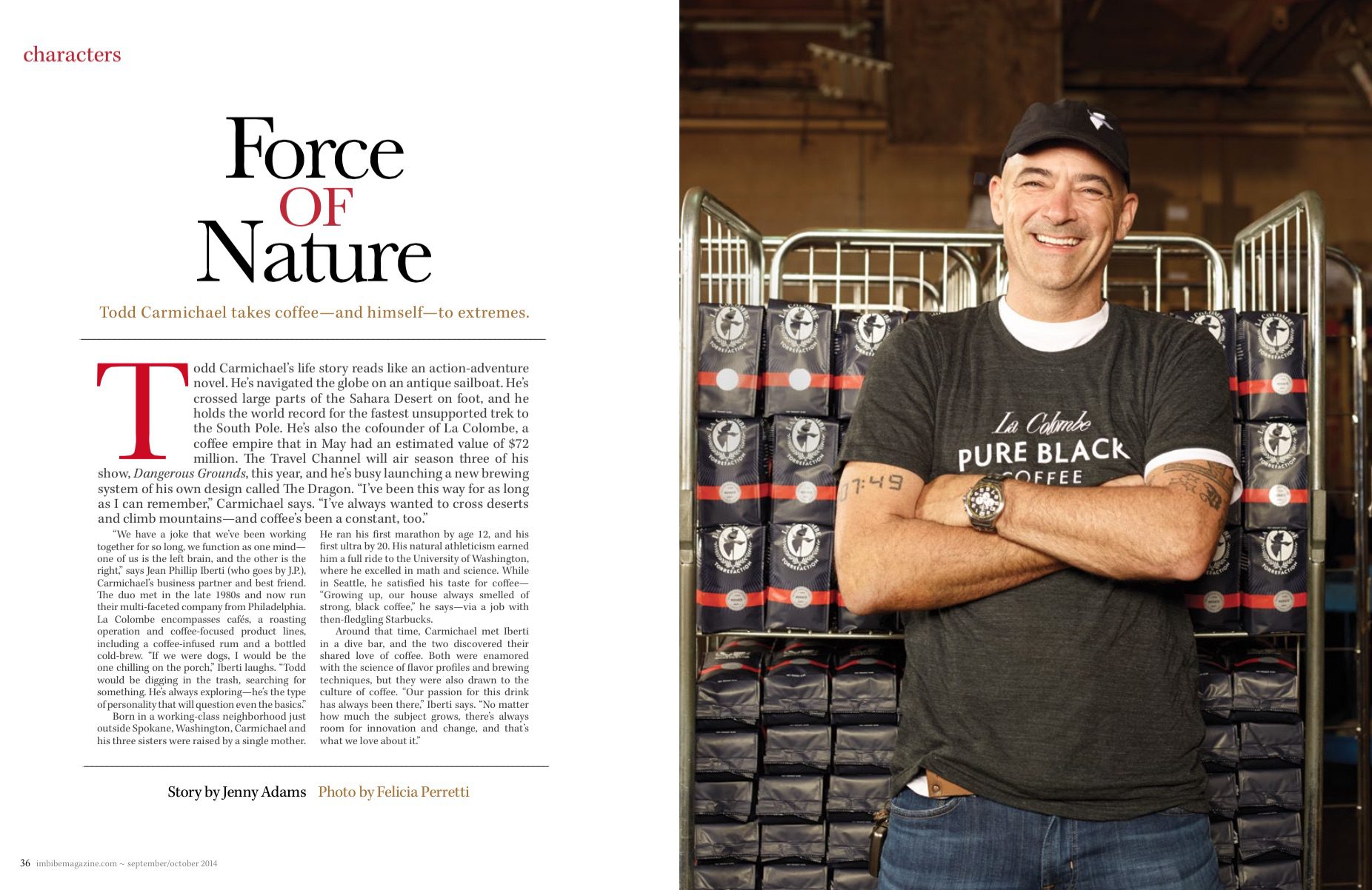 Todd Carmichael's life story reads like an action-adventure novel. He's navigated the globe on an antique sailboat. He's crossed large parts of the Sahara Desert on foot, and he holds the world record for the fastest unsupported trek to the South Pole. He's also the cofounder of La Colombe, a coffee empire that in May had an estimated value of $72 million. The Travel Channel will air season three of his show, Dangerous Grounds, this year, and he's busy launching a new brewing system of his own design called The Dragon. "I've been this way for as long as I can remember," Carmichael says. "I've always wanted to cross deserts and climb mountains—and coffee's been a constant, too."
"We have a joke that we've been working together for so long, we function as one mind—one of us is the left brain, and the other is the right," says Jean Phillip Iberti (who goes by J.P.), Carmichael's business partner and best friend. The duo met in the late 1980s and now run their multi-faceted company from Philadelphia. La Colombe encompasses cafés, a roasting operation and coffee-focused product lines, including a coffee-infused rum and a bottled cold-brew. "If we were dogs, I would be the one chilling on the porch," Iberti laughs. "Todd would be digging in the trash, searching for something. He's always exploring—he's the type of personality that will question even the basics."
Born in a working-class neighborhood just outside Spokane, Washington, Carmichael and his three sisters were raised by a single mother. He ran his first marathon by age 12, and his first ultra by 20. His natural athleticism earned him a full ride to the University of Washington, where he excelled in math and science. While in Seattle, he satisfied his taste for coffee— "Growing up, our house always smelled of strong, black coffee," he says—via a job with then-fledgling Starbucks.
Around that time, Carmichael met Iberti in a dive bar, and the two discovered their shared love of coffee. Both were enamored with the science of flavor profiles and brewing techniques, but they were also drawn to the culture of coffee. "Our passion for this drink has always been there," Iberti says. "No matter how much the subject grows, there's always room for innovation and change, and that's what we love about it."
Shortly after graduating college in 1987, Carmichael had a  short-lived stint at a tax office. "I don't even think I officially quit," he says sheepishly. "I just hopped a flight to the Middle East one day. I traveled non-stop from 1987 until the end
of 1993."
Carmichael spent five years traveling, discovering coffee's origins. He trekked through Brazil with a folding map and visited Ethiopia, meeting coffee farmers. His home during this half-decade was a French, 1917 sailboat, which he salvaged and restored himself. When he needed funds, he picked up freelance tax work for a few months, saving every penny he could and constantly thinking back on his plans with Iberti.
In the summer of 1994, Carmichael returned to the U.S., and with money he'd saved and the connections he'd developed over the years, he and Iberti opened the first La Colombe café on 19th Street in Philadelphia. "The original La Colombe in Philadelphia was so convivial and romantic," says Francine Maroukian, a food writer at Esquire who met Carmichael at that location 15 years ago. "It had this huge, dark bar that Todd had found and refinished. I asked him, 'Did you make this?' And he said, 'I like to refinish old sailboats—this bar is like a boat. We might serve more than 1,000 people before 1 p.m. It has to weather a storm every single day.' "
It wasn't all smooth sailing at first. America needed some time to warm up to the European café model. "When we opened the door in Philly, no one knew what a café was," Carmichael recalls. "I think for the first six months, most people felt sorry for us—and those that didn't, told us we were going to be bankrupt. You go home and you wonder if you should give up, but then there's a point where you know you have traction. Clearly the café model has been successful in Europe for generations. I think it just took the States some time to catch on and we were on the front of that wave," he says.
The turning point came by Christmas, when word began to spread and the line for coffee at La Colombe would stretch out the door. Iberti and Carmichael now own 10 La Colombe cafés around the Northeast, each with a unique design and serving a range of coffees that the company sources and roasts. Carmichael's taste for rugged travel has translated into globe-trotting trips to develop relationships with farmers, and to source such prized single-origin beans as El Mirador, a coffee grown in the volcanic soil of Mexico, and Werka Bauka Yirgacheffe from Ethiopia. La Colombe now roasts more than 3 million pounds of coffee yearly, much of it sold wholesale to more than 5,000 restaurants and cafés across the country.
Even during those first demanding years of business, Carmichael managed to find time for adventure. He continued to compete in ultra-marathons, and in 2008—just a year after the first New York La Colombe opened in Tribeca—he flew to Antarctica to challenge the world record for the fastest unsupported foot crossing of the continent. "Within the first 8 miles, I fell into an ice crevasse," he laughs from the safety of a desk chair, recalling the harrowing challenge that could have taken his life. "I broke my skis, and I had to go 692 miles in ski boots. Then a massive blizzard hit—I hunkered down for two days and did some math. To break the world record, I needed to do a minimum of 22 miles a day, for the next 32 straight days. When I finished, I held the record by inches. My left eye was frozen; my toes were so bad they wanted to cut them off; and I'd gone from 221 pounds when I started, down to 162. But I'd done it."
Today, the 6'3", 51-year-old Carmichael isn't slowing down. He's married with a family, but he's set his sights on breaking the record for solo trekking across Death Valley and will be training for that challenge over the next few years. On the work front, it's all innovation and expansion, and continuing to take La Colombe's coffee game to the next level. Iberti is currently focusing on retail—a new Philadelphia flagship location is in the works—while Carmichael's attention is largely occupied by sourcing green coffee and filming the third season of Dangerous Grounds.
The Travel Channel contacted Carmichael in 2010 with the idea of following him on his more exotic, extreme work adventures. The first episode premiered in 2012 with solid ratings, and Carmichael is excited for the third season, which he says will have a bit less danger and more focus on his favorite origins. "We're headed to northern Panama, where the Geishas are grown," he says. "That's the origin I love most. It's really unusual and unique—it hardly even tastes like coffee. Then I'm going to open a pop-up café in Paris for an episode, but before I do that, I want to find some old vintage machines, so I'm going to Morocco to pick them up. Then I'm doing Zambia—you know, old-school Rhodesia—and also Sumatra."
Meanwhile, Carmichael and Iberti are planning to build nearly 100 cafés across the Northeast—and when he's not traveling to purchase coffee or film his show, Carmichael's working on a new brewing system, The Dragon. "A normal siphon brewer heats from the bottom, and water is boiled and pushed up—when you remove the flame, [the water] comes back down through a filter, and you can't control that," says James Klapp, a production roaster in training for
La Colombe.
The Dragon will give users more control over the siphon brewing process. Carmichael debuted the machine at the U.S. Brewers' Cup competition in Seattle in the spring, and it's currently in production and a hot discussion topic in coffee circles.
While the brewer may be game-changing in the coffee world, Carmichael and Iberti emphasize that the finish line for them isn't about cashing in on the success of another business endeavor: they want to make a difference in the lives of the people who produce, handle and consume coffee. "Coffee is one of the most important links from the westernized world to the developing world," Carmichael says. "With that fact comes great responsibility. On my right hand, I have New Yorkers drinking coffee; on my left, I have Rwandans [producing coffee]. That's a pretty unique place to occupy in the world. It's something I think about every day, with every location we open and every cup we pour."