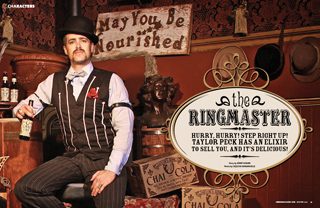 Once upon a time, there was vaudeville," says Taylor Peck, with more than a trace of wistfulness. "Once upon a time, there was magic. Now, we have CGI masterpieces and 10,000-person concert halls."
Peck smiles wide, the diamond chip embedded in his front tooth glinting below his handlebar moustache, as he extols the virtues of "simple, beautiful things." But Peck's own life is anything but simple. He's a flamboyant performance artist—and a go-getting entrepreneur. He serves as ringmaster to a small circus in San Francisco—and another one in New York City. He's a wild child, full of unfettered energy, and he's built much of his success on the most soothing of beverages: tea. He's an idealist and a huckster, a dreamer and a doer. Now he's trying to make the big time with his Taylor's Tonics Chai Cola, a beverage just as complex and confounding as he is. So he's taking his act to major national investors with his unconventional sales pitch—diamond tooth, vintage top hat and all. And believe it or not, it's working.
Bonnie Ronzio, purchasing director for the New Leaf chain of natural food stores in California met Peck five years ago, and she's been buying his product ever since. "He has a flair for theatrics and loves marketing his products that way," she says. "It's what sets Taylor apart."
Peck, 33, grew up in Pasadena, California, where he was never a typical child. "I had pretty eclectic hobbies as a kid," he says. "Before I got my driver's license, I would ride my bike to flea markets to go antiquing." Another hobby: running his own businesses. During the pet rock craze of the 1980s, Peck made "punk rocks"—"basically, mohawks on river pebbles," he says—and sold them door to door. "I also painted flat pieces of slate," he says. "They said 'turn me over' on one side and on the other side, it read 'thank you.' " He was six years old at the time and made $200 from the venture.
Peck has never lacked motivation or charisma. In his senior year of high school, he was voted student body president, despite the fact that by this point he sported long hair, a full beard and, more often than not, a dashiki. "I think he went for the role in student government initially because it would get him out of class," says his mother, Madelon Peck, a retired elementary school science teacher. "He treated it like a job, though, and he created events on campus that they still have today. Before he graduated, they gave him an award honoring how much energy and creativity he unleashed within the system, but formal education was never his thing. I couldn't even get him to take a proper art class. He would always say, 'Mom, I don't want someone telling me how to create something.' That's been his philosophy, and it's been a key to the way he's lived his life."
When Peck entered UC Santa Cruz in 1994, he lucked into a roommate who was just as interested in merrymaking. "We began throwing events at the school," Peck says. "After seeing that we had some organizational chemistry, we registered ourselves as a bona fide student organization called 'Nub Circus.' Nub, defined as a noun, is the point or gist of the story or the heart of the matter. Hence, Nub Circus was the heart of the circus."
Around the same time, Peck visited a Renaissance fair in Northern California with a friend. Thirsty, he ordered a drink at a stand—a tea he'd never heard of called chai. "People in India drank it by the gallon, but in the U.S. it wasn't a coffeehouse staple yet," Peck recalls. "When I took my first sip of chai at that festival, I was immediately impressed by the complexity of flavor and the exotic combination of spice."
Peck realized that people are particular about the way they enjoy chai, so he started experimenting, creating hundreds of test batches in search of the ultimate crowd-pleasing recipe. "This process fueled creativity in me," he says. "I became passionate about chai because brewing it was an art form and enthusiasm for the product was emerging."
Peck's two passions—madcap entertainment and chai—merged on April 20, 1995, at what was Nub Circus' most influential event, Frenzied Earth Day, where Peck and his dormmate combined circus-styled performance with the sales of organic burritos and chai. The tea sold for the suggested donation of $1 per cup. "People returned for 3rd and 4th servings," recalls Peck.
In the summer of 1996, Peck and his circus posse loaded a bus and hit the road. They headed across the country selling chai at festivals, street fairs and parties via two propane burners and two five-gallon cooking pots. "We'd boil the herbs for 35 minutes, add the tea, strain into insulated jugs, and mix in soymilk and organic sugar," says Peck.
Thousands of servings and three months later, the group returned to Santa Cruz with a new knowledge of tea brewing. They immediately began selling their own hand-packaged chai blend to local natural food stores, and Peck decided to drop out of school to pursue performance and tea-making full-time. During those years he perfected cooking times and gained an understanding of the temperamental nature of some of his herbs. "Tea has a very swift steeping time before it begins releasing excessive tannins and becomes bitter," he says. "So we developed a cooking schedule that allowed the herbs that needed the most extraction—ginger and cardamom—to go in first, followed by cinnamon and clove, and, at the last minute, the tea [leaves]."
Peck would host weekly "Chai Den Unwind" events in the group's office, where friends would stop by to kick back, including some who worked in California's emerging high-tech industries, which came in handy when Peck and his circus pals decided to expand the business. "When things grew in technology, we had a lot of wealthy friends willing to help us get things going," Peck says. "It also gave us the opportunity to build our own brewery to our specifications. The facility looked a little like Willy Wonka's factory, with brightly colored handrails and steps surrounding our gorgeous, 100-gallon, stainless steel kettles. Most of our brewers were performers by night. They were musicians, fire jugglers, photographers, DJs and artists, but they also made great tea."
By 2002, Nub Circus' tea production had outgrown the kettles, so they combined the existing equipment and acquired additional pieces with another local chai company, Sun Chai, to obtain a brew system that could handle 500 gallons. Two years later, Nub expanded again and arranged with another local bottler, H.A. Rider and Sons, to brew tea on an even larger scale. Today, they have a kettle capacity for 7,500-gallon production.
A breakthrough came in March 2009, when the Nub brewers created the world's first carbonated chai cola. The cola had been in development since 2004, but perfecting the recipe proved elusive. "The inspiration was to make a better soda," says Peck. "We set out to create a stand-alone product."
The final product is a mildly sweet, effervescent blend of sharp ginger, black tea, yerba maté, vanilla and a blend of other spices. Shoppers in Santa Cruz embraced the cola immediately, placing it among the top-selling beverages at local natural food stores within the first month of sales, but the next challenge was getting national grocery chains to approve Peck's act, especially when that involves handlebar moustaches and a marketing plan that is reminiscent of a 19th century medicine show.
But Peck's unconventional sales pitch has worked: Taylor's Tonics Chai Cola is now sold at Whole Foods throughout California and in other retail locations along the West Coast, as well as at select locations throughout the Midwest and along the East Coast. Peck also has interest from national investors to help take his beverage to the next level with a line extension and national distribution.
Meanwhile, the show must go on. Taylor's Tonics currently produces a bi-coastal performance in San Francisco and New York approximately eight times a year under the appellation the "Tingel Tangel Club." It's a blend of burlesque, fire acts, drag shows and vaudeville, with Taylor clad in his ragtime best at each ceremony and chai as the official beverage. Acknowledging this tricky balancing act, the ringmaster grins, letting his diamond shine. "I hope no matter how straight-laced someone is, they can accept my eccentricities," Peck says. "We're doing our best to make the urban landscape a more fun place to be. We want to make something that will be available commonly throughout America, represented by a family of people dedicated to bringing joy, mirth and frivolity to the populace."