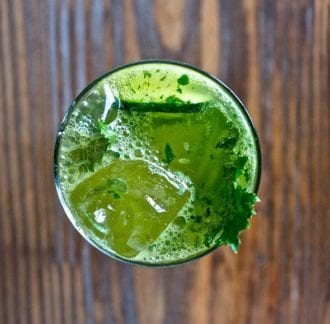 Celery soda made our 2014 Imbibe 75 list of Flavors to Try, and this seasonal tonic recipe updates the deli classic with celery leaves and cucumber.
1½ oz. vodka
1 large sprig of celery leaves
3 fresh cucumber wheels
1 fresh lime wedge
⅓ oz. fresh lime juice
Ginger ale
Tools: shaker, muddler, strainer
Glass: Collins
Garnish: fresh celery leaves
Combine celery leaves, cucumber and lime wedge and muddle. Add remaining ingredients, except ginger ale, and shake with ice. Strain into an ice-filled Collins glass, top with ginger beer and garnish.
Adapted from Shake: A New Perspective on Cocktails by Eric Prum and Josh Williams