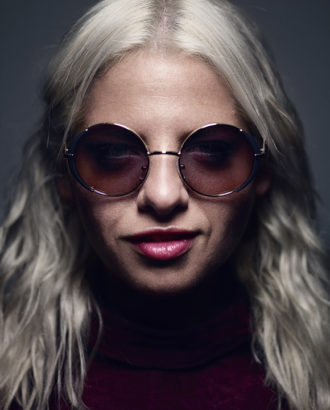 Jordana Rothman, freelance writer and former Time Out New York food and drink editor, recently co-authored her first book with chef Alex Stupak of New York's Empellón restaurants. Tacos: Recipes + Provocations releases today (10/20) with a few delicious booze-inspired recipes (like this great fish taco one). With all of the myriad projects she's constantly juggling, and with her unusual knack for moving seamlessly between food and drink writing, we wanted to know what inspires Rothman these days, and what things she'd never want to find herself without.
1. Dutch Flower Line
"I'm a gin girl so it follows that my love of botanicals and concentrated aromas would translate to an obsession with flowers. I make the arrangements for Grand Army Bar in Brooklyn, and each week I try to design them around a resonant theme. Sometimes it's an abstract idea—like the arrangements I did inspired by folie a deux—and sometimes it's just about a person I love, an album I'm feeling or a color that speaks to me. I shop the flower district in Manhattan to get the best blossoms, and my favorite shop is Dutch Flower Line. They've been there for 25 years and they really just have the most inspiring selection of stems from around the world. If there's something I want to say with my flowers, I know that Dutch Flower Line will give me the language to do it."
2. St. George Spirits
"My palate isn't particularly brand-loyal, so it's saying a lot that I feel so passionately about one family of spirits—but St. George Spirits is doing the Lord's work. I am endlessly impressed by the way they use distillation as an expressive art form; they are respectful of spirited traditions but not bound by them which results in some really intriguing products. There's so much soul, so much ripeness, so much time and place and identity in these spirits, that tasting them can be a deeply emotional experience. I particularly love the Agricole rum, the Reserve Apple Brandy and the beautiful Absinthe."
3. Le Labo Santal 33
"I stole this fragrance from my friend, the talented photographer Melanie Dunea, and promised her I'd never wear it when we were expected in the same place. I've broken that promise more times than I can count—sorry, Melanie! The warm, sandalwood scent is such a signature for me at this point, I feel incomplete without it. People often ask me what I'm wearing and I occasionally lie because I worry about overcrowding the Cult of Santal. I guess I'm not always a very nice person."
4. Calabrian chile flakes
"You know that twinkle people get when they talk about their first kiss, first car or first love? That stoned gaze? That private, dopey bliss? That's how I look when I think about the Calabrian chile flakes in bright orange oil which the beautiful songstress Sunny Ozell gifted me once and which I have guarded like it's the last of my Xanax and I'm about to board a 13-hour flight. I put them in pasta, swirl them into hummus or aioli, sprinkle them over ripe avocados and spoon them into the hollows of celery sticks like some next-level ants-on-a-log. I have no idea where to buy this particular brand in the United States, but they very much define my diet, and I don't know what I'll do when I run dry. Die, probably."
5. Palo santo
I have never loved the scent of traditional incense, but I absolutely swear by the power of these knobby "holy wood" sticks, which I use constantly at home. When I feel blocked with a project or just need to reset the energy of my space, I burn some palo santo and let the piney, eucalyptus aroma of the smoke set things straight.