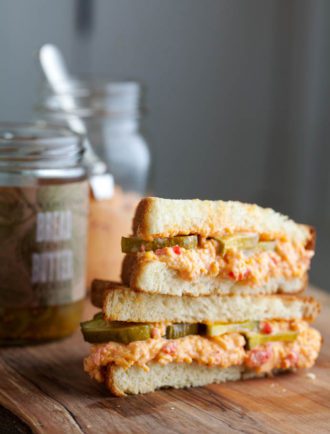 It's no secret that southerners love a good snack, so much so that they've created many of America's most lip-smacking finger foods. Want to raise the bar on your own southern snacking? We've pulled together a handful of recipes from southern chefs and authors that are sure to give you a taste of the region, no matter how far from the heart of Dixie you may be.
Dede's Cheese Straws
As simple as they may seem, there's a real art to the cheese straw, and these cheesy snacks from famed southern chef Virginia Willis offer loads of deliciousness.
Deviled Eggs
Deviled eggs might be the ultimate southern bar snack, and this recipe award-winning southern chef Michael Schwartz doesn't disappoint.
Okra Fritters
Imagine okra that's fried in bacon fat, battered and then fried again. Hungry yet? Crack a cold one and get ready to dive into these little morsels of southern-fried goodness.
Pimento Cheese
Sure, it's not the most healthful of snacks, but one taste of this combo of cheese, mayo and pimentos, and you'll be hooked. Spread it on crackers, bread or heck, even a burger.
Slow Cooker Boiled Peanuts
Across the South, scoring a bag of boiled peanuts is as easy as stopping at just about any roadside stand that dot the region. This near-effortless recipe means you can replicate the plump, salty gems at home.
Tupelo Honey Wings
Chicken wings are a classic bar staple, and this recipe from Charleston's Tupelo Honey Café fuse just the right amount of spice with a splash of fresh OJ for some irresistible finger food.