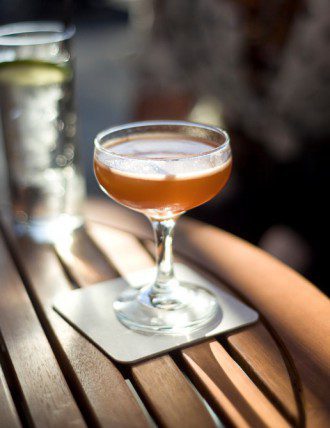 A well-made Daiquiri can cool to the core with its bright, summery combination of rum, fresh lime juice and sugar. First mixed in Cuba in the early 1900s, word of the Daiquiri's deliciousness quickly spread (in fact one of its more famous fans, Ernest Hemingway even inspired his own namesake variation). And though the drink spent much of the past century masked as a sugary, slushed shadow of its former self, a growing number of cocktail bars are bring the drink back to its original glory. Here are 9 spots around the U.S. that serve topnotch versions of the Cuban classic (some with their own modern twists).
Anvil Bar & Refuge
Houston knows heat. And come July when temperatures can reach well into the triple digits, locals in the know head to Anvil for an off-menu Daiquiri made with Jamaican rum, fresh lime juice and a rich turbinado syrup. "We're not bashful about giving somebody a boozy, funky version of a Daiquiri," says Anvil employee Kathryn Steinhubl. Want to mix up their version at home? Click here for their recipe.
Bar Agricole
With a name like Bar Agricole (which plays off of the term for unaged sugar cane rums), you can bet their menu boasts a tasty lineup of rotating rum cocktails, with a Daiquiri of some sort almost always appearing in the mix. "Most recently we've been mixing the Daiquiri Rebelde," says owner Thad Vogler, "which I saw on the list at La Floridita when I was in Havana last December." Click here for the recipe.
Cana Rum Bar
Rum is the name of the game at this classy So Cal rum club, where a classic Daiquiri serves as the delicious default drink when a first-time guest asks for a recommendation. And in just a few months, the bar plans to start mixing Daiquiris with their hotly anticipated house rum, currently being developed by an American micro-distiller. "It's going to clock in around 90-proof, have a very distinct nose and finish cooler than its alcohol content would have you believe," says general manager Allan Katz. "It'll make our natural Daiquiri—2 oz. light rum, 1 oz. fresh lime, 3/4 oz. 1:1 turbinado simple syrup—unique enough to call our own."
Parlor Market
Mississippi has traditionally been less than lenient when it comes to liquor laws, but Parlor Market is making up for lost time with its classic cocktail bar and Southern-style restaurant in the heart of downtown Jackson. And perhaps best to beat the sweltering heat and humidity of Mississippi's sweltering summers? Parlor Market's Hemingway Daiquiri mixed with Flor de Caña, maraschino liqueur, and a mix of fresh lime and grapefruit juices.
Rum Club (pictured)
With a cocktail menu that features white and dark rums, blackstrap rum and Barbados rum—just to name a few—it's clear that Rum Club is keen on its namesake sugar spirit. Its house Daiquiri (which is a bit of a nod to the Hemingway variation) doesn't disappoint with an intriguing combo of aged rum, fresh lime, simple syrup and a few other unexpected ingredients. Click here for the recipe.
Dutch Kills
"Ooh, Daiquiris," says Dutch Kills co-owner Karin Stanley, "my favorite!" It's also a cocktail quickly becoming the favorite of bar regulars, perhaps in part thanks to the bar's "Snaquiri" offering in which two mini Daiquris are served together in one shaker to one person. "Daiquiris are by nature so cold and delicious that if you have just one you finish it in about two seconds and have to order a second," says Stanley. But with the Snaquiri, the first one is almost more of a snack before moving on to the second.  "It started as a joke," she adds, "but it's really caught on, and I've seen them served in bars around the city."
The Barrelhouse Flat
"The Daiquiri is one of the hardest cocktails to make perfectly," says Barrelhouse Flat co-owner Stephen Cole, "because when using so few ingredients there's little room for error." But bartenders at this Chicago cocktail lounge have mastered Daiquiri mixing with a deliciously executed version that sticks close to the classic formula first outlined by Constantine Ribailagua.
Lantern's Keep
The Freshman Daiquiri from this midtown Manhattan hotel bar is anything but amateur with its mix of white rum, lime juice, orgeat and falernum. "We're also huge fans of the classic Daiquiri," says lead bartender Theo Lieberman, "I would say it might be one of the staff's favorite drinks."