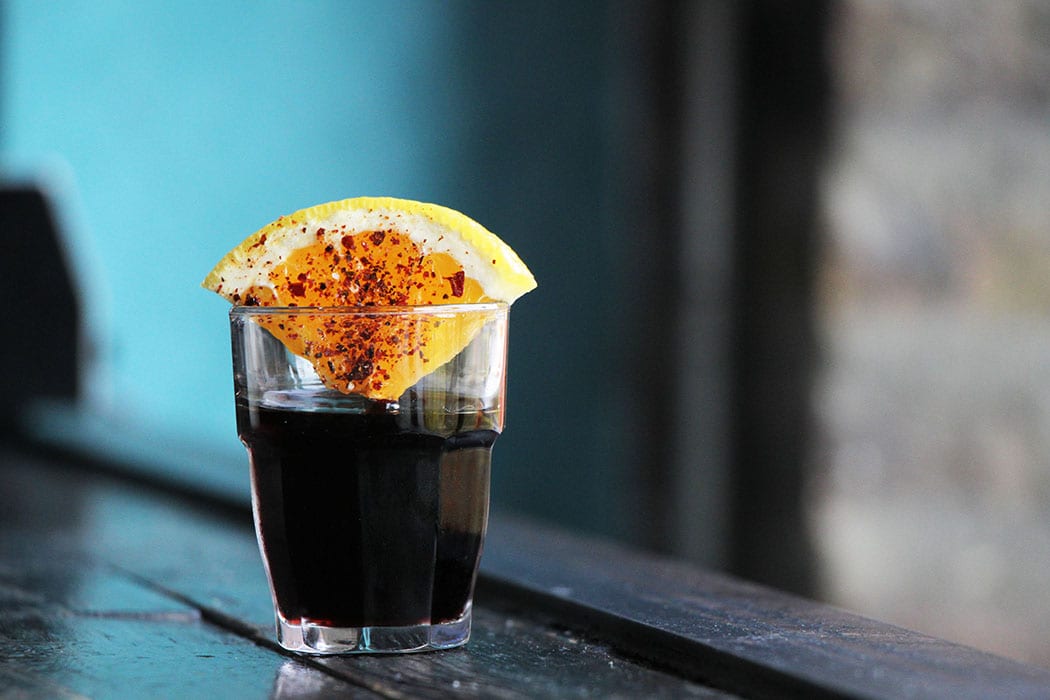 Within the cocktail community, bartenders often greet friends and colleagues with what's know as the "bartender's handshake," a shot of booze on the house, served upon arrival or sometimes with the check. "In every bar I've worked at, we've had [a bartender's handshake] in some way, shape or form," says Jacyara de Oliveira, a Chicago bartender and head of the beverage programs at El Che Bar and La Sirena Clandestina. "One of the ways in which I define hospitality is giving without an expectation of anything in return. So that little amuse bouche—that little nip at the beginning or end of your meal that you didn't necessarily ask for but is still a welcome surprise—plays into that philosophy."
It's a tradition the hospitality community has embraced for many years, and though the booze of choice often varies, several combinations have become bartender favorites. Shots of Fernet-Branca are a constant in bars across the country, and Malort is popular throughout Chicago, though when de Oliveira worked at the city's (now closed) Drawing Room, the go-to was Old Overholt rye whiskey ("our tag line was: 'long hours, low pay, but all the Old Overholt you can drink,' "she says).
Recently, the handshake concept has also crossed over to the menu side of some bar programs. At Sportsman's Club, a booze-dispensing machine doles out shots of the house amaro for guests, and at nearby Best Intentions, Angostura bitters are $4 a shot. Want to replicate the concept at home? We tapped a few bartenders to share their favorite house shots and handshakes.
La Sirena Clandestina | House Amaro Shot
At Chicago's La Sirena Clandestina, former bar manager Ziyad Asar first put a house shot on the menu, a blend of equal parts Punt e Mes sweet vermouth, Amaro Abano and Amargo Vallet, garnished with an orange wedge dusted with chile flakes and rose petal salt (pictured). Jacyara de Olivera, who recently took over the bar's program, says the house shot will likely remain a secret menu item. The base she likes to work with when devising new shots is equal parts Cynar, Cocchi di Torino and Luxardo Bitter. From there, she'll sometimes spice it up extra vermouth or amaro.
Rob Roy | Tokyo Witch + Cricket
Anu Apte is known for pouring cheeky welcome shots at Rob Roy in Seattle. One of the most popular versions at the bar is the Tokyo Witch, a drink that was originally created to use up a flavored vodka leftover from an event. It's been on the menu for years, and these days the bartenders are given liberty to improv with variations. The vodka is usually infused with fruit or herbs, then mixed with lemon or lime juice and a sweetener, like simple syrup, agave syrup or honey. For the holidays, Apte also has "crickets" on the menu—shot-sized versions of the classic Grasshopper.
Grand Army | Hard Start
A somewhat imposing 3-liter bottle of Fernet-Branca sits behind the bar at Grand Army in Brooklyn (our 2017 Bar of the Year), but the liquid inside isn't what you think. It's a 50/50 mix of Fernet-Branca and Branca Menta, also known as the Hard Start, that's served by the shot for guests at the bar. With an intense hit of mintiness, co-owner Damon Boelte first devised the shot as a brunch offering at Prime Meats and it's been a favorite ever since.
Deck the Halls | Cider Shot + Pecan Flip
San Francisco's Ken Luciano (Wildhawk, Forgery) has been busy developing festive drinks for this year's new North Beach Christmas bar Deck the Halls, a partnership with Shaher Misif (formerly of Cantina) and Nick Floulis (formerly of Chubby Noodle). At the bar, two shots are on the menu. The first, a combo of apple cider and Calvados, delivers a double dose of apple. The Pecan Flip requires a little more work, but it's well worth it: ½ oz. of amontillado sherry and 1 oz. of Anchor's Christmas Ale with 1 oz. of orgeat, 2 oz. of cachaça, a whole egg, Angostura bitters and cinnamon.
Gideon Sweet | Gin Martini
Classic cocktails batched and poured as shots are nothing new, but Alex Bachman takes the concept up a notch at Chicago's Gideon Sweet, where he developed an entire section of the menu dedicated to "small pours." The London Dry gin martini is a great option for holiday parties. Bachman stirs 3:1 London Dry gin with Dolin Dry vermouth, then garnishes the shot with a slice of aged Mimollette cheese, a favorite of Bachman's because of its intense saltiness and crystalline-like texture, which perfectly match the flavors of the Martini.