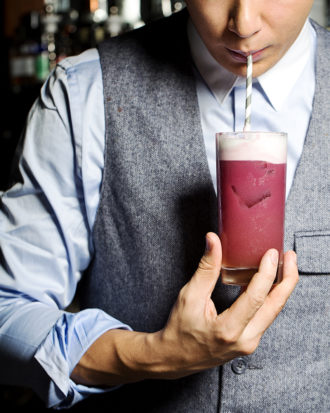 This agave sour gets an added flavor boost from the addition of a spiced wine float.
1 ½ oz. blanco tequila
½ oz. mezcal
¾ oz. fresh lemon juice
¾ oz. demerara syrup (1:1)
1 egg white (pasteurized if you like)
1 ½ oz. house-spiced Cabernet
Tools: shaker, strainer
Glass: Collins
Garnish: paper straw
Combine all ingredients, except spiced wine, and shake with a few pebbles of crushed ice. Add ice cubes and shake vigorously. Strain into a chilled Collins glass, then float spiced Cabernet on top and garnish.
House-Spiced Cabernet
12 oz. Cabernet
3 strawberries, halved
2 cinnamon sticks
3 cloves
1 vanilla bean, halved
Combine all ingredients and let sit for 12-16 hours. Strain into a clean glass jar and keep refrigerated for up to 2 weeks.
Chris Amirault, Harlowe, Los Angeles