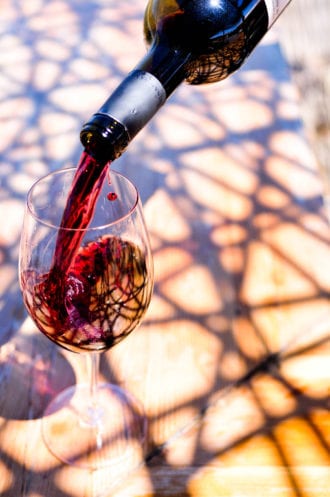 Mexico's beautiful Baja California peninsula has long been known as one of the world's best beach destinations, and now the region's wine industry is becoming another draw. About 80 percent of today's Mexican wines come from the Valle de Guadalupe, with expressions so intriguing that beverage pros like Leña Brava wine director Jill Gubesch in Chicago and Cosme/ALTA beverage director Yana Volfson in New York City have been adding Baja bottles to their wine lists. "I've been visiting the Valle since 2001, and at that time there were only around 15 or so wineries. Now there are over 150," says Gubesch. "Both the consistency and availability is getting better, and more wines are finally getting to the U.S."
Called the Napa of Mexico, the Valle de Guadalupe has a climate that's ideal for growing wine grapes. "They have the perfect amount of dry heat during the day with extremely cool nights due to the proximity of the ocean," says Gubesch. Because of the area's hot conditions, dry-farming is key, given frequent water shortages. Soils are sandy on the valley floor and flush with clay on the hillsides, with some granite soil as well, Gubesch adds, which yields wines that "tend to be softer in tannin, more fruit-forward, with a distinctive note of salinity on the finish."
Cosme's Volfson suggests looking to the region's low-intervention winemakers when seeking out bottles. "I think it's important to support winemakers that are taking risks by making wine with little intervention. By using less cultured yeasts for fermentation we can understand how the grape is responding to this region and its terroir," she says, citing Vena Cava and Bichi as some of her favorites. Others, like Casa Magoni and Villa Montefiori, are also working to find the best grapes to plant and refining techniques for making memorable wines.
"I think the region is still discovering itself and learning about the varietals that will grow best," says Volfson. "At the moment you can find almost any grape, but more commonly Tempranillo, Cabernet, Nebbiolo, Grenache, Sauvignon Blanc and Chardonnay."
Gubesch says Baja winemakers also do "crazy blends of varieties you wouldn't normally see blended together," like Paralelo's Ensamble Arenal—a blend of Merlot, Cabernet Sauvignon, Petite Sirah, Barbera and Zinfandel—or the Casa Magoni 2016 blend of Chardonnay and Vermentino. At Cosme, Volfson regularly teams up with Phil Gregory of Vena Cava to make a special cuvée for the bar called the tino de la casa. "The 2014 is an equal-parts blend of Grenache, Syrah and Mourvedre. The next wine to arrive soon is a blend of Merlot and Cabernet Franc, and we also made some barrel selections of Grenache," she says. "I was able to convince him to send me some of his natural Grenache that he's only been serving on the compound. There might even be a rosé for a future project."
Here, Volfson and Gubesch share some of their favorite bottles to check out.
Bichi | 2017 No Sapiens
The 2017 reds from Bichi are so impressive, Volfson says, that she always has some on the menus at Cosme and ALTA. "Their project from Tecate shows expressions of very different grape varietals and terroir of the region in such an honest way," she says. Made with grapes from a dry-farmed vineyard, the variety used to make this wine was never formally identified, adding an air of mystery to the bottling. Aged for three months in a combination of steel vats and oak barrels, and bottled without filtration, the wine is vibrant and structured with lots of dark fruit flavor. $28, compasswines.com
Adobe Guadalupe | 2015 Kerubiel
"A blend of Syrah, Cinsault, Grenache and Mourvèdre, this wine has a ton of spicy fruit and works with so many dishes," says Gubesch. Aged for 10 months in French oak, the blend has a smooth layer of tannins and bright, snappy acidity. "Great with any roasted tomatillo-based sauce, tacos al pastor, ancho, or guajillo chile-based sauces," says Gubesch. $49, trulyfinewine.com
Paoloni Wines | 2014 Sangiovese Grosso
Winemaker Paolo Paoloni was born in Italy and so its perhaps unsurprising that he planted vines from his home country in Baja in 1998. This wine, made with the same clone used to make Brunello, spends eight months in new French oak barrels before hitting the bottle. "It has an earthy sagebrush quality with well-integrated tannins," says Gubesch. $30, trulyfinewine.com
Casa de Piedra | 2013 Vino De Piedra
Made of an even split between Tempranillo and Cabernet Sauvignon, this blend from Casa de Piedra has a full body but a long, delicate finish with layers of spice and fruit. "I love the terroir-driven savory style for which Hugo D'Acosta is known," says Gubesch. "Great with Carne Asada! $45, thewineconnection.com
---
Did you enjoy this article? Get more of the best of liquid culture when you sign up for a print or digital subscription to Imbibe Magazine. Click here for special savings!