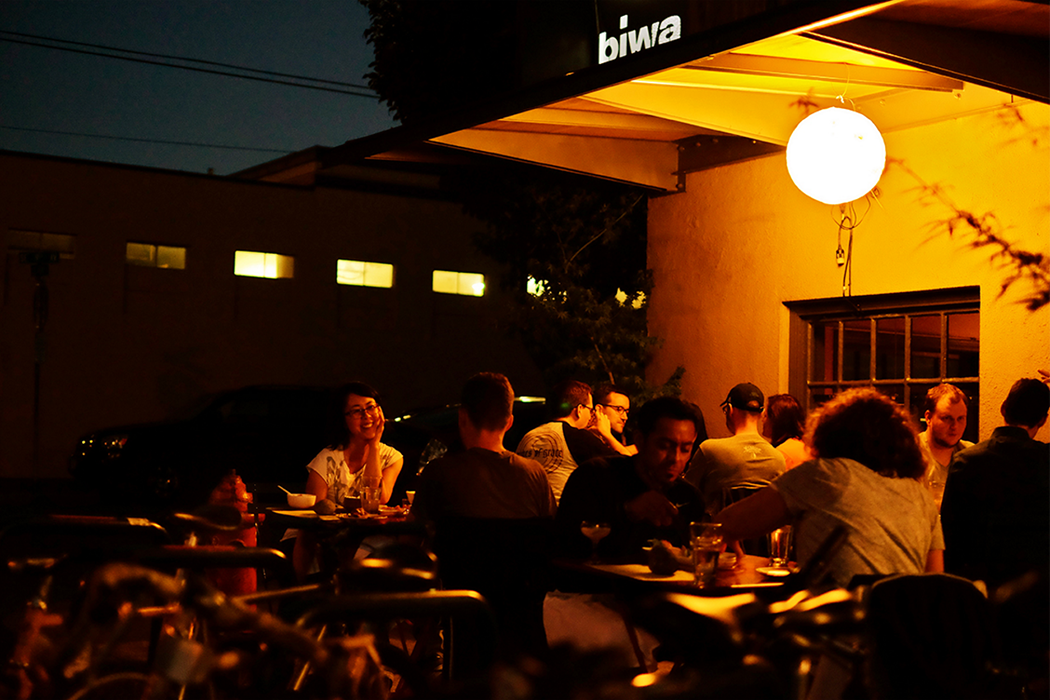 At night, the façade of Washington, D.C.'s Daikaya glows like a Japanese lantern (the traditional "open" sign of an izakaya) through the laser-cut steel plate that covers the front of the building. On the ground floor is a ramen shop serving heaping bowls of noodles imported from Sapporo. On the second floor is the other half of the business (a model common to the high-density business districts of Tokyo)—an izakaya serving everything from bar snacks to a Japanese-inspired brunch, with a drink menu to match.
Business partners Yama Jewayni, Katsuya Fukushima and Daisuke Utagawa each had a vision for the space. Authentic ramen is what Utagawa missed most about Japan; Fukushima wanted to cook dishes that honored his heritage while incorporating playful modern twists, and Jewayni wanted to create a space where people could experience the camaraderie and aesthetics of Japanese casual dining—the very definition of an izakaya.
The model has been catching on across the U.S., with izakayas incorporating traditional eastern flavors into everything from drinks to dishes. "The easier accessibility of Asian ingredients and products has really increased the knowledge of the culture in the U.S.," says Allie Kim, head bartender at Chicago's Momotaro, where you'll find creative drinks combining American-grown ingredients with decidedly Asian flavors.
Curious to check out this trend for yourself? Here are a some Japanese-inspired American izakayas around the country worth trying.
Cherry Izakaya, New York City
This beautifully designed spot describes itself as a modern take on the traditional izakaya. There are small and large plates with everything from tuna tarts to sushi to ramen served alongside a selection of saké, sochu, Japanese beers and signature cocktails, all with a Japanese twist.
Ginto Izakaya Japonaise, San Francisco
Describing themselves as classic izakaya with French touches, Ginto Izakaya Japonaise boasts 200 seats and more than 250 items on their menu, from traditional yakitori to foie gras sushi. Once you've gotten your footing, peruse their list of Japanese whiskies, Japanese beer and kitschy cocktails, like the vibrant Matcha White Russian.
Izakaya, Houston
There's nothing stuffy about Houston's new Izakaya. With a kitchen helmed by Chef Jean-Philippe Gaston and Manabu Horiuchi (a James Beard Award semifinalist), the menu features a playful collection of street food and Japanese comfort food. The Liquid Courage part of the menu, developed by Claire Sprouse (formerly of  Houston's Anvil and Trick Dog in San Francisco) and Chad Arnholt (of Trick Dog) of Tinroof Consulting, showcases plenty of Japanese whisky, shochu and saké cocktails and a select list of highballs, like the Good Morning with a housemade makrut cream soda, and the Hoeti, with Cappelletti, dry vermouth and mandarin soda.
Raku, Los Angeles
The long-praised Las Vegas establishment just opened this highly anticipated West Hollywood outpost. Anchored by their creative izakaya fare, from foie gras egg custard to the simple perfection of homemade tofu, Raku keeps the vibe casual and the doors open late. A solid selection of saké and Japanese beer rounds things out.
Yopparai, New York City
Saké defines the experience at the intimate, 30-seat Yopparai (which means drunkard in Japanese). But the "refined izakaya" food menu is equally tempting, with Japanese barbecue and umami-rich oden (Japanese soul foods simmered in dashi). Those unfamiliar with the food and drink offerings can opt for one of Yopparai's saké sommeliers to guide the journey.
Momotaro, Chicago
Artfully plated dishes take center stage at Momotaro, with the full restaurant on the main floor and an izakaya basement lounge. Asian pop culture, apothecary ingredients and Asian folklore influence the flavors behind the bar, where head bartender Allie Kim likes to use ingredients both for their intriguing flavors and their traditionally medicinal properties, like the Monk's Journey with vodka, aloe liqueur, matcha and lime.
Biwa, Portland, Oregon (pictured)
Biwa has been dishing out bowls of ramen, crunchy karaage fried chicken and small fermented snacks since 2007. Paired with a comprehensive saké list and well-made cocktails, it's no surprise that the subterranean dining room is still packed night after night.
Daikaya, Washington D.C.
The comprehensive saké list at Daikaya features helpful sections like "aromatic and fragrant" or "complex and full-bodied." The brunch cocktails get playful with drinks like the Sesame Street (Beniotome sesame shochu, ginger beer, yuzu) and pair well with their interpretations of classics like chicken and waffles with chicken karaage topping a red bean taiyaki (fish-shaped sweet pancake) with wasabi butter and maple syrup.