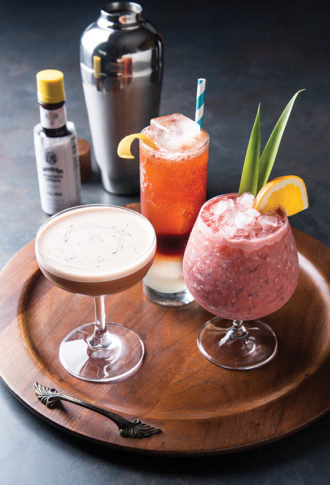 Big things, it's said, come in small packages—and sometimes in oddly wrapped packages, too. Angostura bitters have a robust, spicy flavor that, even when moderately applied, punches far above its weight class. But for more than 150 years, Angostura has also been readily identifiable by the oversized label wrapped around its bottle (purportedly the result of a happy mistake), making it appear as if a toddler bottle is playing in its big brother's clothes.
Developed by a German physician in Venezuela and long produced in Trinidad, Angostura bitters have been a cocktail mainstay since the 19th century. Johann Gottlieb Benjamin Siegert first developed his amargo aromatico in 1824, while based in the Venezuelan town of Angostura (now Ciudad Bolívar). Production moved to Trinidad after Dr. Siegert's death in 1870, and the proprietary mixture of herbs, roots and barks (gentian is the only botanical listed by name on the label) has been dashed into cocktails such as the Old Fashioned and the Pegu Club ever since.
Increasingly, though, bartenders have been prying off Angostura's dasher-top and using the potent blend as a cocktail base. The Trinidad Sour from New York bartender Giuseppe González opened the bitters taps upon its debut in 2009, and it's been followed by drinks such as the egg-rich Angostura Flip from Chicago bar Best Intentions (where the Angostura is on draft), and the Angostura Collins served at Canon in Seattle, where owner Jamie Boudreau indulged his enthusiasm for Angostura by staining the bartop with a bitters-based solution.
At Fort Defiance in Brooklyn, New York, Zac Overman developed the Angostura Colada for the bar's regular tiki night, the Sunken Harbor Club. Fort Defiance still serves the Angostura Colada on tiki nights, but Overman has since moved to Seattle, where he serves a modified version of the drink (using a mix of the bitters and Angostura's Amaro liqueur) at the weekly Tangaroa Roy tiki nights at Rob Roy. Overman notes a particular property Angostura brings to a drink: an opaque, almost blood-red color that's unlike anything else poured behind the bar. "It's kind of like blue curaçao—there's this striking color in the drink, and people want to know what it is," he says.
Angostura's vivid appearance made it appealing as a base for the drink, Overman says, but he also emphasizes a familiar point about Angostura: the bitters' engaging, evocative flavor that has made the brand so ubiquitous. "Angostura has warm, exotic baking spices, and a built-in tiki flavor already," he says. "It's like the ultimate spiced rum, with supercharged spice."
Angostura Collins
A traditional Collins is given a two- tone effect by layering an ounce of angostura atop the lemon mixture before finishing with soda.
1 oz. angostura bitters
1 oz. fresh lemon juice
1 oz. rich simple syrup
Chilled soda water
Tools: shaker, strainer
Glass: Collins
Garnish: lemon twist
Shake the lemon juice and simple syrup with ice; strain into a glass filled with fresh ice cubes. gently add the bitters on top of the sour mixture to create a layered effect; top with soda. garnish and serve with straw.
Jamie Boudreau, Canon, Seattle