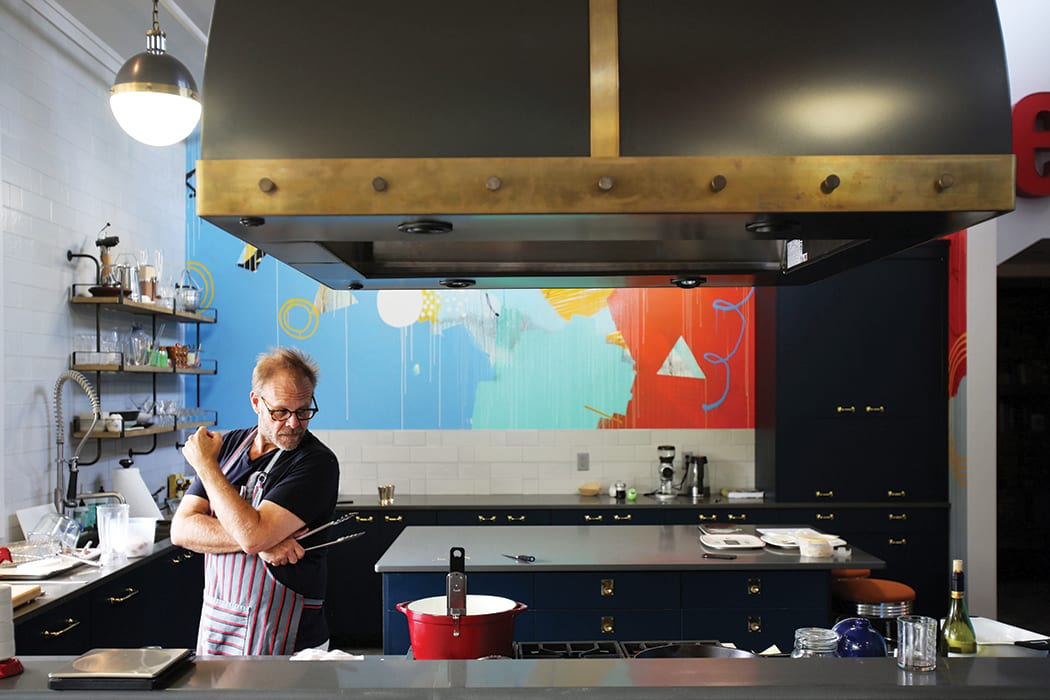 Like the culinary equivalent of Mr. Wizard, Alton Brown long delighted fans with his scientific approach in the kitchen on the Food Network series Good Eats, which ran for 14 seasons. He's also lent his charisma to shows like Iron Chef America and Cutthroat Kitchen. In recent years, Brown has taken his theatrical inclinations on the road for his live show Eat Your Science, and longtime fans will finally be rewarded in 2018 with new episodes of Good Eats, dubbed Return of the Eats. We caught up with Brown in between tour dates to chat about eating on the road, his one and only holiday tradition, and what Martini garnish he simply cannot abide.
Imbibe: You've been touring and traveling so much lately. What are the best and worst things about eating on the road?
Alton Brown: The best thing about eating on the road today is how amazingly good the food is! It used to be that when you went to secondary and tertiary cities in the United States, you kind of took what came and considered yourself lucky to be fed. But now, cities like Des Moines and Bakersfield, California are booming. Good food is happening all over the place. One of the best ramen shops in America is in freakin' Madison, Wisconsin! We use the hashtag #abroadeats, and we let the fans tell us where to go, then we tabulate the results and that's where we go. It usually leads to stuff I never would've found on my own, and most of the time it's really, really good. The bad thing about eating on the road is that I eat a lot. There hasn't been one tour that I've gone on that I didn't gain weight.
Your current tour ends just in time for the holidays; what family traditions have stuck with you?
My grandmother's congealed salad—her cranberry Jell-O salad, which I make every year. Actually, there are a couple of Christmases, I'll be honest, where it was the only thing I made. I've been divorced for a few years, and my first year divorced I had Christmas alone. I made an entire mold of my grandmother's Jell-O salad and ate the whole thing in one day. I think like most people in this country, my Christmas holidays have been turbulent. But the kitchen was always the place to be to survive the holidays, because everyone wants to get fed so they're going to leave you alone. It's like Switzerland of the home environment. Just keep your head down and carve that turkey. Then if any fights happen at the table, you can go clean dishes.
What's your approach to drinks during the holidays?
During the holidays I'm a big believer in wine with meals. I'm also a huge vermouth fan and it's such a great time for that—we're finally getting the vermouths we so badly need. I tend to pour things that people don't expect—a lot of liqueurs and digestifs; I'm a Fernet-Branca addict. But I'm also about cocktails, especially aged Egg Nog. I try to make it in the summer and let it sit in the fridge and mellow for the rest of the year. On Christmas Eve, I'll be drinking Martinis. Green and red are the colors of Christmas, and green and red are the colors of my olives. Boom! And don't put any blue cheese in my olives unless you want me to burn your house down.
You have a very specific inventory of kitchen equipment and pantry essentials. Is your bar also so thoughtfully stocked?
Most of my liquor bottles are stored in an antique card catalogue. That way I can keep up with my stock a little better. Right now in my library I have about 20 different bourbons in one card catalogue. The only thing not in there are the things I keep in the freezer, which would be most of my gins and all the vodkas. And I keep the rest of the makings for Negronis and Martinis at the ready in my office, because at any given moment, the answer to a bad day is either gonna be a Negroni or a Martini. Vermouths are also in the card catalogue, although the amaros, which is my other fixation, are kind of spread around the building because I need them close. The nice thing about the card catalogue is you can take a tour every now and then of what you need, what you're saving, what you should use… I've got some of the 1908 Old Overholt that was sold at Christie's a couple of years ago, so I'm probably not going to drink that anytime soon. I have a library of booze.
We heard you make all of your salad dressings in a cocktail shaker. True?
It's absolutely true—one with a metal ball bearing in it. It makes one hell of a noise, but my dressings stay emulsified quite nicely. But I've relegated just one shaker to that, I don't go back and forth and make cocktails in that. Although if you shake up a Caesar dressing with some anchovy and a little Worcestershire sauce, and then make yourself a dirty martini… I'm making it sound like all I do is drink, which I swear is not the case. Although, I do believe in cocktail time; I believe in the ritual of it. I have several of the old-school, 1960s bar-carrying kits—I collect them. I'm the kind of guy who has a cocktail pitcher with its own little carrying case. Maybe a lot of guys have that now? But when I go on tour, we have cocktail time, and we do it right. It's a way to mark the time of the day.
Speaking of rituals, your new book, EveryDayCook, also highlights the foods that you actually prepare for yourself.
I felt like I'd reached a point where I needed to do something that was personal. All the other cookbooks I've written are what I call presentational. I was trying to prove specific lessons and the recipes were original for that work. But none of which, even though I cook and eat them, would I call very personal work. After seven books, I wanted to do something that was my food, what I actually cook and eat and drink. It was a desire to finally take the food that I make for myself and get it into a reliable book form so that I can actually find my own recipes now.
What do you think we gain when we cook for ourselves?
I think it underlines our sense of self-reliance—that we can take care of ourselves, and we can feed ourselves and our loved ones. I think in this day and age, that's a valuable, tangible benefit of cooking. Two, I find the act of cooking to be meditative, very relaxing and centering. I also believe that preparing food for other people is its own benefit; that act of service and hospitality is extraordinarily gratifying. I won't get all spiritual, but there is a certain prayerfulness to it. And the other thing is just connectivity to the world. I think if you spend too many days with other people doing it for you, you can become unrooted. Even when I travel, I don't stay in hotels, I stay in Airbnbs because I want to go into a kitchen. Even if it's just to fry up eggs in the morning—I need that.
---
Like what you see? Get more of the best of liquid culture when you sign up for our bi-monthly magazine. Subscribe now and save up to 59%—it's just $21.95 for one year or $32.95 for two years. Click here for details.