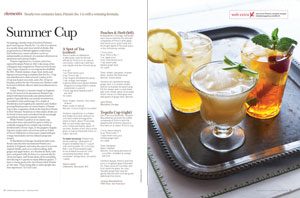 Occupying a slender strip of territory between spirit and liqueur, Pimm's No. 1 is a bit of a mystery in a mostly clean-and-clear world of drinks. But as generations of British tipplers could attest, this herbaceous, russet refresher can be as indispensable an element of a summer afternoon as sunscreen and a picnic basket.
Pimm's originated in a London oyster bar opened by James Pimm in 1823. Like many of his colleagues and competitors, Pimm served a house "cup," a type of punch, to accompany his shellfish. By 1851, Pimm's mixture of gin, fruit, herbs and liqueurs was proving so popular that his No. 1 Cup was distributed to clubs around London (a No. 2 Cup was based on scotch, and a No. 3 Cup on brandy), and by the late Victorian era, Pimm's could be found in British officer's clubs from Khartoum to Sri Lanka.
Today, Pimm's is a summer staple in England, where it's served in its eponymous Pimm's Cup, mixed with fizzy lemonade and adorned with a garden of garnish that can include strawberries, cucumbers, mint and borage. It's a staple at Wimbledon and English polo matches and, further proving Pimm's power as a heat-buster, a Pimm's Cup is also a signature drink at the Napoleon House in New Orleans. Variations on this classic drink can be found in bars and on backyard decks seemingly everywhere during the summer months.
While Pimm's is perfect in its classic cup, bartenders have extended the spirit's utility in cocktails ranging from a simple cup variation fortified with a boost of gin, to the peppery Tequila Cup and concoctions such as A Spot of Tea at L'Abattoire in Vancouver, mixed with gin, orange marmalade and tea-infused syrup.
At Blackbird in Chicago, head bartender Lynn House says she first encountered Pimm's as a student in England, and today she uses it in several original drinks, such as a London Calling, with ginger and apple butter, or a Peaches & Herb, with pisco and peach jelly. Its flavor is a natural ally for citrus and spice, and House plays off its versatility, introducing it to guests in many different guises. "I have so many guests who don't know what Pimm's is," she says. "I love being able to usher people into that experience."
RELATED CONTENT
RECIPE: Classic Pimm's Cup
RECIPE: Homemade Pimm's
RECIPE: Spiced Pimm's Cup