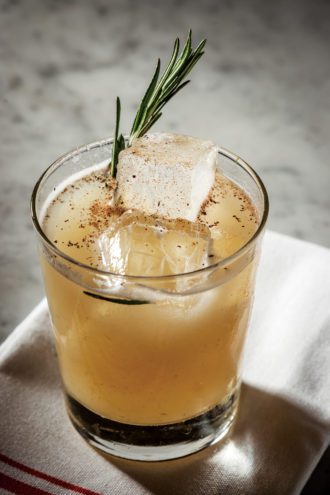 Rustic pear and rosemary meet with a pop of bubbly in this sparkling cocktail.
1 oz. gin
1 oz. fresh lemon juice
2 oz. pear-rosemary purée*
1 1/2 oz. prosecco
Tools: shaker, strainer, fine strainer
Glass: rocks
Garnish: ground clove and fresh rosemary sprig
Combine all ingredients, except the sparkling wine, and shake with ice. Add the prosecco, double-strain into an ice-filled glass and garnish.
Pear-Rosemary Purée: Combine 4 fresh rosemary sprigs with 5 oz. of agave syrup in small saucepan and bring to a simmer. Remove from heat, cover and let stand for 30 minutes. Fine-strain into a large glass bottle and let cool to room temperature. Add 20 oz. of pear purée, shake to combine. Keep refrigerated for 1 week.
Adapted from Alchemy in a Glass by Greg Seider. Published by Rizzoli