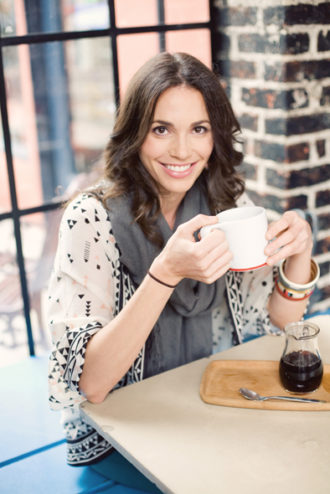 A familiar face across cooking networks, Los Angeles native Aida Mollenkamp has hosted a series of shows for the Food Network, Cooking Channel and Yahoo, among others. Her latest food- and drink–fueled adventures include the launch of a new website, as well as a web series (Off Menu) dedicated to finding the taste of place. We chatted with Mollenkamp about her favorite food-and-drink discoveries, shooting a new show, and why she'll always come home to LA.
Imbibe: You have some exciting new projects in the works—how are those shaping up?
Aida Mollenkamp: I recently launched a new website called Salt & Wind, where we cover our favorite people in different cities and their food finds, as well as our recipes inspired by our own travels. The impetus was really to create recipes that act as "food souvenirs" or memories of awesome food travels. One of those recipes is the Spiked Horchata Cocktail, inspired by a favorite bar in my neighborhood in Los Angeles—Gracias Madre—where they make a really drinkable, easy mezcal horchata cocktail that's my go-to pairing when I eat there. Randomly and simultaneously, my friends over at Tastemade had a show concept where they wanted to combine food and travel. The show is called Off Menu, and it's the perfect little cousin to the website. In the first season we go to eight cities, ranging from my hometown of Los Angeles to Honolulu, Nashville, New York and Amsterdam. In each place we find a local food expert who shows us what they love about the food in their city right now. It's been really great because even though I know some of these cities pretty well, seeing it through a personal vision is awesome.
You've had a few travel-packed months—any notable discoveries along the way?
I went to Brazil for the first time and got to try a bunch of Amazonian beers made with Amazonian fruit. They had great beers in South America already, but adding this totally out-there fruit element lent a really cool profile to some of the beers. And in Paris we kept seeing coffee in cocktails, but not in a "coffee martini from the '90s" way. They were making things like the coffee  tonic that has become popular in Scandinavia, and adding alcohol. One guy at this place called Lulu White combines cold brew with ingredients that were reminiscent of a Negroni—it was great.
What do you look forward to eating and drinking when you get back to Los Angeles?
I grew up in LA, so I don't feel like I'm home until I've had Mexican food. I love Mexican food for breakfast, so anywhere I can get good chilaquiles or rancheros, I'm game. And it can be old-school and greasy, or modern and healthy—I'm an equal-opportunity Mexican-food eater.
What flavors or ingredients have you encountered in Los Angeles that you haven't seen anywhere else?
I think it's less about one ingredient, and more about the overall availability of all ingredients that really stands out to me—you can find any ingredient you want, pretty much anywhere in the city. I can find little gem lettuces at one spot, then go over to the Northgate Market for awesome chiles and squash blossoms and nopales any time of year—it lets me come close to re-creating things I've had throughout my travels once I'm back home.
What Los Angeles neighborhood are you most excited about right now?
Downtown is already a hotspot, but I'm constantly amazed by how we have new and old right next to each other in a way that you might not see in other parts of the city. One of the first episodes we shot for Off Menu was at Grand Central Market. That there are awesome empanadas from a stand that's been there for 40 years next to something as hip as the almond-milk latte from G&B is a testament to what's happening downtown right now. The spot that takes the MVP award is Manhattan Beach—I'm from there, and the first kitchen I ever cooked in is there—and the fact that it's on the food map at all now makes me happy, because there were just greasy taquerias and salad bars when I was growing up.
Shooting the Los Angeles episode, where else did the adventure take you?
We started at G&B Coffee for their famous almond-milk latte, and then we went to Mohawk Bend, which I love because it's a restaurant that has a love affair with California beers and wines— every day, every keg is an ode to California. And then we ended up at Saint Martha, which is probably one of the most interesting new restaurants I've been to in a while in LA. It's in a strip mall in Koreatown that has nothing to do with Korean food. It's very much just about interesting fresh-flavored California food that is very well executed. The wines there are all over the place, and the sommelier is willing to open out-there bottles and pour them by the glass. She takes that opportunity to walk around the room offering tastes of something new you likely haven't tried. There's this very communal aspect to it, even though the restaurant itself is private and intimate.
What do you love most about being based in LA?
I'm moving around to so many different places, and when I get home I want to have access to those flavors and things that I've tried as I've been traveling. LA allows that, while giving me the chance to eat and drink really fresh, seasonal and local. That, and I can unapologetically eat a salad at every lunch for a straight week.